Thanks to the always lovely and entertaining Cait @ Paper Fury for tagging me. I find this tag enjoyable, and am excited to share. ALSO, it motivated me to clean up my bookshelves so I could take pictures of them. HUGE win!
I actually considered doing a video for this, I feel like it would have been much easier than taking pictures, uploading pictures, resizing pictures… but then? I realized I'd have to do my hair, and that seemed like way too much effort.
Describe your bookshelf (or wherever it is you keep your books-it doesn't actually have to be a shelf!) and where you got it from:
This is where Cait did her "Bookshelf Tour". I shall do the same, of course! I have four bookshelves, but I am soon going to move my Hunger Games books to their own shelf because obviously. So. Two of them are my unread shelves and two are my read shelves.
Here we have unread shelves one and two. The one on the left is my "Imminent TBR" and it came from Amazon right after BEA. The one on the right is my "Eventual TBR" and it's HUGE and my dad had some guy from work make it for me when I was like, 7. There's two more shelves on the bottom, but it's impossible to fit in one picture, and the bottom two are mostly empty and just have some books for trade/giveaways. **Note- please do not fret, dear book lovers, I never light candles near the books. For display purposes only!
I am also getting a new shelf to add to the Imminent TBR one, because there is too much empty space, it needs another shelf!
The one on the left is books I have read. It's from Amazon, just a random gift. The one on the right is part of my desk, and it is my favorite books! I have had it since I was about 6, when I first got my childhood furniture!
---
Do you have any special or different way of organizing your books?
Okay, my TBR shelves are organized almost obsessively, alphabetically by author surname. I tried other ways, really I did! I even unloaded the shelves, and tried to do a color scheme, but it failed, miserably, because I couldn't get it "just right". My favorites shelf has no organization YET. But when I finally get my Hunger Games shelf together, I will do the alphabet thing there too.
What is the thickest/biggest book on your shelf?
Monsters by Ilsa J. Bick & Afterworlds by Scott Westerfeld
Monsters comes in at 608 pages for the UK paperback edition. Afterworlds has fewer pages at 599, but is so huge and heavy that it had to be added. I assume Queen of Shadows will blow them both out of the water at 656 pages and the ability to kill large woodland creatures.
(Sidenote: This totally would have gone to City of Heavenly Fire, which is like, 725 pages and weighs more than my 20 month old, but Rachel is now its proud handler.)
And the thinnest?
This is called Skull Kids by S. Quarrels. I won it from Goodreads years ago. It only has 125 pages. And um, it isn't good either. I basically just have it because I don't know what on earth to do with it. The concept was really fun though?
Is there a book from a friend on your shelf?
Salt & Stone is from the lovely Kaitlin @ Reading is My Treasure. She knew how badly I was dying to read it and sent it to me!
Unwind is from my favorite centaur ever, Val @ The Innocent Smiley. She met Neal (sobs) and knew that I was full of an intense, raging jealousy, so she was kind of the best ever and not only got me this book, but got it signed and personalized!!
The moral here? My friends are the best.
Most expensive book?
Same as Cait, Heir of Fire was the most I have spent on a single book. But look how pretty!
The last book you read on your shelf?
Good thing I am posting this now, because I am about 20 pages away from finishing a new book, rendering this picture untrue. But for now, it's More Happy Than Not. 
Do you have more than one copy of a book?
Really? We're really asking this? Fine.
Do you have the complete series of any book series?
Um, see above? Plus like, a lot of others. And quite a few unread at that.
What's the newest addition to your shelf?
The Heart of Betrayal by Mary E. Pearson. I cannot wait to start this- tonight!
What's the most recently published book on your shelf?
So this is hard. I guess it would be The Heart of Betrayal, above. But I mean, I am going to take this to mean the book published the latest. Just so I don't have to use the same picture twice, you know. Since these are BOTH set to publish on January 5, 2016, I shall show you both:
This is Where it Ends by Marieke Nijkamp & Passenger by Alexandra Bracken
The oldest book on your shelf?
The Julius House by Charlaine Harris. This is not only old, but fugly. And it doesn't match with the rest of the series either, which drives me nuts- some jerk on Amazon lied about the edition! Also, this was pubbed in 1996, but the cover makes it look like 1936. Just saying.
A book you won?
I have won quite a few in the past. I am on a no-win streak lately though. I will find some random book I won…
Thanks to Kelly @ Live, Love, Read for this signed copy of ACOTAR!!
A book you'd hate to let out of your sight (aka a book you never let someone borrow)?
ALL of them. You cannot touch them. They're mine. PAWS OFF.
Most beat up book?
Please note, I am not responsible for this!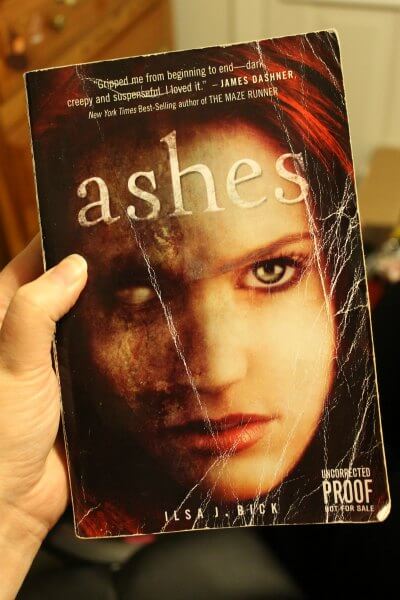 An ARC of Ashes by Ilsa J. Bick. Its creases make me the sads.
Most pristine book?
Um, all the other ones? Except for one or two that my recently departed suitcase ran over while I was packing to leave BEA 🙁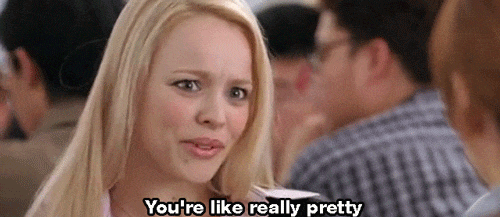 A book from your childhood?
This was the only one I could find in my room, but I do recommend it! It smells like Christmas, people!!
A book that's not actually your book?
I do not have any of these! And after hours of Gifficulties™ I gave up. But now you know about my awesome word.
GIFFICULTIES: The problem one has trying to find the perfect GIF. 
A book with a special/different cover (e.g. leather bound, soft fuzzy cover etc.)?
I don't know what the correct term for it is, but it doesn't have a dust jacket but does have pink pages.
A book that is your favorite color?
Book that's been on your shelf the longest that you STILL haven't read?
I have had Every Day by David Levithan since I started blogging. Maybe before. It's sad, really. I want to read it.
Any signed books?
Yep, tons! But my favorite?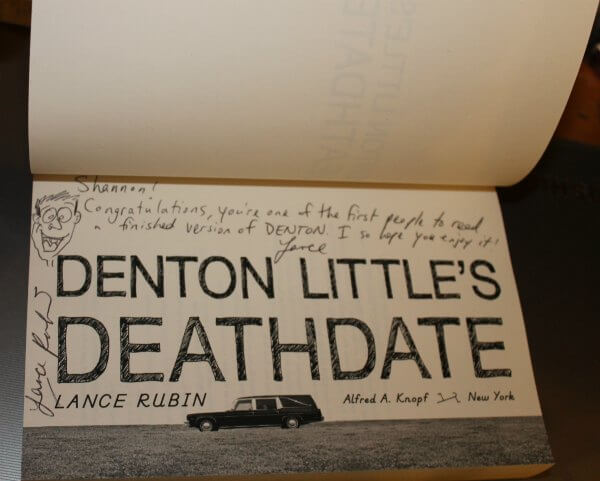 Denton Little's Deathdate by Lance Rubin. Reasons? One, he has told me it was the first book he ever signed (!!!), two, I really loved the book, and three, there's a cool doodle in it. It's just full of win!
That's it for this trip to Shelf Town. I want to see your shelves though! So I will tag some people:
Kaitlin @ Reading is My Treasure
Brittany @ Please Feed the Bookworm
… And YOU! (Truly I'd have tagged more people but I got lazy about linking. Sorry(ish).)
So answer one of these questions for me: How do you organize your books? And how many shelves do you have?