Well, I promised it, and now, I am finally getting my act together and doing it… that's right, my 1K/BEA giveaway!! Phase one is already underway on Twitter, and you can find it right here! Now, get ready for Phase 2!!!
There are going to be TWO giveaways with FOUR total winners. The first one will be US Only, because shipping. The second will be International, because I love you guys too much not to 😉
AND because I am bored with the usual giveaway shenanigans, we're going to play a GAME. Don't worry, you don't have to play the game, but if you do, and get the answer right, you get a boatload of entries so… yeah. Plus, it's fun! So first, the game, since you will need it if you want to play.
THE GAME RULES:
Find the junk. It's all numerical, so add up the numbers. I enlisted a few friends to help, so you may be finding answers on their sites! (Don't worry, I made it easy!) Enter the number in the Rafflecopter. Easy peasy! I will leave hints in spoiler tags!
1. How many books am I trying to read in 2015? View Spoiler »Hint: Look at the bottom of the page, where my Goodreads challenge just may tell you 😉 « Hide Spoiler
2. How many stars did Amber, whose Twitter face looks a lot like the cover of Free to Fall give to said Free to Fall? View Spoiler »You'd probably find that kind of thing right here, in her review!/ « Hide Spoiler
3. How many big old pages is Queen of Shadows going to be? View Spoiler »You should probably use the Goodreads link and the US hardcover edition that I led you to 😉 « Hide Spoiler
4. Holly did a ridiculous number of BEA recaps. How many did she do? View Spoiler »I mean, this is a LOT of posts, she puts my measly two to shame! « Hide Spoiler
5. How many small humans did I spawn? View Spoiler »You can find out about them here / « Hide Spoiler
6. Val says she looks 16, but she isn't. How old IS she? View Spoiler »She CAN go to the bar with you. You can find out how old she is here « Hide Spoiler
7. I love to cheat at Top Tens! How many favorite books of 2014 did I actually have? View Spoiler »This one wasn't even my worst offense! But you can find it here! « Hide Spoiler
8. How many books did I obtain at BEA? (It may have been as many as Val and Holly combined basically….) View Spoiler »It was a lot, okay? It tells you here! « Hide Spoiler
9. Kaitlin @ Reading is My Treasure has recently DNFed a few books. How many did she let us know about in her most recent roundup? View Spoiler »She has DNFed the same amount of books in this roundup than I have EVER! Impressive! « Hide Spoiler
10. Alyssa @ The Eater of Books interviewed Rachel Caine for her new book, Ink and Bone. Rachel has written a lot of books- which number is Ink and Bone? View Spoiler »I am not going to lie, I was blown away by the answer here! « Hide Spoiler
11. Alyssa @ The Devil Orders Takeout has a survey about comment systems! How may questions is she begging you to answer? View Spoiler »You might as well answer them while you are there, no? « Hide Spoiler
12. Erin @ The Hardcover Lover featured two of my favorite things in her Soundtrack Saturday : Lara Jean, and Ed Sheeran. What number is he on her playlist? View Spoiler »I mean… I could think this answer out loud… or link you to it 😉 (Worst pun ever? Maybe.) « Hide Spoiler
13. Nori @ ReadWriteLove28 is hosting a big old book event called BookItCon in August. What day in August is it? View Spoiler »You should totally go! Find out which day to show up here! « Hide Spoiler
 And now, you want to know what you are playing for, no?
**I usually don't do mandatory entries, BUT this is a big thank you for all those who follow so…  I kind of had to. It didn't seem fair otherwise!**
The Lovely U.S. Giveaway!
Three winners pick 2 books each, and some swag- the first winner gets the tote too!
The International ONLY Giveaway!
One winner receives ANY book (as long as TBD ships!) from my BEA haul- it can be a pre order, of course! And hell, I will even add Truthwitch to the options- it isn't your fault that my Uber was late 😉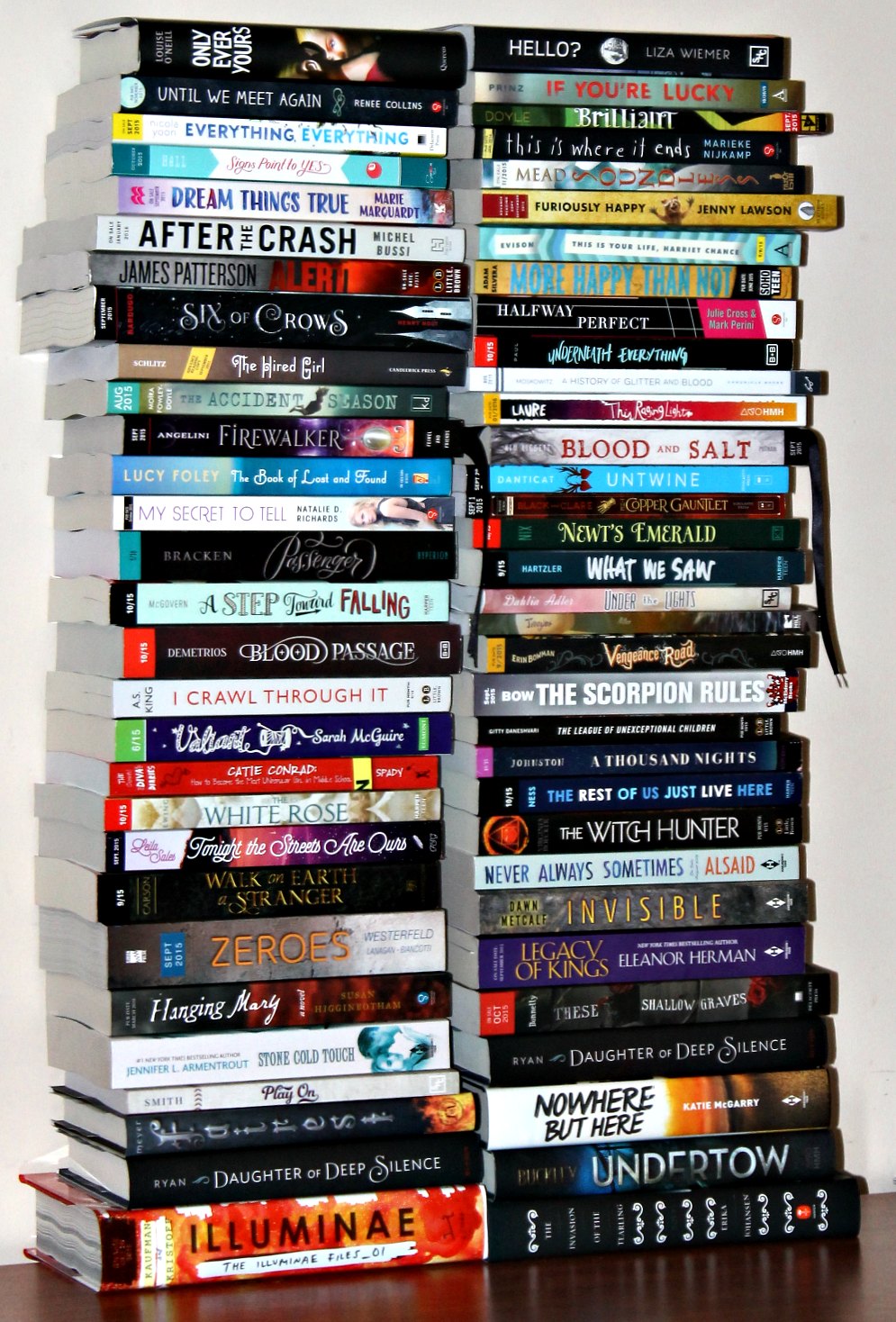 That's it my dears! Thanks for entering, for following, and being wonderful!And you know, let me know how you feel about the game 😉