Welcome to part two of my recap! This will encompass days two and three, including the books, the authors, the bloggers, the celebrities, the fight with that dude, and my dead suitcase. Also, I really hope you are all fully aware of what the title of this post is in reference to? Please say yes so we can still be friends.
These two days consisted of a lot of the same things: Running back and forth between the autographing section and the publisher booths, and me frequently getting lost in China. And since I am not completely sure on which things happened on which days, why not just talk about them all?
The Authors
I met some really lovely authors, and the best part is, I met a large portion of the list I'd hoped to meet! Of course, I was a little nervous to take pictures the first day, for which I'd like to smack myself, but I do have some from the second half! Only when I had someone to take the picture though, mastering a selfie with a DSLR is something I haven't quite accomplished.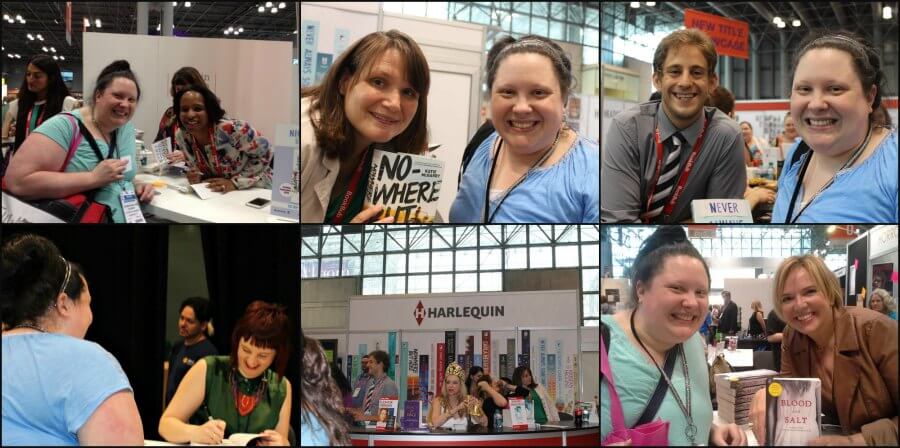 I am going to try to ignore the fact that my hair looks like crazy people, and just focus on the lovely authors. Just… remember, it was super humid, okay?
Top row: Nicola Yoon and Everything, Everything; Katie McGarry and Nowhere But Here; Adi Alsaid and Never Always Sometimes
Bottom Row: Heather Demetrios and Blood Passage; Harlequin Teen Authors before the signing; Kim Liggett and Blood and Salt
This was so fabulous, and I think I was only a huge nerd about 80% of the time. Progress, people.
I also ran into the lovely Katelyn Detweiler, author of Immaculate, who was there not as an author, but I was so excited to meet her, and I was kind of proud of myself for walking up to her!
The Bloggers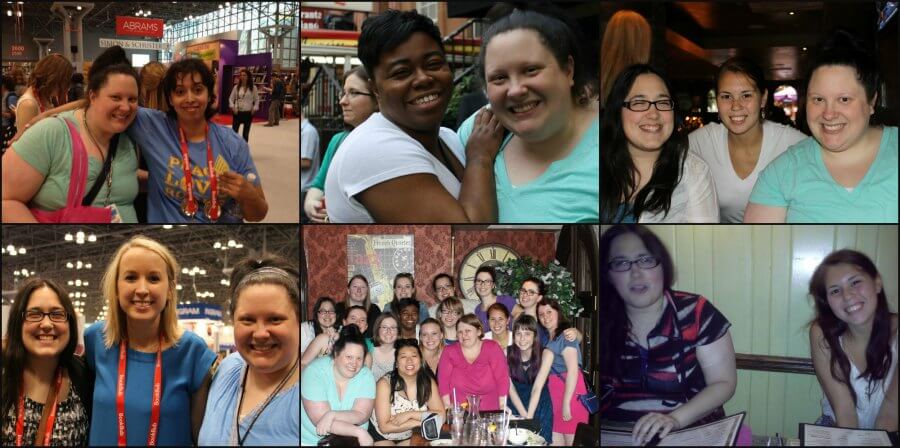 Gosh, I met so many lovely bloggers, I wish I could talk about each and every one! Also, how did I miss getting a picture with Nori and/or Xander, I saw them literally everywhere! This is sadness. But these people I did get pictures with/of? Equally fabulous, and I am so glad I got to meet each and every one of them!
Top Row: Grace @ Books of Love; Octavia @ Read.Sleep.Repeat; Holly, Val, and I
Bottom Row: Holly and I with Danielle @ Love at First Page; the lovely blogger dinner organized by Tiff @ Mostly YA Lit (thank you SO much, it was so fun!); and Holly & Val at some restaurant (people my collage would not have been even without this picture, and that just isn't okay).
It is so fabulous to meet the actual people behind the blogs you love and adore, and this trip was worth it just for that!
The Extras
Some pictures of the amazing Javits Center- I seriously love that place. It is so open that no matter how many people there were in some kind of mad dash, it never felt overwhelming. Also, the brightness made me happy, I felt at peace- no claustrophobia in this center! Chicago, you have your work cut out for you 😉
Also, you'll note Ms. Julianne Moore! I got some kind of prime location right before she came out next to two guys who were very large and very clearly paparazzi. No one knew what was happening, it seemed, so I somehow got a bunch of awesome and up close pictures before everyone realized who she was. I didn't talk to her, but that's okay because I would have embarrassed myself.
A Few More Fun Facts!
I got in a mild verbal altercation with some dude in line. A few bloggers came over to our spot in line to see what our plans were for the day and such, and this jerk behind me started yelling at them. They tried to explain that they were socializing, not line jumping, but this guy would not let up. SO, my usually very non-confrontational self just had to jump in. I told him that since we were sitting around in America, they were able to speak to whomever they pleased. He told me they had 5 minutes before he called security. I told him that it wasn't his call how long people spoke to one another. He said a security guard was going to kick them out. I told him that when the security guard came over, I would also be addressing the fact that he was harassing young women. Our blogger friends left, but I got all his information, and was ready to write a scathing letter to his superior, until I googled (and found) him and found out that the newspaper he "worked" at as an editor on his badge had shut down… in 2008. So… yeah. Guess I can't send that letter, maybe it is karma?
I killed my suitcase. True story. Holly and Val laughed for about an hour while I tried to pack all my books to go home. I finally, finally got the case to close. Val and I took turns dragging it around Times Square to the bus station, and I somehow got it off the bus. When I picked it up to bring it up our steps… it just gave out. It served me well, and since I got it in Hawaii, I think a burial at sea is the only recourse.
I actually asked for stuff. This is huge, because I don't usually like to speak, especially when I feel I am inconveniencing people. But, as it turned out, it worked out in my favor! I got some amazing books, met a nice bunch of ladies at Spencer Hill Press, and was given the best gift of  all time by this awesome woman at Quercus– a finished US copy of Only Ever Yours by Louise O'Neill! They weren't even giving them away- I just gushed about the book, and she gave me a copy because I was a huge fan! Quercus lady, I love you!
THE BOOKS
Don't lie, I know what you came here for! The books, all the books! And I have them! 62 of them, to be exact! But, I cannot possibly list and link to them all, as much as I want to. I am going to show you a picture of the lovelies, and if you have a question, ask away! And then, I will at least highlight a few favorites 😉
Aren't they lovely? Without further ado, the books I bubble wrapped! (That is, the books I basically would have sobbed had they gotten lost!) They are in no particular order other than the order I saw them on my bookcase! Also, a few books I really needed, and am SO excited for, but they come out soon so I could have *possibly* functioned until they do.
Bottom Line? This trip was AMAZING. Stay tuned for my third and final part of the recap, tips for future BEA-ers!