Top Ten Tuesday is a feature hosted by The Broke and the Bookish. This week's theme is: Top Ten Books You Would Classify As ALL TIME FAVORITE BOOKS from the past 3 years (you can extend it to 5 if you need to).
This is hard. I think we all know how ridiculously hard this is, no? Great. It would almost be easier if they'd said "Favorite ONE Book" (which, fine, would negate all of the "Ten" shenanigans they are going for, but you know, shush), because ten favorites is hard. I was thinking about letting series count as one book, because I am so fond of cheating, but then when I got to 8 books and realized it would be easier to use 3 of the same series… well, it's laziness instead of cheating, basically. Here we go! (Little banner things link to Goodreads!)
Percentage of people shocked to see this on my list? Zero percent. Unless this is your first time here, you just knew these bad boys were going to make an appearance. Because, obviously. My loves. 
Truth be told, this is my favorite of the series. If I had to choose, which isn't nice, because that is like Sophie's Choice. But the characters were all more fierce, the stakes were somehow even higher, and you know, more Everlark. Wins across the board. Oh, and the arena was in water. Such a win.
Some people weren't a fan of this one but… I was, okay? It ended basically the way I wanted it to: with my heart in seven million pieces, but at the same time so happy I could do a jig. No, it wasn't as captivating as the arena, but it was war for goodness sake! 
I loved the whole Chaos Walking trilogy, but this one blew the others away. So it won a spot on this list. Honestly, it was some of the most intense and nail-biting writing I have ever encountered. I plan to reread this series someday, because I adored it so much. 
Again, I loved the whole "dystology" (whatever that is- I mean, my spell check doesn't even believe Neal that it is a real word!) but the first book kind of shocks and appalls you on a level that just cannot be recreated. Yes, the subsequent books were amazing, but reading about the world for the first time was just…. so freaking intense! 
THIS. BOOK. I need more of it, really. Who wants to help me flood Ms. Hensley with letters, begging for more? Don't get me wrong, I was absolutely horrified by what Sam went through, but I could not put this book down, and Sam was just… amazing. She is such a hero. 
This book spoke to me in such a way that I had to put it down at times because I seriously felt that Rachel Wilson was IN MY HEAD. I would be shaking because her descriptions were so accurate of how I have felt, how I have struggled, and I fell in love with Caddie and her story. 
Another series finale here! The Apocalypsis series was a really good one in general, but man, I couldn't get this last book out of my head for weeks. Maybe longer. Maybe it's still there, okay? This series went in all kinds of twisty and amazing directions, and when it came time for the end, it was simply perfection. 
Listen up: If you haven't read this yet, I implore you to do so. Then I dare you to tell me you didn't love it, because I honestly don't think it is possible. This book is exquisite, and important, and heartbreaking, and hopeful and life affirming, all rolled into one. Heather Demetrios knows how to write a story, and she sure as hell knows how to do justice to really important topics. 
Damn you, Green, just thinking of these crazy kids has my heart in knots. The book was beautiful, the movie was beautiful, I just… feels overload.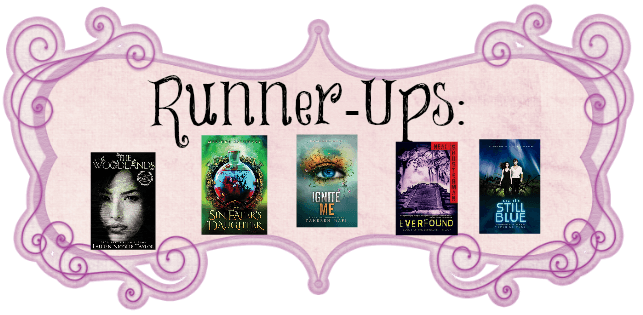 Because you just knew I wouldn't follow the rules 😉  Muahahahha.
Tell me your favorites, my lovelies!