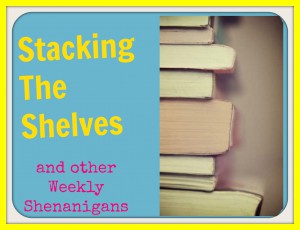 Stacking the Shelves is a weekly meme hosted by Tynga's Reviews. It gives us a chance to share with readers what we bought, borrowed, swapped, won or got for review each week.
Um, this week was the most glorious bookish week in the history of bookish weeks. So we might as well start with that!
Physical Books and Such
Kindle Books (on the cheap, of course!)
For Review, via Edelweiss
Thanks to HarperCollins and Sky Pony Press 
---
Weekly Shenanigans
This was a sad, sad week for reading, in many ways. I read one book.
 Of course, it wasn't likely I would do a lot of reading after this. I am still considering the silent treatment for every person who recommended this. Just saying. I am also only "on track" for my Goodreads goal instead of 3 books ahead, which I had been. This is bad news. Next week will most definitely be better!
Also, this is my 300th post! That is kind of exciting, no?
On the Blog:
I also added a few pages, and spiffed up my menu a bit! I now have a dedicated page to challenges and features, and a lovely blogroll. It is still in the editing phase, so I will be adding more stuff (and more blogs!) soon!
Up Next:
I have a lot of reviews to post, and definitely thoughts for some discussions! I have a lot of commenting, scheduling, and other bloggish things to do this weekend, and I am vowing to set aside some time to get everything back under control!
How has your week been? Did you get any new additions? Anything fun going on in life in general?