All the Bright Places
by Jennifer Niven
Published by Random House Children's Books
on January 6th 2015
Pages: 400
Format:Hardcover
Source:Purchased

The Fault in Our Stars meets Eleanor and Park in this exhilarating and heart-wrenching love story about a girl who learns to live from a boy who intends to die.

Soon to be a major motion picture starring Elle Fanning!
 
Theodore Finch is fascinated by death, and he constantly thinks of ways he might kill himself. But each time, something good, no matter how small, stops him.

Violet Markey lives for the future, counting the days until graduation, when she can escape her Indiana town and her aching grief in the wake of her sister's recent death.

When Finch and Violet meet on the ledge of the bell tower at school, it's unclear who saves whom. And when they pair up on a project to discover the "natural wonders" of their state, both Finch and Violet make more important discoveries: It's only with Violet that Finch can be himself—a weird, funny, live-out-loud guy who's not such a freak after all. And it's only with Finch that Violet can forget to count away the days and start living them. But as Violet's world grows, Finch's begins to shrink.

This is an intense, gripping novel perfect for fans of Jay Asher, Rainbow Rowell, John Green, Gayle Forman, and Jenny Downham from a talented new voice in YA, Jennifer Niven.
I have decided that I am not reviewing this, in the traditional sense. There are loads of great reviews out there.  I am going to talk about it briefly, and basically use it as a segue into what I'd like to discuss.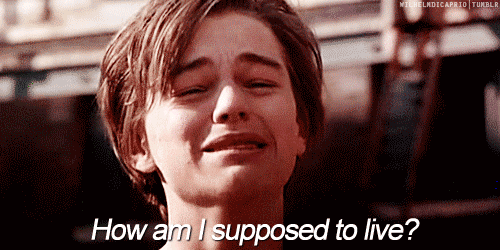 I simultaneously loved and hated this book. Obviously, it was quite good, otherwise I don't think the masses would be flailing so loudly. The characters are incredibly likable, the story is interesting, and then your heart will be shattered into all the pieces.
Finch and Violet are amazing. Most reviews I have read indicated that they did feel more of a connection with Finch, and I agree, at least in the beginning. But Violet's journey made me fall in love with her as well, and by the end, I may have even loved her more.
They take awesome trips. I want to do this! They take these amazing adventures, which stem from a school project. Yes, some of the things seem dumb at first, but they aren't. I love exploring.
My heart was seriously in shambles for days after finishing this book. This does not mean that it was all doom and gloom, however. It just broke me a bit.
This book is absolutely not perfect. It isn't flawless, but that was okay. Its purpose was so much bigger than just being a good book.
---
 Mental Health & YA
When I was in my early teen years, there weren't a ton of choices in fiction. There was a point where series like The Baby-Sitter's Club were just too young for me to relate to, but the "adult" books were way too adult.  There were a handful of authors who wrote books geared toward teens and young adults, but the market was small. Some of my friends read Sweet Valley High, but I had a strong dislike for them. Plus, they were pretty dated by the time I was a teen. After I devoured the few books that I was able to find, I was basically a reader without a book.
And of the books I was able to find, I will tell you exactly how many of them dealt with mental health issues: Zero. There wasn't a book that talked about being so anxious you thought you'd be physically ill. There weren't any characters describing the overwhelming sadness they felt or the crying jags they experienced for seemingly no reason. No one had obsessions, compulsions, bipolar disorder, eating and body image issues, psychosis, suicidal ideations, or basically any other issue. There was an overwhelming lack of diversity in general, but that is a topic for another time.
I was a reader since a very young age. I credit a lot of positive things to the books I read as a child. But never, ever did I read a book in which a character was dealing with the same issues I was. None of my friends were dealing with these things. My parents always called me "dramatic" when I'd be holed up in my room sobbing. There was, quite frankly, nowhere to turn. Now that I am older, and know that I can and should seek treatment for my particular issues (depression and anxiety), I do. But that was (and is) a long road. As a teen, I had no idea that I could go to a doctor, to a counselor. Because I didn't have a "problem", I was just "dramatic" and "sensitive".
Books like All the Bright Places are changing that. There are books out there talking about mental illness on a very real level. Not a sugarcoated, false hope laden version of the severity, but the actual difficulties and struggles that people with mental health issues face. The best part? All the Bright Places isn't the first, and most importantly, it will not be the last. 
Over the past year, I have read quite a few positively amazing books dealing with mental health in a very real and honest way. Without stigma or judgment, just honesty and conviction. One that really stuck with me was Don't Touch by Rachel M. Wilson, which portrays a girl who suffers from obsessive thoughts and making "rules" for herself to follow so that the obsessive thoughts don't become reality.
The best part is, I have so many more to read! Books that have already been released, as well as several ARCs that deal with mental health are all on my TBR, and it is starting to feel like maybe it is finally becoming more common to be open with mental health, as opposed to it being a "new" topic.
Will books alone change the way a person struggling with mental health issues feels? Not likely. But it's a step to changing the way society feels about mental health. Maybe a book will urge one person to ask for help, to reach out. Maybe it will make one person feel a little less alone, a little less afraid. And if a book can do that? It was worth every single word. 
Have any books helped you through a particularly hard time? Do you think there is a shift in how books, YA in particular, are dealing with mental health? What changes do you hope to see?