Let's face it: We have all had that moment. You know, the one where you cannot decide between throwing a book at the wall, or dismembering it and flushing it down the toilet. We've all been there. I recommend neither option, especially if you're reading on an e-reader. Talk about a financial nightmare, no? Anyway, some of you are good at saying "nah, not for me", putting the book down, and finding something more to your liking. And then there are those of us who… can't. I have made no secret that it is near impossible for me to DNF a book, especially if it is for review. But I am getting better (I swear, I am) and have DNFed about three books. Progress, my friends. So I am here to guide you through the process of breaking a book's heart while dealing with your own neuroses. With gifs, of course, because gifs are magic.
1. You're plodding along, reading a book, and not all that into it. You are starting to realize that this book may not be for you. Because reasons. Reasons like:
Mind-numbing boredom This book is akin to watching paint dry. Actually, maybe that would be more fun, because in the end, your room would be painted. It isn't even that you don't care what happens, because nothing ever actually happens.
You do not care what happens. This is different than being bored. Maybe you hate the characters, or the plot, but they could all just fall into a chasm and you'd be giddy if it meant the end of the book.
It offends you. Listen, this happens. Sometimes, books have a way of just not sitting well with you, hitting you in an uncomfortable spot. A book did that for me once, and I was out.
You just don't like it. You don't always needs reasons, sometimes it just doesn't work.
It's an awful book. I hate saying that any book is outright "awful". I have only referred to maybe two books as such, because I seriously could not find a redeeming quality. It's rare, but it happens!
2. You look at your bookcase, your Kindle, whatever and see… all the amazing books! These are the books you are basically longing for while you attempt to finish the book you are now getting mad at because not only do you not like it, but it is keeping you from all your other books. Remember, this is not the book's fault, you will need to put the book down.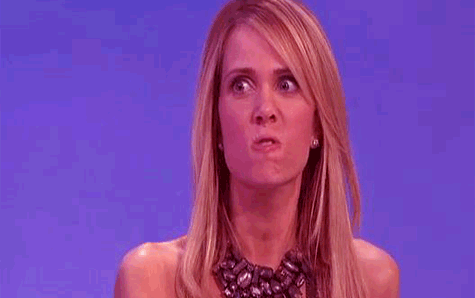 3. There's a solid attempt at justifying why you should/need to/must read said book.
You have a review copy. No one likes being "that guy" who tells a publisher that you had to DNF the book. No one.
Even worse, it is directly from the author. These are the hardest for me. It's why I don't really accept many anymore, unless I am familiar with the author. It's bad enough to report to the publisher that you disliked the book, but to the author? Awful.
You paid for it! And you feel that you are letting your bank account down.
It was a gift. And how would Aunt Lisa feel if you DNFed that book she bought you for Arbor Day? How would Aunt Lisa feel? You're just being selfless, that's all.
You're stubborn and/or like to finish what you started. This is a big one for me. But really, why? So I can plod through and then write a two-star (at best) review? Silliness.
4. The time has come to admit that you can't/won't/shouldn't continue.Good for you! Oh wait, nevermind, because you think….
5. "Maybe I will try again later". But you and I both know that isn't happening. You may give it a passing glance, another thought, but actually picking it back up and finishing it? Chances are slim to none, and slim just left town.
6. You finally admit it: This book shan't be read by you. Do not despair, friend. You gave it a try. You gave it more than a try, you gave it several tries, and a laundry list of reasons to try to push through. Trust that you are doing no one any favors by continuing, and part ways. Your book will be happier to be left unread than to be toilet fodder anyway.
Bonus Step: Doubt, especially when you see a positive review of the book. Even worse if it is by someone whose tastes yours usually align with. Be strong, brave soldier. You've fought the good fight, now let yourself enjoy a nice Hunger Games reread in peace. 
Are you like me? Is it hard to DNF? Or do you have proper control of logic and are able to just move along? I want to know: What is the last book you DNFed? (Mine was 
)