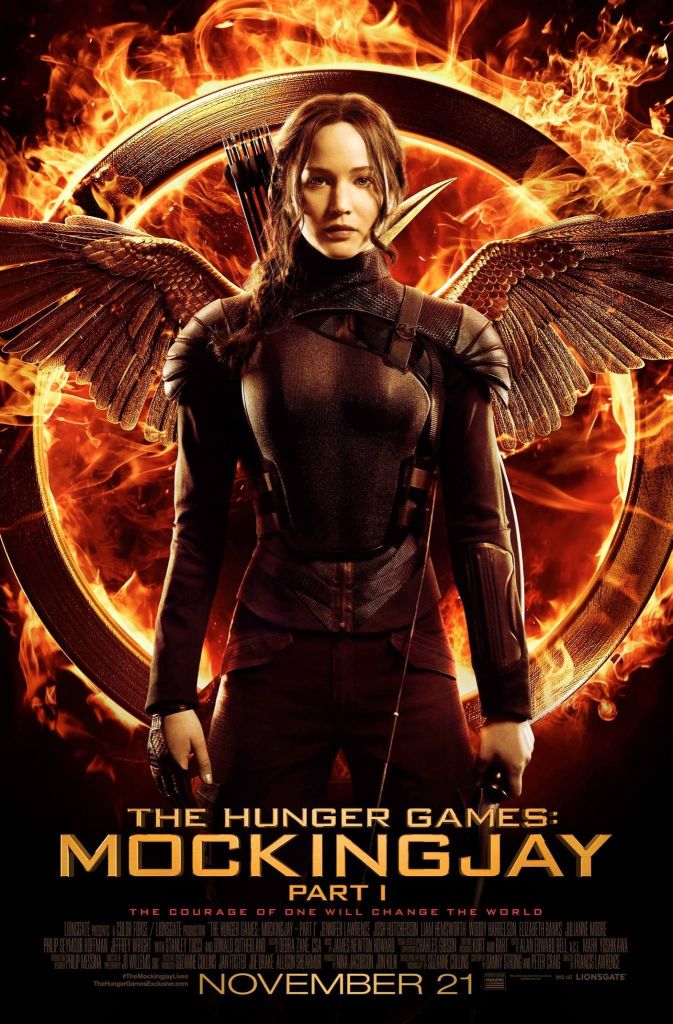 IMDB | Amazon | Official Site
123 min Adventure | Sci-Fi – November 21 2014 (USA)
Starring: Jennifer Lawrence, Josh Hutcherson, Liam Hemsworth, Woody Harrelson, Elizabeth Banks, Julianne Moore, Philip Seymour Hoffman, Jeffrey Wright, Stanley Tucci, Donald Sutherland, Sam Claflin, Natalie Dormer
Directed by: Francis Lawrence
Based on:  Mockingjay by Suzanne Collins
Synopsis (via Fandango): 
The Hunger Games saga continues in this sequel that finds Katniss Everdeen (Jennifer Lawrence) faced with a decision that could sway the fate of a nation. In the wake of the Quarter Quell, the Hunger Games have been changed forever, and Katniss ends up in District 13. Her courage having inspired a nation, the brave young heroine heeds the advice of her friends, and sets out to save Peeta (Josh Hutcherson). Meanwhile, Katniss' fragile alliance with President Coin (Julianne Moore) could lead to disaster.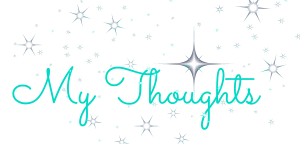 A few things we must all agree upon before we begin:
The first part of Mockingjay is arguably the weakest part of the series.
Mockingjay probably needn't have been made into two movies.
Catching Fire would have been lovely as two movies.
The book-to-movie adaptation will never, and cannot ever, be exactly the same.
I am biased, due to my unhealthy level of adoration for any and all things THG-related.
I have no intentions on spoiling stuff, so I will be vague, but if you want no idea what to expect well, move along. I won't be mad, promise.
Okay, now that we have taken care of that, let me just say it: This movie will break your heart. Then, likely you'll curse the gods of time for making you wait a year for the conclusion, until you realize that said conclusion means the end of the freaking era, and the deaths of beloved characters, and then you basically want to curl up into the fetal position and cry for a week. You won't leave the theater thinking happy thoughts, you'll wonder who recommended these books to you in the first place so you can go to their house and slap them.
The feels aside, obviously there will be things that make fans happy, and then things that won't. I will address some of them, vaguely as possible of course.
The Stuff I Adored: 
Effie. This isn't a spoiler, because unless you have been living in District 13 yourself, you know Elizabeth Banks is in this movie. Effie of course, was MIA in the book. Well, I think the inclusion of Effie worked on a few levels: One, the comedic factor her character brings wasn't just important, it was necessary in a movie this dark and depressing. Secondly, I think adding her simplified things, which when you have a finite amount of time, is just going to happen.
Paylor and Pollux. Ah, my favorites of the new cast! Paylor was pretty much as exactly as I wanted/pictured her to be: No nonsense, but definitely a people's advocate. Pollux melted my heart. Now, I may be biased again as a huge Fulton Reed fan in The Mighty Ducks, but obviously, that was 20 years ago and I think Elden Henson just nailed it.
Some of the "little things" in the book were used very, very well. I won't tell you what, but trust that you'll know it when it comes onscreen. It was done with purpose and emotion, and I feel like it was done explicitly for the devout fans.
There were some very interesting additions. I know, I know, book deviations? Well, kind of. In the sense that Katniss wouldn't have seen some of these things, so it wasn't not happening in the book, we just didn't know.
It was Mockingjay. I mean, how else can I explain how I loved it other than it was true to the feel of the book? It was very true to what happened, and the effects were magnificent. Some of the scenes will haunt me for sure.
The Stuff I Didn't Love:
Katniss & Boggs' relationship. It just was not fleshed out enough for me. I don't think they showed the ways he earned her trust, and I think that plays such a huge piece in the book that I was disappointed it wasn't included more.
Haymitch/Woody underutilization. Seriously, I get that Haymitch was "drying out", but um, I thought he had escaped for awhile there.
Katniss wasn't broken enough. I think more time could have been spent on Katniss being a mess. I mean, breaking the movie into two parts should have allowed for lots of time to show her losing her mind.
Bottom Line: It was beautiful. Devastating, but so, so beautiful. I think there will be people who won't love it, because it didn't have the same excitement as The Hunger Games or Catching Fire, but really, this part of the book simply wasn't like either of those books. It made complete sense for the movie to have a different tone and feel, and I think it was done quite well. There will always be some flaws in a book-to-movie adaptation, and I think I noticed them more because I have read the books so many times. But in the end, it was definitely what I hoped it would be. Obviously, I adored it.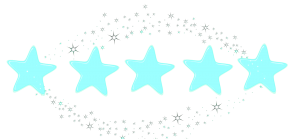 (Come on, you didn't really think I'd give it any other rating, did you?)
Have you seen Mockingjay Part 1 yet? Thoughts? And suggestions on how to wait 363 more days to see Part 2 are appreciated…