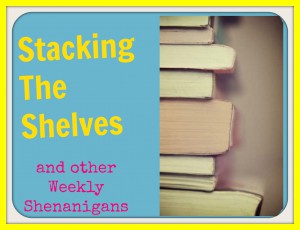 Stacking the Shelves is a weekly meme hosted by Tynga's Reviews. It gives us a chance to share with readers what we bought, borrowed, swapped, won or got for review each week. Since all the books seemed to arrive last week, this week felt a bit lean, though in truth it was perfectly fine.
The Books
Belzhar by Meg Wolitzer  (Purchased)
My Last Kiss by Bethany Neal Thanks to author Bethany Neal and Kaitlin @ Reading Is My Treasure for the giveaway win!
Balance Broken by Hilary Thompson Thanks to author Hilary Thompson, won via Goodreads.

For review from author Autumn Kalquist:
---
Weekly Shenanigans
It's been quite a week. My son was in the hospital from Monday-Wednesday for some kind of breathing problem (no one really knows what it was, some kind of virus I guess), but he's doing much better now. Basically, I have been trying to keep up, and have been (though barely!) for the most part, but I apologize if a comment or two slipped through the cracks!
I didn't have a ton of time for reading, but since I was almost done with them anyway, I finished 
 and 
. Of course, I loved UnDivided, and I also really ended up enjoying The Unhappening of Genesis Lee too! And, (this is BIG) I actually DNFed a book. Yes, you should all be proud, I finally had the guts to DNF my first official book.  I tried, but alas, I couldn't finish 
. I did leave a short Goodreads review, just because I felt bad that I'd received it from Netgalley.
On the Blog:
Also, I still have THREE giveaways happening! The October New Release has seven days left (ends 11:59 pm EDT on Halloween!) and the Blogoversary Part 1 and Part 2 go until the beginning of November!
Up Next: 
I have a bunch of reviews that are definitely coming up, including The Unhappening of Genesis Lee, The 52nd, and Creed (just in time for Halloween, of course!).
Anything new and exciting happen to you this week? Any good books? Any books we should stay away from? Let me know, and hope you all have wonderful weekends!