Welcome to August's
Monthly Minutes at Midnight!
 Here's the deal: I'll share the books I've obtained, posts of interest from others, giveaways I have happening, and just general random shenanigans. You know I love a shenanigan.  Also, covers all link to Goodreads, because I am awesome. As always, I link up with the Wrap Up Round Up, too! 
The Books
For Review/From Publishers: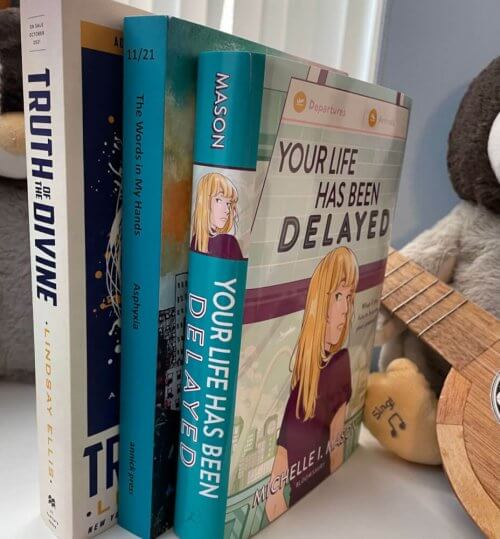 Truth of the Divine by Lindsay Ellis
The Words in My Hands by Asphyxia
Your Life Has Been Delayed by Michelle I. Mason
Hugest of thanks to the publishers for these lovelies! 
eARCs:
Huge thanks to the publishers for these lovelies! (Also look at me not being too bad this month!) 
Purchased:
The Light Years by R.W.W. Greene ♦ The One Hundred Years of Lenni and Margot by Marianne Cronin ♦ The Exiled Fleet by J.S. Dewes ♦ The Girl With the Hickory Heart by Lauren Nicolle Taylor ♦ Empire of Wild by Cherie Dimaline ♦ A Children's Bible by Lydia Millet ♦ The Past is Red by Catherynne M. Valente ♦ In the Wild Light by Jeff Zentner 
Not the best, not the worst, right?
Won/Gifted/Traded:
Nothing this month! 
---
Shenanigans Since Last Time:
I read 19 books this month. Not too shabby- especially since I missed a few days while at the beach. Imagine what could have been ?
Quite a few of these are very fabulous! And I think only one was a true disappointment (and likely my 11th all-time DNF). 
Giveaways: Click Here, or on Sidebar
---
Blogosphere Bulletin
Here are some of the loveliest/most entertaining/super helpful/just plain interesting posts I found this month!
---
Fancy & New Since Last I Saw You!
I love looking at pretty covers! So here are some new ones that I have fallen in love with since our last update!
Pretty covers are pretty. 
---
Things we need to talk about at this juncture:
Summer is coming to a close and this makes me sad. I took the kids to visit my aunt's beach house with my mom for a few days, and we had a lovely time, here, have some pictures! Also, Sam got his green belt right before we left so I threw that picture in!
The children started school today. In worse news, I must return to gainful employment. Sadness. Luckily, the kids' school and the one I will be working at are both mandating masks for everyone. I would really like them to be able to be vaccinated soon, because apparently there are still lots of selfish fools refusing and making it extra unsafe for kids and folks with genuine issues who cannot take the vaccine. Also look at these children, they will not stop growing, it is rude! 

Have a great September, loves! Let me know how your month was!