To intro a bit, these are books that I have not obtained for review. The bottom line is this: These are considered legitimate reviews by absolutely no one. Why? I don't feel like it, nor do I have to. But apparently, my ego dictates that I still think you care whether I liked them and/or I feel like shouting about them. And so, I shall.
I was coping and pasting into a new draft, as one does, when I realized that I hadn't done one of these since… 2019. Yikes. So, these are just my most recent ones, I could not possibly worry about what happened a year ago, I can barely remember yesterday.
Project Hail Mary
by Andy Weir
Published by Ballantine Books
on May 4, 2021
Pages: 476
Format:eBook
Source:Purchased

Ryland Grace is the sole survivor on a desperate, last-chance mission--and if he fails, humanity and the earth itself will perish.

Except that right now, he doesn't know that. He can't even remember his own name, let alone the nature of his assignment or how to complete it.

All he knows is that he's been asleep for a very, very long time. And he's just been awakened to find himself millions of miles from home, with nothing but two corpses for company.

His crewmates dead, his memories fuzzily returning, he realizes that an impossible task now confronts him. Alone on this tiny ship that's been cobbled together by every government and space agency on the planet and hurled into the depths of space, it's up to him to conquer an extinction-level threat to our species.

And thanks to an unexpected ally, he just might have a chance.

Part scientific mystery, part dazzling interstellar journey, Project Hail Mary is a tale of discovery, speculation, and survival to rival The Martian--while taking us to places it never dreamed of going.

This is my first Andy Weir book, but I assure you it will not be my last! I truly hadn't imagined it would be so completely full of heart, and frankly, can we please have more male characters like this? Who are vulnerable and emotional and kind? Gosh, in so many adult sci-fi books the men are portrayed as such "tough guys" and it irritates the crap out me. Not so here! Also, the story was so fabulous that I didn't even mind when the science went over my head. I liked it so much I bought it for my dad's birthday (hope he didn't read that).
Bottom Line In a GIF:
---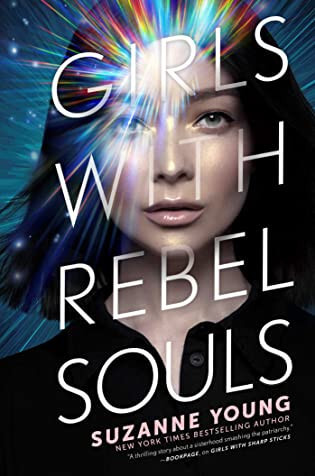 Girls with Rebel Souls by Suzanne Young
Series: Girls with Sharp Sticks #3
Published by Simon & Schuster Books for Young Readers on March 23, 2021
Pages: 320
Format:Hardcover
Source:Purchased


The girls make their final stand in this third and final novel in the thrilling, subversive near-future series from New York Times bestselling author Suzanne Young about a girls-only private school that is far more than it appears to be.
Never underestimate a girl with a rebel soul…

The girls of Innovations Academy escaped the confines of their unethical school, fought against the system protecting predators who targeted girls for harassment, and they're not done yet. They're still not free.

Reeling from one revelation after the next, Mena and her friends begin to unwind the truth of their existence and, as a result, their destiny. The men from Innovations Corporation still hunt them, the woman who created them still wants control over them, and worst of all, Mena realizes that through all her pain, all her tears, the world of men has not changed. There is no more time to hope for the best. The girls know they are in a battle for their lives, a war for their very existence.

The girls of Innovations Academy have sharpened their sticks to fight back, they have fought for justice with blood from their razor hearts. And now, the girls will choose their true nature...and how they define their rebel souls.

Look, it was fine. I think I have a real problem with series finales, in that I am rarely satisfied. This will be a post someday. But I also think this series may have benefitted from being a duology instead? I did like that the girls were finding their agency, and the message was awesome throughout the series. But truthfully, I was just underwhelmed by this one, felt a bit predictable ?‍♀️
Bottom Line In a GIF:
---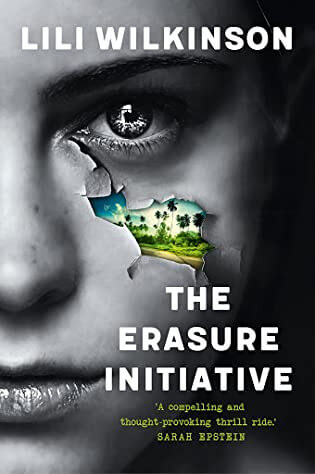 The Erasure Initiative by Lili Wilkinson
Published by Allen & Unwin on August 1, 2020
Pages: 336
Format:Paperback
Source:Purchased


I wake up, and for a few precious seconds I don't realise there's anything wrong.

The rumble of tyres on bitumen, and the hiss of air conditioning. The murmur of voices. The smell of air freshener. The cool vibration of glass against my forehead.

A girl wakes up on a self-driving bus. She has no memory of how she got there or who she is. Her nametag reads CECILY. The six other people on the bus are just like her: no memories, only nametags. There's a screen on each seatback that gives them instructions. A series of tests begin, with simulations projected onto the front window of the bus. The passengers must each choose an outcome; majority wins. But as the testing progresses, deadly secrets are revealed, and the stakes get higher and higher. Soon Cecily is no longer just fighting for her freedom - she's fighting for her life.

This is a really good premise that I found wholly unique. I was pulled in completely, excited for how it was going to turn out. It's incredibly thought provoking, and intense, and sure maybe a little unbelievable but it was entertaining enough to more than make up for that.
Bottom Line In a GIF:
---
The New Wilderness by Diane Cook
Published by Harper on August 11, 2020
Pages: 416
Format:eBook
Source:Purchased


A debut novel that explores a mother-daughter relationship in a world ravaged by climate change and overpopulation, a suspenseful second book from the author of the story collection, Man V. Nature.

Bea's five-year-old daughter, Agnes, is slowly wasting away. The smog and pollution of the City—an over-populated, over-built metropolis where most of the population lives—is destroying her lungs. But what can Bea do? No one leaves the City anymore, because there is nowhere else to go. But across the country lies the Wilderness State, the last swath of open, protected land left. Here forests and desert plains are inhabited solely by wildlife. People are forbidden. Until now.

Bea, Agnes, and eighteen others volunteer to live in the Wilderness State as part of a study to see if humans can co-exist with nature. Can they be part of the wilderness and not destroy it? Living as nomadic hunter-gatherers, this new community wanders through the grand country, trying to adhere to the strict rules laid down by the Rangers, whose job it is to remind them they must Leave No Trace. As the group slowly learns to live and survive on the unpredictable and often dangerous land, its members battle for power and control and betray and save each other. The farther they roam, the closer they come to their animal soul.

To her dismay, Bea discovers that, in fleeing to the Wilderness State to save Agnes, she is losing her in a different way. Agnes is growing wilder and closer to the land, while Bea cannot shake her urban past. As she and Agnes grow further apart, the bonds between mother and daughter are tested in surprising and heartbreaking ways.

Yet just as these modern nomads come to think of the Wilderness State as home, its future is threatened when the Government discovers a new use for the land. Now the migrants must choose to stay and fight for their place in the wilderness, their home, or trust the Rangers and their promises of a better tomorrow elsewhere.

I have some mixed feelings about this. On one hand, the premise is awesome. On the other, I hated the main character and was often more bored than I should have been. This book has won prizes and stuff though so maybe it is just me? Look, I am a mom, and sometimes your kids piss you off, but I think Bea just straight up resented Agnes's entire existence. And you know who else thought so? Agnes. Survival in the forest should not be dull, but often times, it was. I liked the world, I'd have just enjoyed more of it, less of Bea.
Bottom Line In a GIF:
---
Blade of Secrets by Tricia Levenseller
Series: Bladesmith #1
Published by Feiwel & Friends on May 4, 2021
Pages: 336
Format:eARC
Source:Copy provided by publisher for review, via Netgalley


Eighteen-year-old Ziva prefers metal to people. She spends her days tucked away in her forge, safe from society and the anxiety it causes her, using her magical gift to craft unique weapons imbued with power.

Then Ziva receives a commission from a powerful warlord, and the result is a sword capable of stealing its victims' secrets. A sword that can cut far deeper than the length of its blade. A sword with the strength to topple kingdoms. When Ziva learns of the warlord's intentions to use the weapon to enslave all the world under her rule, she takes her sister and flees.

Joined by a distractingly handsome mercenary and a young scholar with extensive knowledge of the world's known magics, Ziva and her sister set out on a quest to keep the sword safe until they can find a worthy wielder or a way to destroy it entirely.

A teenage blacksmith with social anxiety accepts a commission from the wrong person and is forced to go on the run to protect the world from the most powerful magical sword she's ever made.

Sometimes I don't feel like fantasy. When I started this book, I felt that way. But somehow, Tricia Levenseller pulls me in to any book I read by her, and this was no exception. I loved the characters, and I am always game for an adventure/survival story. Suffice it to say, I added book 2 to my list immediately.
Bottom Line In a GIF:

---
Skyhunter by Marie Lu
Series: Skyhunter #1
Published by Roaring Brook Press on September 29, 2020
Pages: 371
Format:Hardcover
Source:Purchased


In a world broken by war, a team of young warriors is willing to sacrifice everything to save what they love.

The Karensa Federation has conquered a dozen countries, leaving Mara as one of the last free nations in the world. Refugees flee to its borders to escape a fate worse than death—transformation into mutant war beasts known as Ghosts, creatures the Federation then sends to attack Mara.

The legendary Strikers, Mara's elite fighting force, are trained to stop them. But as the number of Ghosts grows and Karensa closes in, defeat seems inevitable.

Still, one Striker refuses to give up hope.

Robbed of her voice and home, Talin Kanami knows firsthand the brutality of the Federation. Their cruelty forced her and her mother to seek asylum in a country that considers their people repugnant. She finds comfort only with a handful of fellow Strikers who have pledged their lives to one another and who are determined to push Karensa back at all costs.

When a mysterious prisoner is brought from the front, Talin senses there's more to him than meets the eye. Is he a spy from the Federation? Or could he be the weapon that will save them all?

I won't lie, I bought this almost exclusively for the cover. I do love me some Marie Lu, but I am also woefully behind on her books. Well, when I wanted to decide whether I needed to pre-order the sequel to this book (with an equally badass cover, I might add), I figured I should read this, and I actually did! And look, it was good, if not completely mind-blowing? I liked the characters a lot and was definitely invested in them, though I felt like some of the middle was kind of repetitive. Either way, I'll be giving the sequel a go, especially after the ending.
Bottom Line In a GIF:
---
The End of Men by Christina Sweeney-Baird
Published by G.P. Putnam's Sons on April 27, 2021
Pages: 416
Format:eBook


Set in a world where a virus stalks our male population, The End of Men is an electrifying and unforgettable debut from a remarkable new talent that asks: what would our world truly look like without men?

Only men carry the virus. Only women can save us all.

The year is 2025, and a mysterious virus has broken out in Scotland--a lethal illness that seems to affect only men. When Dr. Amanda MacLean reports this phenomenon, she is dismissed as hysterical. By the time her warning is heeded, it is too late. The virus becomes a global pandemic--and a political one. The victims are all men. The world becomes alien--a women's world.

What follows is the immersive account of the women who have been left to deal with the virus's consequences, told through first-person narratives. Dr. MacLean; Catherine, a social historian determined to document the human stories behind the "male plague"; intelligence analyst Dawn, tasked with helping the government forge a new society; and Elizabeth, one of many scientists desperately working to develop a vaccine. Through these women and others, we see the uncountable ways the absence of men has changed society, from the personal--the loss of husbands and sons--to the political--the changes in the workforce, fertility, and the meaning of family.

In The End of Men, Christina Sweeney-Baird turns the unimaginable into the unforgettable.

Gah this book is rough. Don't get me wrong, it's also got plenty of hopeful moments too, and the strength in the women in the story is epic. But it's a gut punch, I think especially for moms of sons. And, it is incredibly thought provoking, and compulsively readable. So if you can handle the bleak moments, you're in for a treat.
Bottom Line In a GIF:

---
Waking Romeo by Kathryn Barker
Published by Allen & Unwin AU on March 1, 2021
Pages: 396
Format:Paperback
Source:Purchased


What if Juliet Capulet met someone who made her doubt true love? What if Wuthering Heights was a message to a time traveller? A cosmic reimagining of Romeo and Juliet and homage to two literary classics in a compelling novel about fate, love and time travel from an award-winning author.

YEAR: 2083. LOCATION: LONDON. MISSION: WAKE ROMEO.

It's the end of the world. Literally. Time travel is possible, but only forwards. And only a handful of families choose to remain in the 'now', living off the scraps that were left behind. Among these are eighteen-year-old Juliet and the love of her life, Romeo. But things are far from rosy for Jules. Romeo is in a coma and she's estranged from her friends and family, dealing with the very real fallout of their wild romance. Then a handsome time traveller, Ellis, arrives with an important mission that makes Jules question everything she knows about life and love. Can Jules wake Romeo and rewrite her future?

A highly original mashup that delights as it disorients ... and asks what would have happened if two great literary love stories were somehow intertwined.

Yeah, I fell in love with this book. I ordered it from Australia, but good news for the rest of the world, it's coming out in the US (and will be more easy to find on Book Depository and such for everyone else!) in January. Because it's good. It's time travel with a twist, and reading along as all the secrets unfurled was just ::chef's kiss:: The characters are awesome, the story is great, and it pulled me in from the start. You need it in your life.
Bottom Line In a GIF:
Have you read any of these? Want to? Do you have trouble reading non-review books too? Let's chat!