Apparently, this is a U2 song! Not one I am familiar with, but alas. I couldn't find a thing in common for these books other than their month, so I went with lyrics again! All of these are out currently, so you can grab and devour them!
The Truth Project by Dante Medema
The Poppy & the Rose by Ashley Cowles
Winter, White and Wicked by Shannon Dittemore
Black Sun by Rebecca Roanhorse

---
The Truth Project by Dante Medema
Published by Quill Tree Books on October 13, 2020
Pages: 400
Format:eARC
Source:Copy provided by publisher for review, via Edelweiss


Seventeen-year-old Cordelia Koenig was sure of many things going into her last year of high school. For one, she wasn't going to stress over the senior project all her peers were dreading—she'd just use the same find-your-roots genealogy idea that her older sister used for hers. Secondly, she'd put all that time spent not worrying about the project toward getting reacquainted with former best friend and longtime crush Kodiak Jones who, conveniently, gets assigned as Cordelia's partner.

All she has to do is mail in her DNA sample, write about her ancestry results and breeze through the rest of senior year. Done, done and done.

But when Cordelia's GeneQuest results reveal that her father is not the man she thought he was but a stranger who lives thousands of miles away, Cordelia realizes she isn't sure of anything anymore—not the mother who lied, the life she was born into or the girl staring back at her in the mirror.

If your life began with a lie, how can you ever be sure of what's true?

This was such a heartfelt, lovely story about what it means to be "family". Told in verse (and some mixed-media), we follow Cordelia, who wants to explore her DNA for a school project (and the sake of curiosity, of course).  And what she thinks will be an easy A brings her both her former friend/crush Kodiak, as well as some deeply distressing news about her parentage. Her father turns out to not be her biological father, which floors Cordelia. And now, she has to work through the project while dealing with a lot of emotions, both in regards to her family and her friends.
I adored all the relationship exploration in this book! Cordelia is at the age where her friendships and familial relationships are evolving more rapidly than ever, and it's extra compelling because of the news Cordelia's received. Add to it, her mother is less than receptive or helpful when Cordelia has (understandable) questions.
I'll say no more, because you should read this and allow the relationships to unfurl for yourself. You won't regret the trip.
Bottom Line: A beautiful examination on what makes a person your family, this pulled at my heartstrings and didn't let go.
---
The Poppy & the Rose by Ashlee Cowles
on October 6, 2020
Pages: 260
Format:eARC
Source:Copy provided by publisher for review, via Netgalley


1912: Ava Knight, a teen heiress, boards the Titanic to escape the shadow of her unstable mother and to fulfill her dream of becoming a photographer in New York. During the journey she meets three people who will change her life: a handsome sailor, a soldier in the secret Black Hand society that will trigger World War I, and a woman with clairvoyant abilities. When disaster strikes the ship, family betrayals come to light.

2010: When Taylor Romano arrives in Oxford for a summer journalism program, something feels off. Not only is she greeted by a young, Rolls Royce-driving chauffeur, but he invites her to tea with Lady Mae Knight of Meadowbrook Manor, an old house with a cursed history going back to the days of Henry VIII. Lady Knight seems to know a strange amount about Taylor and her family problems, but before Taylor can learn more, the elderly woman dies, leaving as the only clue an old diary. With the help of the diary, a brooding chauffeur, and some historical sleuthing, Taylor must uncover the link between Ava's past and her own….

A rich and intriguing tale, The Poppy and the Rose will appeal to readers of Jennifer Donnelly, Libba Bray, and Kate Morton.

I love a Titanic-inspired story! It's all so tragic and you know if nothing else, it's going to leave you feeling some stuff. And this book was definitely no exception! I mostly enjoyed it, though a few things were iffy, so let's dive into a round of "yays" and "nays"!
The Yays:
The settings/time periods. So not only was the "past" part of the story obviously set in 1912 (because it'd be really fishy if a Titanic story happened some other year, ha), but the contemporary portion was also set about a decade ago, and in England!
Ava and her story were phenomenal! I absolutely felt connected to Ava, and her experiences were harrowing, no question. I loved how many real Titanic passengers made appearances, but I also really loved the fictional passengers in the story as well. Tying the whole thing into the precursor events of WWI was an awesome choice as well. Not only did it add a layer to the story, but I learned some new stuff!
I absolutely did want to know how Taylor's dad tied into it all! While I wasn't as connected to Taylor as I'd have liked (see below) I was so curious about what her dad had to do with these random folks in Oxford! Likewise, the mystery surrounding Mae and Ava had me so invested, as I wanted to know more about them!
Both women's stories were quite emotional. I definitely felt for both women. Ava of course because of not only the Titanic, but because she'd had some other catastrophes befall her, and Taylor because my heart broke for the untimely loss of her father.
The Nays:
Taylor's risky behavior just made no sense to me. I mean, I know some people are impulsive! But I didn't get that vibe from Taylor when the story began. Like, at all. So for her to ditch her program at Oxford to go chasing down random old ladies (and someone who may want to harm old ladies) seemed to be a stretch. Even the biggest risk takers among us would probably give pause when alone in a foreign country, right? I get that she needed answers about her dad, but the potential reward didn't seem worth the risk. So, I had to suspend some serious disbelief.
I think this ties in to the above point, but I had a tough time connecting with Taylor. Maybe if I knew more about her, it would have made more sense? But I felt like her story was quite secondary to Ava's, which made sense, but it also lead to me wishing I knew more about her.
Bottom Line: Overall a really fascinating and emotive look into the Titanic and its contemporary legacy, definitely worth the read!
---
Winter, White and Wicked by Shannon Dittemore
Published by Harry N. Abrams on October 13, 2020
Pages: 384
Format:eARC
Source:Copy provided by publisher for review, via Netgalley


Mad Max: Fury Road meets Frozen in this striking YA fantasy about a rig driver's journey to save her friend

Twice-orphaned Sylvi has chipped out a niche for herself on Layce, an island cursed by eternal winter. Alone in her truck, she takes comfort in two things: the solitude of the roads and the favor of Winter, an icy spirit who has protected her since she was a child.

Sylvi likes the road, where no one asks who her parents were or what she thinks of the rebels in the north. But when her best friend, Lenore, runs off with the rebels, Sylvi must make a haul too late in the season for a smuggler she wouldn't normally work with, the infamous Mars Dresden. Alongside his team—Hyla, a giant warrior woman and Kyn, a boy with skin like stone—Sylvi will do whatever it takes to save her friend.

But when the time comes, she'll have to choose: safety, anonymity, and the favor of Winter—or the future of the island that she calls home.

I was super excited for this one, as the premise is so unique and interesting! I definitely did enjoy parts of it, but others left me a bit confused. First, the setting was awesome, and as atmospheric as I had hoped! You can certainly feel the desperation of the endlessly frigid winter, and the dangers facing Sylvi as she attempts to navigate the roads in her rig. I mean, I don't love driving on the highways in snow, let alone some ice cliff in an 18-wheeler.
I also really enjoyed the characters. While I would have liked to have known a bit more about Sylvi, I did like what I knew of her. And I loved the side characters! They just may be my favorite part of the book. They injected humor and banter and good old fashioned friendship and camaraderie in a novel that could have otherwise been quite bleak.
My biggest (and only, I suppose) complaint with the book is that I was just confused more often than not. I didn't fully understand Winter personified, which I think made it harder for me to understand the magic stuff in general. Similarly, I didn't have a good grasp on the world in general. Yes, it's snowy and cold and such, but why are people fighting, what is the cause of this, and is there a solution? I am just not sure. I think that the story lagged for me at times, mostly because I was starting to get too confused and I don't love being confused.
Bottom Line: A bit of a mixed bag for me, but I definitely enjoyed the characters and atmosphere, I just would have liked to have understood the world better.
---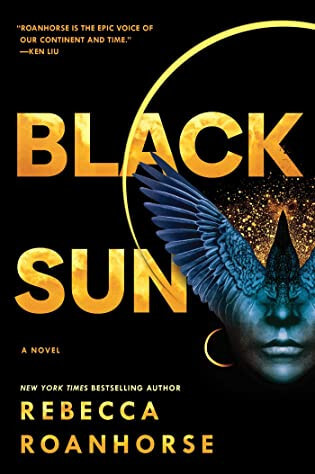 Black Sun by Rebecca Roanhorse
Series: Between Earth and Sky #1
Published by Saga Press on October 13, 2020
Pages: 464
Format:eARC
Source:Copy provided by publisher for review, via Netgalley


From the New York Times bestselling author of Star Wars: Resistance Reborn comes the first book in the Between Earth and Sky trilogy, inspired by the civilizations of the Pre-Columbian Americas and woven into a tale of celestial prophecies, political intrigue, and forbidden magic.

A god will return
When the earth and sky converge
Under the black sun

In the holy city of Tova, the winter solstice is usually a time for celebration and renewal, but this year it coincides with a solar eclipse, a rare celestial event proscribed by the Sun Priest as an unbalancing of the world.

Meanwhile, a ship launches from a distant city bound for Tova and set to arrive on the solstice. The captain of the ship, Xiala, is a disgraced Teek whose song can calm the waters around her as easily as it can warp a man's mind. Her ship carries one passenger. Described as harmless, the passenger, Serapio, is a young man, blind, scarred, and cloaked in destiny. As Xiala well knows, when a man is described as harmless, he usually ends up being a villain.

Crafted with unforgettable characters, Rebecca Roanhorse has created an epic adventure exploring the decadence of power amidst the weight of history and the struggle of individuals swimming against the confines of society and their broken pasts in the most original series debut of the decade.

Here we are again, saving the best for last! Black Sun blew me away, there is no other way to say it. From the first page, I was completely hooked. And I am going to attempt to coherently explain why.
The world building was phenomenal, and just luscious. Look, this is a complicated world! But instead of feeling lost and overwhelmed, I felt like this world was being explained to me in a way that I was able to absorb. Piece by divulged piece, I was able to understand it better. I wrote a note in my Kindle at one point that said "This is how you world-build!" and that sums it up.
Speaking of, the Pre-Colombian inspiration was simply incredible. I mean, I have not read pretty much anything about it before, which is unfortunate because it is beyond fascinating! And I cannot wait to delve even deeper!
I fell in love with the characters. Oh, what a flawed bunch we have here! Heroes, no. But neither are they not heroes, if that makes sense? They each have a huge potential to change the world, but truthfully none is more deserving than the next, which makes it so compelling. Which faction will come out ahead? No idea, because there isn't a clear "good guy". And just as everyone* knows, there are no good guys. But they are all, regardless, incredibly sympathetic and well developed, which I am always here for.
Obviously, gray morality is huge. We all know I am a complete sucker for this, but it is done so well in this book, which is definitely one of the reasons I loved it so much.
I was completely and totally immersed in the story. Without giving much away, I just fell into the book, from the start, and never once wanted to put it down. I had to, because life, but I didn't want to. And I think I shall re-read it before the next book comes out, because I feel like there is just so much, in the best possible way, to consume in this story!
Bottom Line: Black Sun is a damn work of art, there's nothing else to say. I need the next book!
Have you read any of these books? Plan to? Let us chat about them!