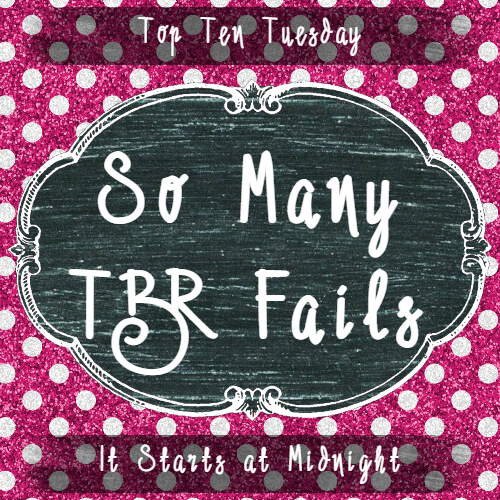 Top Ten Tuesday is a feature hosted by That Artsy Reader Girl. This week's theme is:  Books On My TBR I'm Avoiding Reading and Why
Funny story time! As I was at work brainstorming this post working very hard at my job, I saw that Nicole had the same exact idea as I did: Do it on a Thursday! I had seen this circling the blogosphere and it was too fun not to do, plus I am hoping some peer pressure will make me read a few of these, who knows but anyway it's just proof that Nicole and I have eerily similar brains.
Honestly guys this could be literally hundreds of books. So I cut it down the best I could. I didn't include sequels because everyone knows they're impossible on a good day. I also have to own them, because come on. If I don't even own them how am I going to read them? Onward, friends!
The Book: In the Shadow of Blackbirds by Cat Winters
The Situation: Okay honestly it's the last Cat Winters book I have left and I don't want to be done. Maybe when homegirl announces her next book, yeah?
The Book: Atlantia by Ally Condie
The Situation: This is probably one of the first books I ever pre-ordered. I loved Matched. The cover is just heart-eyes. But then the meh reviews came in and I got scared. And apparently stayed that way. 
The Book: Bone Gap by Laura Ruby
The Situation: That bee looks like a real asshole, does it not?
The Book: We All Looked Up by Tommy Wallach
The Situation: Gah, this was one of my most anticipated books of 1973. But then… I think maybe I got scared of my own expectations? Then the author started being crappy. But I did love another one of his books so who am I kidding, he probably wasn't crappy enough that I won't read this one day.
The Book: Passenger by Alexandra Bracken
The Situation: While I love the premise, sometimes her books can be a little… verbose. And some people love it, some people hate it, and Idk if I want to make the commitment yet. Or something. 
The Book: The Next Together by Lauren James
The Situation: Honestly if I don't read this book by the end of 2019, you are all allowed to throw actual trash at me. Lauren James is phenomenal and everything about this book screams "Shannon". Gather ye garbage. 
The Book: Carve the Mark by Veronica Roth
The Situation: This is a two-parter, olé! First, I was still having some pretty serious trust issues after Allegiant, as you do. Second, some problematic stuff came to light about this one. I genuinely forget what since it's been a few years. But after reading her latest story collection, I will say this one stays firmly on the TBR. 
The Book: Stalking Jack the Ripper by Kerri Maniscalco
The Situation: "I'm waiting for the series to be wrapped up before I start", she told herself. As the series had wrapped up and she'd not made an ounce of progress, it was clear this was a lie. 
The Book: Dance of Thieves by Mary E. Pearson
The Situation: The situation is, I suck. I loved The Remnant series so much, so why have I not devoured this and its sequel? Your guess is as good as mine, but I'll just stick to me sucking. 
The Book: Alex, Approximately by Jenn Bennett
The Situation: I've never met a Jenn Bennett book I didn't love. But it's really far back on my Kindle, years back by this point, and sometimes scrolling is hard, okay?
The Book: Girls of Paper and Fire by Natasha Ngan
The Situation: I genuinely have no good reason here either. I genuinely want to read this. Someone just tell me I should read it in the comments, yeah? 
The Book: All the Rage by Courtney Summers
The Situation: Honestly? I am terrified of the feels, and yes, the literal rage this book will undoubtedly make me feel. But I will do it one of these days! 
And a few more that someone maybe can convince me to read (cause I really do want to!):
What books are you all failing at reading? And which of these should I make a priority (and likewise, which can I shove to the back of the bookcase for another decade?)