Welcome to May's Monthly Minutes at Midnight! 
 Here's the deal: I'll share the books I've obtained, posts of interest from others, giveaways I have happening, and just general random shenanigans. You know I love a shenanigan.  Also, covers all link to Goodreads, because I am awesome. 
The Books
For Review/From Publishers: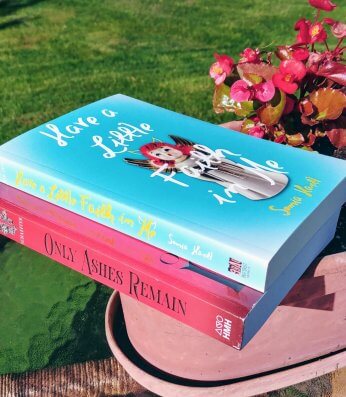 Eight Will Fall by Sarah Harian
Are You Listening? by Tille Walden
Have a Little Faith in Me by Sonia Hartl
Only Ashes Remain by Rebecca Schaeffer
Huge thanks to Page Street Kids, HMH, & Macmillan! 
eARCs:
Huge thanks to Del Ray, Entangled, Harper, Berkely, Candlewick, and Simon & Schuster! 
Purchased:
I did not buy any physical books! Be proud! Also, every one of my Kindle buys? Bought with no-rush rewards. Zero dollars spent, like a damn boss. 
Won/Gifted/Traded:
Nothing this month! 
---
Shenanigans Since Last Time:
I read 12 books this month. Which is made even more impressive by the fact that The Wanderers is 800 pages. Eight. Hundred. That's at least 3 regular-sized books, just saying. 
This was a pretty good reading month! A few were a tad disappointing, but overall, nothing that made me want to throw them out the window, so there's that! 
Giveaways: Click Here, or on Sidebar
---
Blogosphere Bulletin
Here are some of the loveliest/most entertaining/super helpful/just plain interesting posts I found this month!
---
Fancy & New Since Last I Saw You!
I love looking at pretty covers! So here are some new ones that I have fallen in love with since our last update!
Where you at, all my covers? Eh at least these are good! 
---
Things we need to talk about at this juncture:
Bookish Games are back! And somehow my dumb ass is still alive, yayyyy! But I am probably jinxing myself right now, so yeah. But go watch us fight about random stuff, it's amusing! 
We've been gifted the first five episodes of The 100! It's been a ride so far, too. I won't say much because spoilers but… Sanctum, you bananas. 
If you haven't watched The Society on Netflix yet, GO, do it! It is seriously one of the most wildly entertaining and watchable shows ever. It's like Gone, except I actually loved it 😂
Life is… interesting? Okay let's take a peek at my May: My kitchen caught on fire, true story. My children have started karate, which is actually going really well. It's been super hot here, like hot enough to go swimming? Next month is extra bananas, with Sammy graduating from Preschool (😭😭😭), going with my aunt to her beach house, and ALA! So here, have some pictures!
Have a great June, loves!