Elections are important. Voting even more so. Because it isn't often that we, as common citizens (I assume most of us are, anyway) have a real way to get our opinions heard. Sure, you can call congresspeople, protest, etc, and those are all great things. But to make the most difference, you have to use your voting power.
And in case 2016 wasn't enough of a wake up call to remind us of that, I have for you some fictional examples of when voting was really really important. Some of these turned out great, and some not so much, but they all showcase the power of using your vote.

If you haven't read Mockingjay… you may want to skip this one. You have been warned!
At the end of the book (see why I warned you?) Katniss and the rest of the surviving victors are given a choice by Coin: Do they hold one final Hunger Games, featuring children of Capitol officials? Obviously this is a pretty serious vote- they have to straight up decide if they want to kill more kids. I know what my vote would have been! But Katniss uses her vote in a very unique way: As an opportunity, as a final weapon against Coin. And frankly, it's brilliant.
Now, you might think that your vote won't lead to you overthrowing a dangerous, ill-equipped leader… but alas, here we are in 2018 and that is exactly what your vote could be doing.
You sure, lady?

(Spoilers from Season 3!)
Ohhh this one kills me every time. It's like Jason Rothenberg is some kind of freaking oracle, and saw what our country was about to do, and wrote it into the show. Here's how it goes down, short version style:
Marcus Kane, the former Chancellor, having handed his title over to Abby in his absence, wants peace to last in Arkadia, their home base. Hence, he wants to become Chancellor again the "right way", by being voted in by his people. But spoiler! People are stupid. Enter Pike.
Charles Pike, former teacher from the Ark who was literally just discovered in Azgeda territory with the rest of Farm Station, hates Grounders. Because several Azgeda soldiers killed his people, he assumes that all Grounders must be evil. And wants to fight everyone. No matter how much Kane, Abby, Octavia, and basically anyone else with a few brain cells try to explain otherwise. So his peons suggest he run against Kane.
Kane, I would not have ratted you out had you pretended you won. Just saying.
Can you guess how this goes down? Kane and his friends assumed it was in the bag; it wasn't. Pike won, killed 300 Grounders who were there to protect them, nearly started an unwinnable war, and even tried executing some of his own people. Pike and his cronies were on the wrong damn side of history. And so was anyone in Arkadia who slept in that morning and didn't vote because "eh, Kane will probably win anyway". Just ask Lincoln. Oh wait, you can't. ?
Spoilers from this, I guess? Idk, it's a picture book, about bunnies so.
I mean, this is a departure, because let's face it, we need some happy voting in here too! Not just "killing kids" and "how could you, Pike?!" Plus, this is a great one if you want to teach kids about voting and not being awful! Marlon Bundo is a bunny who loves Wesley, who is also a bunny. Only, The Stinkbug is in charge, and says that boy bunnies cannot marry boy bunnies. Because the Stinkbug is The Worst™, the animals decide to take a vote to see who will be in charge. And since these animals aren't assholes, they get rid of The Stinkbug, and Marlon and Wesley are free to marry. They even dream of having a baby bunny, who I named Barack Obunny.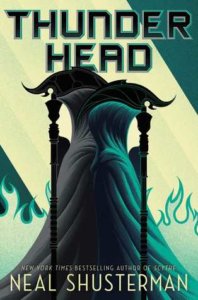 Scythe, and Thunderhead by extension, focuses a lot on political corruption and upheaval. But more than even that, it delves into how people in charge make the really hard decisions. Which, is often what voting is all about. In this series, there is a lot of vying to attract voters, which could not be more like the real world. Some of the vote-seekers are on the up and up, some are incredibly underhanded and shady. Again, it mirrors real life so completely.
As our newly minted scythes get thrown into this system, they begin to realize how much is really at stake, just like we all do (or should after 2016).

Is this fictional? I don't know, I suppose, in the sense that it is a game? But it is also real because we are real people playing, so. Do with it what you will. But. There is a shitton of voting involved either way!
Fun story: the most recent game, Vicious, just ended. It… did not go well if you were Team Victor. And I… was Victor. Not just Team Victor, but the actual dude Victor. And a vote did me dirty, guys. See, when voting, you have to really think about who you want to vote for. Are you doing the best thing for your people? Or are you sacrificing your leader, your healer, your cop? (Fine, that example may apply only to the Games.)
The thing about actual politics, much like the Games, is that you never really know who you can trust. I turned out to be trustworthy (I mean, not to the mafia, but I digress) and no one believed me. Oh also one of the reasons I died was because I didn't vote, so maybe there's a lesson for you: If you don't vote, a bunch of your friends will kill you. 
Let's end this on a light note, shall we? Those bitches voted about everything. To join the club, to leave the club, who was going to answer the phone what snacks they wanted, I have no idea. And I think it goes to show you that even the youngest among us can be influential. And that sometimes you need group approval to buy Cheetos, I guess?
Or popcorn, as the case were.
So with all of this in mind… please vote tomorrow, American friends who are eligible!
It means so, so much. This is hands down one of the most important elections of our lifetime- and definitely the most important midterm election we'll ever see. So do the thing!
And do feel free to share stories and chat about voting in general!