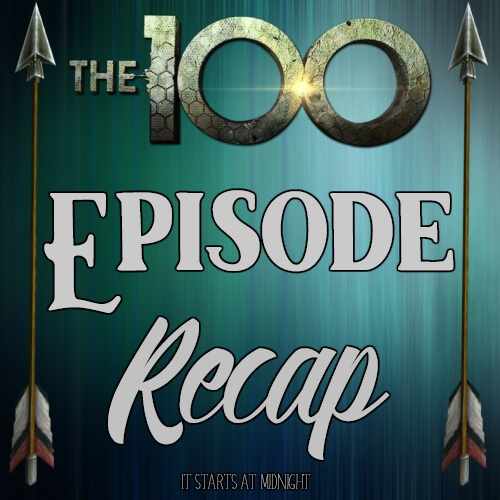 Sigh, I love this show. It ruins me on the regular. My feelings, well, they are all over the place. And now I must endure a long hiatus and really, no one wants that. Regardless, I will try to put together a few coherent thoughts about this truly game-changing finale.
 Just a reminder, spoilers galore!! Like ALL the spoilers- proceed with caution! 
"If I can't have this valley, no one can"
If that doesn't just sum Paxton McCreary up, I don't know what does. This dude is so abhorrently selfish that he would literally end planet Earth as opposed to letting Wonkru into the valley. For… reasons? Like he doesn't actually have any legitimate reasons, which is part of what makes his actions even harder to stomach. He wasn't trying to save his people, or some other such cause that could have been viewed as moderately noble. Nope, he just wanted Wonkru dead.
Speaking of Wonkru, we open with them trying to figure out how not to get killed by a missile. Which is smart, because death sounds bad. Miller is finally showing some actual human emotions/regret/cracking under the pressure of the aforementioned missiles. Seriously, it's really quite lovely to get a chance to see this vulnerable side of him, outside of Mackson. But then! Roverkru shows up, and some of the gang is hopeful. Some… are more realistic.
I really, really do not.
And since Wonkru is a proper mess, they aren't even sure who, if anyone, they should follow. I mean. I kind of get why Octavia had to tell these people to eat. She probably would have had to order them to even if it wasn't Human Jello. But luckily, Madi has gotten some super convenient plans from Lexa and Becca and whoever else, I guess. I don't understand them at all, but everyone seems somewhat keen to follow them. Only… what will Blodreina do?
Look at our little Blodreina, making good life choices again! 
So they're off to fight! There are some kind of plans that involve the Rover, Murphy getting shot a couple times, Echo playing Katniss again, Bellamy blowing something up maybe? Honestly I watched this three times and I still seriously do not get this plan. But it seems to work because wooo the army is ready to march!
It's a fun game of  Strikheda Says. 
And Clarke has come to get Diyoza out of her jail cell. Diyoza, meanwhile, is confused because Clarke has been on every single possible side of this war, and whose is she even on now?
I mean, fair. 
Clarke hopefully tells Diyoza her plan, which is to put a gun to her stomach (and unborn baby, naturally). She figures this is the only thing that may sway McCreary, who is currently torturing Shaw by pulling out his actual teeth. And he's juuuust about to… crush his legs I guess? Idk, it looked awful, so Raven agrees to fly the ship. Honestly, I don't know what her plan here was? I know she wouldn't have missiled all her friends but… yikes.
Anyway, McCreary dropped The Missile of Damocles once he realizes that he cannot beat Wonkru. Diyoza had begged Clarke to shoot him, I am not sure why she didn't, before he could launch the missile. Because fun fact: There's no stopping that bad boy once it's been launched. Oopsie. But Clarke engages in a fake-out, where McCreary thinks she's going to be cool with nuking the whole Valley as long as she's in the ship, so she tells Raven to fly. But she gives the teeniest, tiniest nod to Raven, who I guess still trusts Clarke after all that betrayal, making Raven a better woman than me. So Raven shocks McCreary, Shaw shoots him, and Clarke stomps on his effing face. Such a team kill, this was.
That's some badass communication right there.
Praimfaya Deja Vu
This was like a cute mini-Praimfaya, except not actually cute because it is destroying the planet. Raven is getting the ship ready for launch, and wow, we have been here before. Spacekru and Clarke realize they've been here before too- only this time, looks like Clarke is not planning to miss that launch. I was so afraid that someone would be left behind again- maybe for good this time?
Especially since Murphy has been wounded during the Rover gunfight, and he cannot even walk. There are no more stretchers left, and Murphy's about to just… give up. It's sad, especially since it is Murphy, the one thing he does best is survive! But it's now Monty's turn to return the favor and carry Murphy through an apocalypse. Oh, the fun these two have! Emori stays to help, because she isn't leaving the man she loves behind- yes, her words exactly. So cute, these two, but it worries me that it always takes an apocalypse to bring them closer? Anyway, I was really worried about them making it, they seemed very far behind the rest of the gang.
Because it wrecked him the last time, Clarke.
Meanwhile, Bellamy is talking Madi into not killing all of McCreary's army, even though they probably deserve it. He reminds Madi of what happened when The 100 were the "criminals", and they too attacked the people who'd already been living on Earth. Granted, it isn't the same, but I see his point. Especially since there are barely any humans anymore. Madi agrees, grudgingly, but then tries to play matchmaker because I think she wants a new Daddy?
He is "Captain Daddy" after all…
Clarke's in a tizzy because Abby isn't on board yet, and half of Bellamy's "family" is nowhere to be found. Abby is refusing to leave because she's trying to fix Kane. Only… Abby, if you stay there, you both die. I guess she figures that out, because O helps her get Kane to the ship after a little scuffle over whose fault the eating of humans was. (For the last time, it was neither of your faults, blame ALIE.) And finally, finally, the last of our missing Spacekru members hobbles into the clearing, and no one is getting left behind, woo! Clarke gets to pull her lever again, and Raven sets off!
Preach.
 Deciding the Fate of the Human Race (Again)
This particular space landing went much better than the last one. People are milling about, and of course, Bellamy and Clarke have a date to decide the fate of everyone remaining.
If this were a drinking game… just saying.
Diyoza and Octavia overhear that fates are being decided without them, and they have a cute moment. After waiting all season for these two to meet, it's quite fun to see how similar they are- and even better for Diyoza to openly acknowledge it. I know some people thought it was crappy that these two leaders weren't invited to Decision 2156, but they had made some really questionable decisions lately and frankly, I wouldn't be down with either deciding my fate, so. At least they can commiserate!
Only it was McCreary, the slimiest reptile of all, who did it in.
Apparently, there was a reason that everyone spent so much time in cryosleep before: The ship isn't exactly equipped to house a lot of people for a long time. And they're figuring they've got about ten years to kill. So they decide: Cryosleep it is! They let Madi "decide" but honestly I think they were just being nice. Like they'd have said "okay, cool, we'll all just die" if she hadn't agreed?
"Whew, the middle-schooler said humanity could survive!"
There are some sweet moments as everyone gets tucked in. Madi and Clarke say nighty-night, while Madi's name reads "Madi Griffin" (how precious). The Blake siblings have… a tough moment. Bellamy isn't ready to forgive Octavia yet, no matter how desperately she wants him to. In fairness, it took her until an actual apocalypse to forgive him for his role in Lincoln's death, so. At least he's softened a bit toward her, and I kind of like that he was honest despite what O wanted to hear. I think they go to sleep on a very satisfactory note.
Sweet dreams.
The Farmers Will Save the World
Clarke wakes up first, followed by Bellamy. At first, I thought maybe there was some sort of attack, and they'd set themselves to wake up under such circumstances? This is mostly from a book I read in which that very thing happens, but anyway. They exchange a cute little "hey, haven't seen you in what I assume to be ten years" greeting, when some dude walks in. And scares the bejeezus out of them, because hello, wouldn't it scare you? You know every last soul in this ship and here's a different person altogether. So how did a different person get on the ship?
Existing ship people made him!
When Jordan adorably announces that he is Monty and Harper's son… my mind was blown, of course, but I still didn't fully understand the ramifications of what that meant. Until they want to know how long they've been asleep, and Jordan breaks that particular news.
Didn't see that coming.
Jordan explains that "Dad" left them a video. And we proceed to watch Monty (and Harper) telling Bellamy, Clarke, and Jordan all about their life on the ship. Smol Algae™ saved them, by providing a food source, and Marper finally got the peaceful, happy time they so desired (and so deserved). Monty and Harper pop onto the screen, Harper radiant as the sun(s), pregnant, and just full of happiness. It is, hands down, my favorite moment of this show so far. They tell Bellamy and Clarke that they're naming the baby, boy or girl, Jordan, after Jasper, and my heart cannot handle any more emotions.
I'm fine, my tears are just flooding my house at this point. NBD.
Monty pops back in to show us Jordan Jasper Green, and he is just beaming with pride. It's another brilliant moment, and he tells Bellamy and Clarke that he cannot wait to see their faces in eight years. Only… as we know, that doesn't happen. The Earth is still not bouncing back, and Monty isn't really sure why. A couple decades later, a much more somber Monty and Harper come back, to tell them that Earth is likely never rebounding, and that they've just put Jordan in cryo. It's devastating for them, and for Bellamy, Clarke, and Jordan.
Here's the part I find fascinating: They could have, theoretically, put themselves in cryo and popped out every so often to check for changes or what have you. But they made a decision, and that was to save their son, to save their friends, to give them a chance at a real life. So Monty gets to work. Until Harper dies, which… guts me. You knew it was coming, of course. And she was older- 73, as it turns out, longer than really anyone we've seen on this show. But did she know that Jordan would have a planet to live on? That their lives saved everyone else's? I need for her to have, because I wouldn't wish the pain of not knowing on anyone, let alone a precious soul like Harper. I assume she did- perhaps that is why she felt ready to let go, because Monty showed her the beautiful new planet, and she knew that her baby and her friends would be just fine.
As Bellamy and Clarke take it all in, see the new planet, hear Monty's words, they realize their friend isn't coming back. But Monty has told them, shown them, that he and Harper indeed lived a good life. And by all accounts, it was. They spent all their time with the person they loved the most. They were able to check on their friends and make sure they were safe. They raised an awesome son together. And then, they saved the damn world. It is a Happily Ever After in a series that nearly never gives them out, and frankly I can't think of a more deserving duo. Then, Monty gives them his final plea, his last lesson, and for his memory I do hope that they can do better.
If Monty did not leave a Post-It telling Octavia that the farmers did save everyone after the warriors destroyed an entire planet… I'll be bummed.
Now Bellamy and Clarke grapple with so many emotions: The realization that 125 years has passed, that two of their most beloved friends lived long, full lives while they were asleep and have sadly passed, that their son is telling them about what happend. They look out over the new planet with the literal weight of the world on their shoulders. For there lies so much possibility in this new world, but it's also more unknown that Earth ever was.
Random Thoughts:
END BOOK ONE!? What even!? Jason explains this in some interviews, if you're interested. I kind of like the whole idea, though I won't pretend it didn't scare me a bit?
Truly, I don't think anything has made me sadder on this show that Chris and Chelsey not coming back. As lovely as the story turned out, on a human level, they will be so, so deeply missed.
Idk what happened to the other 4%,

but I'm going to go ahead and assume that McCreary ruined that too. #ThisIsWhyWeCantHaveNiceThings

Going into cryosleep sounds a little scary, yeah? 

I mean, I'd obviously do it given the alternative, but it must be mind blowing to wake up from a nap 125 years later. I cannot wrap my head around it, and I would be terrified.

 
Let us briefly discuss the Bellarke Situation™. Okay, I have seen all kinds of shenanigans floating around the interwebz, all about everyone's favorite (or least favorite, depends on your side I guess) "non-romantic soul mates". Look. Here's my hot take on the whole thing: If Bellarke becomes canon, does anyone think Jason (or anyone else involved with the show) is just going to say in an interview "yep, they're totally going to be screwing by episode two"? NO, because why would they ruin the show like that? I still think- or perhaps hope is a better word- that Bellarke may be endgame. Nothing Jason said in any interview I've seen makes me think anything different. He says they're platonic for now. For now. Because he isn't going to share any spoilers. He gave vague answers about everything he didn't want to talk about because that's his actual job. If this had been the real finale and nothing was addressed? Okay, yes, I'd be mad too. But there is just so much time left to deal with it- you know, maybe when the world isn't ending (again).
In addition, I will say that I am glad it isn't canon yet? This is coming from someone who hopes it will be- but when you have characters in an epic ship like Bellarke get together mid-series… it jumps the shark. It's inevitable; it gets boring when the ship sails. So I'd much rather wait, and potentially be rewarded later, than have a ship that I end up getting bored with. Plus, this just wasn't the time. They were hardly on speaking terms for goodness sake. Clarke left him to die. After he helped chip her kid. These two need to hug in front of a new planet for a bit before anything more happens. Thanks for coming to my TED Talk. 
Why did Monty and Harper only have one kid? I get it from a show perspective- no one needed 13 mini-Marpers running around next season. But in reality, wouldn't you at the very least try to give Jordan a sibling? Like, in case you die and the poor kid ends up alone on a ship full of strangers? I feel like someone should have given a quick reason why they didn't, at least. Because now I am wondering endlessly and I will never know.
Why didn't Lexa ever get any extra handy battle plans? I mean- she defers to Clarke quite a bit in regards to Mount Weather, she fights Azgeda without knowing all the deets. Just seems… a little convenient that Madi suddenly knows how to win a war against an enemy that none of the other Commanders have ever encountered, but okay.
Song of the Week:
It took me a long, long time to find something that would do this beautiful episode justice. That would showcase both the enormity of what happened, but also the personal love and relationships, especially of Monty and Harper. I knew it was this, Saturn by Sleeping At Last, at first listen.

Season 6
I'll just be crying 'til April if you need me. Maybe after that, who even knows with this show. The good news is, we will be getting fed much sooner than we did last year! Filming starts in just a couple weeks, so I am sure certain news will be forthcoming! Of course, I will have so many questions until then! 
Who/what is on this planet!? I mean. It could be anyone. Anything. Gotta assume someone from Eligius III made it down there, right? But was there already life on this planet? And what does it look like? The possibilities for an amazing set are truly endless, and I am here for it.

Reverse time jump, sort of? When the six-year jump happened, we didn't know what had been going on with our chums in that time. Now, everyone has been fast asleep, and they're waking up as though it's the next morning, not the next century. This should bring some great character interactions, and a very interesting dynamic as everyone tries to navigate this new world. 
Especially considering that basically none of the leaders from the old world are up to the task. Think about it- Jaha, Kane, Abby, Octavia, Diyoza, McCreary… basically anyone who had a leadership role in the past is either dead, or out of power based on popular opinion. And look- I know Madi is Heda, but if they let a twelve year old lead them into an entirely new planet… ugh, please just stick with the council-type situation. 
I am giddy excited to see everyone else's reactions to a new planet. Especially Grounders. Remember how Echo and Emori responded in Praimfaya? Well it's like that, only next-level, and with even more curmudgeonly Grounders! 
And I am both excited and scared of the feels when everyone realizes that Harper and Monty saved their lives and are also dead and oh wait here's their freaking kid. It will be especially hard for Spacekru, and I think we need to see Octavia dealing with it too. She and Monty had a very interesting dynamic, and I hope they explore some of her feelings about this. And maybe she and Jordan can be buddos, she too only spoke to her own family for most of her life. 
What are your thoughts on the finale? Still crying?

(I am, it's fine.)

What are you looking forward to in Season Six? Also, I'll be back with a Season Five Wrap-Up in a couple weeks, so stay tuned!