Welcome to August's Monthly Minutes at Midnight!
 Here's the deal: I'll share the books I've obtained, posts of interest from others, giveaways I have happening, and just general random shenanigans. You know I love a shenanigan.  Also, covers all link to Goodreads, because I am awesome. 
The Books
For Review/From Publishers: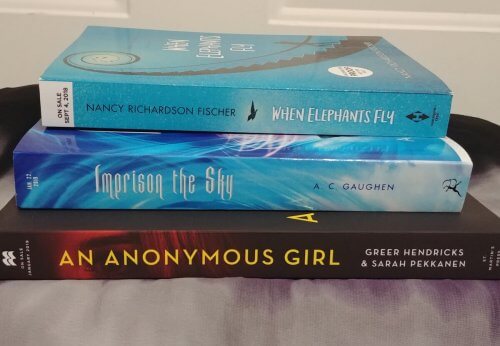 When Elephants Fly by Nancy Richardson Fischer
Imprison the Sky by A.C. Gaughen
An Anonymous Girl by Greer Hendricks & Sarah Pekkanen
Huge thanks to Abrams, Bloomsbury, and St Martin! (Also, better pictures forthcoming, promise!) 
eARCs:
Huge thanks to Harper, Tor, & Entangled for the review copies! 
Purchased:
Obviously I am not letting a Lauren Nicolle Taylor book release without pre-ordering it! And I suppose technically my mom bought me Legendary, oops, no one told her though. And I found The Immortalists on quite a sale. And fine, I just bought Record of a Spaceborn Few cause I needed it, and that is a terrible reason, but have you seen the inside? I stand by this life choice. 
Won/Gifted/Other:
Thanks toThe Book Bratz for Four Dead Queens!! And thanks toCJ @ Sarcasm & Lemonsfor sending me the rest of my ALA haul!! 
---
Shenanigans Since Last Time:
I read 15 books this month, yay! 
The best part here is that they were, by and large, awesome. In July, my highest rating was a 3.5. Here, my lowest was a 3. And there was only one of them. Honestly, a pretty epic month if you ask me! And I needed it haha. 
Giveaways: Click Here, or on Sidebar
---
Blogosphere Bulletin
Here are some of the loveliest/most entertaining/super helpful/just plain interesting posts I found this month! 
---
Fancy & New Since Last I Saw You!
I love looking at pretty covers! So here are some new ones that I have fallen in love with since our last update!
---
ARC August Results
The lovelies at Read.Sleep.Repeat are again doing their annual ARC August Challenge! I have finished my challenge by reading 14 ARCs and tbh, that's pretty awesome. I think I only planned on 11- and I wasn't holding myself to that, either! Here's what I ended up reading:
AND I did really well with the Bingo! Let's be real, I was never going to get a cover-all because of the darn DNF square. I cannot, okay? Even if this weren't a fabulous reading month!
---
Things we need to talk about at this juncture:
I am currently in mourning because The 100 is on hiatus. The good news is, Season 6 has already started filming, so it won't take long to get new info. And I will have a wrap up of some kind happening. You can catch up on the awesome finale here. Now if I could just find a convention to attend whose ticket sales I didn't miss by literal minutes… ?

If you have children and they sleep, I need you to tell me your secrets. 

Like I assumed by ages 7 and almost 5 they'd actually sleep sometimes, but I was wrong. And friends, I am tired. 
How is it back-to-school time already!? Honestly, doesn't seem possible. I see ads for pumpkin shit already, and guys. No. It is still 90°, let's save the pumpkins til at least next month, yeah? Summer went too fast, sad. 
Happy September, loves!