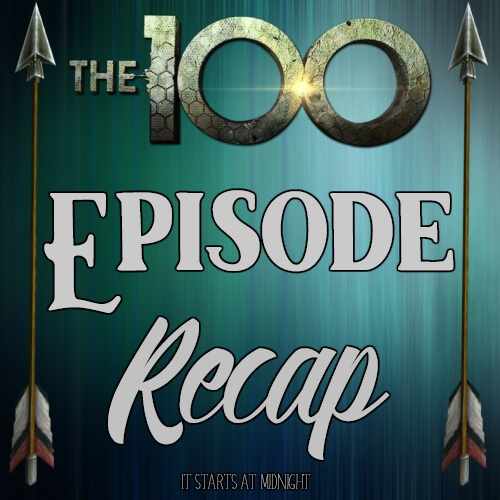 Just a reminder, spoilers galore!! Like ALL the spoilers- proceed with caution! 
Holy crap, what is with Season 5 hitting it out of the park? I am in love, and I was already pretty in love, so. This episode brings us closer looks at Prisonkru, a taste of Octavia's loyalties, and some new desert menaces, so let's dive in! 
"If this is the last living valley on Earth, then it should be ours."
That quote basically sums up everything Octavia stands for at this point: Wonkru is all that matters. Bellamy helpfully points out that Diyoza feels the same way about her people, but O dismisses this with a simple "then we fight". Because of course she thinks every damn problem can be solved with bloodshed at this point. So… off through the desert they go, completely ignoring the only person who's been on the planet for the last 6+ years. Sure, what would Clarke know, she's only lived it while you look at a crappy map and take advice from Kara, but sounds like a solid plan.
It's like he's reading my mind. 
And things are going… I mean, not terrible? They have no idea that Diyoza can keep tabs on them, but other than that. They have a nice little dinner around the campfire which may or may not be made up of their fallen friends. They say a prayer before they eat "all of me for all of us", which Clarke kind of digs. I do too, in theory, but they've lost their damn minds in the meantime, so the beauty is dampened a bit. Indra tries to talk some sense into Octavia, tries to get her to see that Bellamy loves her. And of course, the one piece of Heda bullshit Gaia clings to is "Love is weakness". Thanks Gaia, that's helpful. So Indra poses a question.
It's a valid point that makes O look like an ass either way she answers, so love it extra, Indra!
Clarke and Bellamy sit off to the side because they're probably shunned by Wonkru but I feel like I'd be okay with that? Who wants to dine with Kara? She'd stab you just for chewing too loudly. "You have consumed your Andrew patty too loudly, you are an enemy of Wonkru."  Clarke gives Bellamy her Andrew patty because she's no fool, and probably just wants five minutes of non-lunacy. Until Miller and some dude come back chock full of Desert Worm. And do I see a sandstorm coming? I hope Clarke got a few "told you so"s in. Oh yeah, and Diyoza's going to send some missiles down, so good luck with all that.
Murven in Lockup
Hasn't Raven been tortured enough in the nearly 7 years we've known her? Guess not, because she's on the prison ship with a shock collar. And why, you ask? Well, our pal Zeke (look, I tried "Miles" and I tried "Shaw" and I can't, so he's Zeke, fight me) didn't want Diyoza to bomb the hell out of Wonkru (yay!) so he let Raven take the fall (boo!) and they want to know how she managed to take the missiles down. Only she didn't, so she can't tell them what they want to hear. McCreary would be all too happy to electrocute the shit out of her though, because he's nice and psycho.
But Zeke stops him as only Zeke or Diyoza can, and hauls in Murphy. Murphy is fucking horrified when he sees that they've tortured Raven, and again, I am 100% here for this match. I know they're going to make me suffer through Zaven before it happens, but come on. Look at these two and tell me there's not love there.
Since when does Murphy fight like that for anyone who is not Murphy?
But as mad as both Raven and Murphy are that Zeke deemed them expendable, they do sort of realize that they need his help. So Raven, being awesome, devises a plan. One that allows Murphy to escape, so off he heads to the woods. And how Spacekru knows to find him, I haven't a clue, maybe I missed something, but Echo grabs him and tells him off for being loud. I love these two, and I actually like Echo when she's not trying to ingest Bellamy's face, but that's another story for another time. Murphy also gets the pleasure of meeting Madi!
Can we please have all the scenes with these two? I love everything about their interaction. Sadly, we don't get a lot of time with them, because it only takes a few miles in the Rover to realize that Murphy is on a short leash- quite literally. If he goes too far, he gets shocked. This leaves Roverkru in quite a conundrum: Stay with Murphy and be tracked; or leave him and get to the desert to warn the others about the missiles. Murphy makes the choice easy by hopping out of the Rover of his own volition, and can I please take a second to just scream about how much I freaking love Season 5 Murphy so far?
Welcome to the desert, we've got worms and bombs
Dr. Griffin Jr is there to help with looking aghast at the thing in that Wonkru dude's torso. I mean, she tries, but what even could she do? As she tends to her patient, she and Bellamy have a lovely chat about "the heart and the head", and I am here for it. Will always be here for it. It's extra fun because okay, do you remember a conversation you had with literally anyone six years ago? No, you don't. But because this conversation, this person, is so important to each of them…. remember they do.
Anyway, the patient explodes, shooting Desert Worms all over the place, and one latches onto Octavia's arm before Indra can burn that shit down. And Clarke thinks that she can probably save Octavia even if she couldn't save that other guy, I guess because O is more important to the plot.
Oh look, it's the worst death ever!
As that shit is hitting the fan, Monty radios with some fan-hitting shit of his own: The missiles, they are a-coming, and so it would be great if Wonkru could get the hell out of dodge. Only… there's a sandstorm and explosive worms out there, and they're probably trying to not die. While trying to devise a plan to get out of the missile path, Clarke comments that they should be okay if the winds don't change, which seems like a real concern. Octavia, on the other hand,  thinks that Wonkru is somehow impervious to the effects of nature, so there's that "strategy".
Look, I know you probably missed a lot of science classes hiding under the floor, but that isn't how weather works.
But it's fine, because Wonkru would straight up die for Octavia any day of the week, so they huddle in the desert, glass shards be damned! Indra gets hurt in the storm, a bunch of people die, and they basically look a mess. Octavia and Bellamy share a super cute sibling moment where Bellamy praises O for surviving and helping all the people survive, and Octavia in turn threatens Bellamy telling him he'll be an enemy of Wonkru if he crosses her again. Sure O, he's only spent literally his whole life protecting you, let's just kill him over a disagreement.
Here's the thing: I have had some conversations with people who think it's over the top/out of character for O ::cough:: Holly ::cough:: and I see their points, but…. I respectfully disagree and here's why:
Homegirl has been in that bunker for six years and thought she'd never make it out. Which means Bellamy wasn't a thing in her life anymore. She likely closed off that part of her brain as a coping mechanism. Worrying about him wouldn't help her, and it wouldn't help her people. Nor would it have helped Bellamy, so it made sense while she was trapped.
In general, she's clearly tried to shut off her feelings. We can tell she has them; little glimpses of her humanity have shone through quite a few times this season. It'll go one of two ways- either she'll shut everyone out for good, or she'll come around, and I honestly don't know which is more likely.
Imagine for a moment that you have spent more than half a decade in your own tiny, underground society. It's brutal as fuck, you're hungry, you've resigned yourself that this is how you'll live out your days. Now, imagine that in one moment, that is all undone. You see the sunlight, you see your brother, your friends… Do you just hug them and return to before? Of course not. Their heads, all of their heads must be spinning, but Octavia's more than anyone.
She still has to keep them alive. This battle isn't over, not by a long shot. Even if O did the unthinkable and played nice with Prisonkru… where would that leave Wonkru? In the ruins of Polis? She's still fighting, and she is so used to fighting in this certain, brutal way that she can't just turn it off.
But yeah, after that warm, fuzzy family moment, the Rover gets to "town". It's time for more reunions, y'all! Clarke and Madi are so happy to see each other, Monty and Octavia exchange an adorably awkward and sweet wave.
He can make even the most vicious dictators feel all warm and fuzzy inside. 
And then the other shoe drops as Echo gets out of the Rover to give her snookums a smooch. Seriously, when did she get so sappy? I am not a fan. Neither are Clarke or Octavia, by the looks on their faces, and I don't care if it makes me petty and a hypocrite, I am here for Octavia's rage in this particular case.
I mean, same though?
I almost feel like the powers that be know how much we all hate Becho and are using it to… lead our emotions in a particular direction? Maybe to feel sympathy for O, or to feel like now Clarke is the one realizing her feelings are more that just pals… I don't know. But I do know that the one thing I am not loving so far this season is how Echo has become all… 50's housewife welcoming her man back home, and I hope that changes now that everyone is back together. Echo is way too badass to be swooning over dudes, even dudes as precious as Bellamy.
Tea Tequila Time with Charmaine & Kane
In the beginning of the episode, we find out that Abby has a new patient, and his name is Vinson. From the looks of Vinson, he's just a middle-aged dude, but his shock collar gives him away as someone a bit more unsettling. He is super chill as he tells Kane and Abby that he is usually a nice guy, and please don't hesitate to shock him if necessary. As Kabby stands there wondering if they're being Punk'd, Diyoza catches him getting handsy with some medical tools.
If you say so, pal. 
Later, we see that Diyoza is content with Abby's knowledge, so apparently she can live, for now. Also, she gets to have her pills back which obviously pleases Abby, but very much displeases Kane. Not that anyone blames him. But obviously Diyoza wants Abby in top form, so she gives zero fucks about what Kane likes and doesn't like. But then she summons him, leaving Abby with an apparently sick McCreary (Greg dubbed them McCrabby and I won't lie, I'd be here for it just for the ship name) while Diyoza and Kane have a nice little chat and a cocktail, as you do.
Is it just me, or do these two have some crazy chemistry? Wow. I mean, I love me some Kabby, but I'm concerned. Especially when Kane so emphatically told Diyoza that Abby wasn't his wife. That seemed rude and unnecessary. But anyway, Kane is unflinchingly honest with Diyoza, and she seems to dig it, and I am here for whatever nonsense is next with these two!
And I'm still calling it: We're going to end up liking Diyoza. Hell, I already do.
Song of the Week:
I skipped this last week because I have a perfect song for this week and nothing else could compete so here we are. I mean it says that the singer would rather die than give up the fight and wow, if that doesn't sound like Octavia "Blodreina" Blake, nothing ever could. It's called White Flag by Bishop Briggs, hope you enjoy!
Random Thoughts:
Guys seriously is Niylah okay?

 I'm… starting to think not so much? Has anyone seen her? She busy working the desk at the Polis Marriott? (Jason did say that she is alive because apparently I am not the only one who was fearing for her life. I mean, Niylah doesn't like killing for funsies, and O only likes people who like to kill for funsies so… talk about an impasse.)
Mackson just keeps happening, and I love it. But Miller, remember the last time your relationship ended due to an unstable leader? Tread lightly, my dude.
I want to know how Indra has stayed stable and sane in that bunker. Because she is the only one.
Looks like Diyoza and McCreary used to be a bit of an item? I am sure that wasn't violent and unhealthy… 🤔 But good for you girl, get yours!

I'm honestly just really happy that tequila survived the apocalypse(s). 
 Episode 5×06: Exit Wounds
A weeklong hiatus. Didn't we just survive a horrible hiatus? No one asked for this! (Actually, I low key don't mind because it kind of extends the season? But who doesn't want to bitch about decisions out of their control, amirite?) So what do we think we'll see next time? 
More late-onset sibling rivalry courtesy of the Blakes. Seriously, this is going to get so, so ugly isn't it? And now we've added Echo into the mix, so good luck with that. Especially since Clarke, who would have played peacemaker, will be tagging out. Don't blame her.

Diyoza claims she's offering peace

. Raise your hand if you believe her. I see everyone's hands are down, good. I am sure this is some kind of trick of hers, she's too damn wily to give up.
More Zeke/Raven shenanigans, I presume? I just want her to be reunited with Murphy, her rightful lover. 🤷‍♀️
More Kane/Diyoza shenanigans, I hope? Ten bucks says he does it all behind Abby's back, too. Men.
Niylah! She's promised, and I am holding Jason to it. She's probably going to be checking Wonkru into their rooms at the Polis Marriott because Manager Indra has too much other shit to do.
I want lots of stories between Clarke and Spacekru and I really don't care if it furthers the plot. Can someone please mention Jasper for a hot second too? I miss him.
Is Murphy still in the woods? And more importantly, has he pissed off Emori so much that she left him there alone?
Will you be able to last two weeks sans The 100? Did you really feel O and Clarke when Echo got all swoony with Bellamy? And for the love of all that is holy, can we please all just agree to call the dude Zeke? I tried, and I failed with this "Miles Shaw" nonsense.