I stole this from Nicole @ Feed Your Fiction Addiction! I was looking for something a little different to do for Christmas, and something fun, and this was the winner! Apparently, according to research done by people who are not me, it was originally created over at A Page of Jenniely as part of Blogmas. She asked us some tough book blogger questions that we need to answer to find out if we're on the Naughty List or the Nice List this Christmas! I think if you're naughty, BloggerSanta comes and kicks you out of the community? Idk, I didn't read the rules.
1. Have you received an ARC and not reviewed it?
Yes. Kind of. 
I mean, it's been a long time since I haven't reviewed an ARC I requested. There was a time about a year and a half ago that I went a wee bit insane and requested too many eARCs, and I skipped like, two of them. Out of like 30. So yeah. But I also don't always read unsolicited ARCs because I don't always care about them, so there's that.
2. Do you have less than 60% feedback rating on NetGalley?
Hell no. I am awesome. 
I was actually at 99% for a hot minute, but I now have 6 books that I need to review- but some of them aren't published til May, so I have loads of time!
3. Have you rated a book on Goodreads and promised a full review was to come on your blog (and never followed through)?
Yes. Not as often as I'd thought though.
I figured I did this a lot, but apparently I did it mostly in my head and just never said anything on Goodreads? Because I only found three examples.
4. Have you folded down the page of a book? 
Ew no, that's rude!
Like, you can use legitimately any flat thing as a bookmark. A gum wrapper, a scrap of paper, an envelope, an old Blockbuster card. There are simply no excuses for jacking up a book.
5. Have you accidentally spilled something on a book? 
Nope! 
This is why you should just not eat or drink around books. I limit myself to water, because I am not to be trusted. And nothing grosses me out more than unidentifiable books stains. 
6. Did you DNF a book this year? 
YES! I think this was a good thing, tbh?
7. Have you bought a book purely because it was pretty with no intention of reading it?
Nooo. Do people do that?
I mean, has a cover increased the likelihood of me buying a book? Sure. I save the ugly covers for Kindle Daily Deals. But I don't think I could buy a book solely for the cover, no matter how pretty.
8. Have you read whilst you were meant to be doing something else?
Every single day?
I mean, what even is sleep? Or cleaning, or chores in general? Pshh.
9. Have you skim read a book? 
Yeah, every so often when I just cannot.
I try to not do it too much, and I have gotten better (not much, but a little?) at DNFing but… sometimes I do want to know how a book ends without reading extraneous description and such. I don't even regret or feel bad about it.
10. Will you completely miss your Goodreads goal?
Nope! Again, I am awesome.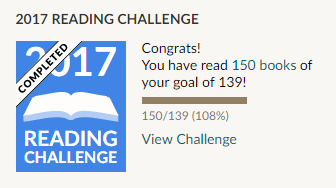 11. Have you borrowed a book and not returned it? 
Nope. But I don't often borrow books, so.
I think the library straight up hunts you down when you do that, and I am actually a better source of books than them anyway. What I am saying is, no one has books I want to borrow because I already have them. At least, no one I live in close enough proximity to for it to matter?
12. Have you broken a book buying ban?
Nah, because I do not make them!
Why ban yourself? Moderation, like in other life areas, is key. If I made it taboo, I'd never be able to resist. That said, I have actually been really good about keeping my shit under control so that's a plus! How, you ask?
13. Have you started a review, left it for ages then forgot what the book was about? 
This is actually my entire blogging life summed up in one question.
I have actually had to stop myself from reading too far ahead of my reviews, because things were getting pretty sketchy for awhile. I'd be sitting around asking other people if they knew what the hell the plot even was, because I sure didn't know. Goodreads is helpful for telling me character names and such. Usually I can remember the genre, but you never know.
14. Have you written in a book you were reading? 
No! Once I left a pen mark by accident and it haunted me. So very no.
15. Have you finished a book and not added it to your Goodreads?
I mean, no? I mark it as read, at least!
This is mostly because I would need it to count toward my Goodreads Challenge, not because I am organized, or care or anything. Don't get too excited.
Naughty or Nice?
I am… NICE! Only 6/15 Naughtys 😀 
How about you, friends? Naughty or nice? And I hope you have a lovely Christmas, holiday season, or just random Monday!!