Have you ever gotten so damn old that you forgot your own impending birthday? Happened to me. I mean, fine, not my actual birthday, but my blog's birthday. I really almost forgot. I had this… nagging feeling that I was missing something, though. So here we are, on time somehow. Honestly, if Sammy's birthday wasn't the very next day, also four years ago… well, I'd never remember okay?
Thanks, nugget!
But I really haven't a clue what to say this year. This year has been… different. So let's just talk about four random bits of blogging wisdom I've learned over the past four years, okay?
1. Hard Work Pays Off
Yes, yes it does. When I started with this blog I worked really damn hard. I posted like, 5-6 a week minimum, commented on all the things, responded to every comment without fail. I did a lot of research on coding (let's not get carried away, it's beginner stuff!), GIF-making, graphic designs, etc. I tried to make things the very best I could with the resources I had. And I like to think that it worked, to some extent? Sure, I'm not famous or anything, but I have some readership and such, so hey, I'll take it.
The thing is, you'll just feel prouder of what you're doing when you work hard. I've always believed this, and sometimes I take it to the extreme. But I think the real lesson here is that if you feel good about what you're doing, you've succeeded.
2. Screw That and Calm Down
Okay, look. There comes a point where there is such a thing as working too hard, especially on something that is supposed to be a fun hobby. And that's where I was at this time last year.   Burned out, ready to collapse from exhaustion half the time. I had been spending a solid 4-5 hours a day blogging. And that… is ridiculous. Now I do other things, like whatever the hell I want.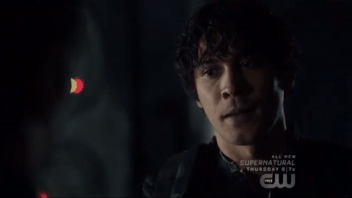 Things like always posting about The 100, for example.
Or watch shows, or just stare at the wall, Idk, whatever I feel like doing. And then you know, actually sleeping from time to time. The thing is, if you find yourself burning out, you will stop enjoying what you're doing. So taking a step back, reevaluating, and figuring out how to do what you love in moderation, it's the best plan.
3. Meet ALL the People
Oy, when I first started blogging, I was so damn terrified to reach out, to put myself out there in any capacity. Which probably a lot of you have gone through. It's scary at first, especially when you really don't know what the community is like and such. But then I finally did, and I am so happy that I did! I have met some of the BEST people ever. You can find a pretty decent list of them here, or at the bottom. And there are other wonderful creatures who don't have blogs, or blog buttons, or whatever,  but TIME, you know?
It's not that dire, I just want to go watch Netflix tbh.
BUT! What is better than talking to fabulous human beings on the internet? MEETING fabulous human beings in PERSON. Yes, this is the part where I am going to extrovert all over you. I like socializing! I do. It can be scary, I get that. But you know what is less scary? A bunch of bookish people who you already know via the interwebz! I remember the first time I met Holly and Val, at BEA 2015. I was so damn nervous, but it was so easy– just as easy as talking to them online had been, but even better because we got to do all kinds of fun shit together over the years! Not just bookish stuff either, which is great too. I hope for more of that in the future, no question! There's just something to be said for doing actual things with actual humans, internet-less for a bit 😀
4. Don't Forget That Reading is a Thing You Do for Fun
The most ironic part of book blogging is that somehow, there seems to be less time for actual reading. And I think that it becomes harder to find books that you flat out love, too? Maybe this is just a personal thing, but I have found that since I have been reviewing books, I seem to find books that blow me away less frequently. While I am very glad to be more critical of certain aspects of books (especially in regards to representation), I do want to be able to chill and enjoy books too!
Look how relaxed Pingu looks!
Books can be a great form of self-care, too. Which goodness knows we could all use these days, yes? My big wish for Year Five is for the whole of it to not be garbage fire and/or the actual apocalypse. A girl can dream, right?
Idk, let's just cross our fingers for a less dumpster-y 2018!
I could not decide what to give away. At all. So…
a Rafflecopter giveaway

Yes, this is literally whatever the hell you want. International, as long as it's under $20 US. And I don't just mean books, I mean seriously whatever the hell you want. It doesn't end til December 31, because I am kiiiind of broke from all the giveaways this month (from #ShatteringStigmas, Discussion Challenge, and the October New Release), so there you have it.
What are some things you have learned from blogging and/or the bookish community? Have you met (or want to meet) any awesome bookish people
(if we've met I'll totally just take that as a yes 😉 )

? Let us discuss all the things!