These books have really not a thing in common. Except they release(d) in the summer. So there you have it.
Coming Up for Air by Miranda Kenneally
See What I Have Done by Sarah Schmidt
The Road to Winter by Mark Smith

---
Coming Up for Air by Miranda Kenneally
Series: Hundred Oaks #8
Published by Sourcebooks Fire on July 4th 2017
Pages: 320
Format:eARC
Source:Copy provided by publisher for review, via Netgalley


Swim. Eat. Shower. School. Snack. Swim. Swim. Swim. Dinner. Homework. Bed. Repeat.

All of Maggie's focus and free time is spent swimming. She's not only striving to earn scholarships—she's training to qualify for the Olympics. It helps that her best friend, Levi, is also on the team and cheers her on. But Levi's already earned an Olympic try out, so she feels even more pressure to succeed. And it's not until Maggie's away on a college visit that she realizes how much of the "typical" high school experience she's missed by being in the pool.

Not one to shy away from a challenge, Maggie decides to squeeze the most out of her senior year. First up? Making out with a guy. And Levi could be the perfect candidate. After all, they already spend a lot of time together. But as Maggie slowly starts to uncover new feelings for Levi, how much is she willing to lose to win?

If you know me, you know that two things are true: 1) I don't usually get along well with fluffy; and 2) I will read anything that promises me swimming. So I was on the fence about whether I should read this, especially since it was part of a series that I'd never read. But alas, it was such a fabulously pleasant surprise! First, if you haven't read the other books, it is absolutely not a problem. I had been told this, but I had a pretty healthy level of skepticism about it. Also, if you are (or were) a swimmer, you'll be incredibly happy to know that the swimming references are on point! I'll delve more into that in a second. Let's talk about what I adored, shall we?
Maggie was awesome. She seemed so realistic to me, especially as a person who did devote my whole high school career to athletics. Look, I was not Maggie-level Olympian hopeful or anything, but I was really serious about it. So I understood her so much, understood how important swimming was to her, and understood how sometimes it is really, really hard to balance having a swimming life and any kind of personal life, especially when you include the responsibilities of high school, and preparing for college. I loved how realistically the author portrayed Maggie's situation- and I think so many teens would be able to relate to it. Even if you aren't/weren't an athlete, no doubt you've lived through the stress of juggling something.
As I said before, the swimming references are so, so well done. The author clearly did her homework, not only with the basics of the sport in general, but in actual habits and mores of the athletes. It brought me back to that intense swimming life, and I loved it. The book discusses things like "swimcest" (which is when a swimmer engages in teammate romance), coach-swimmer interactions, issues with jealousy, pre-meet rituals, and so much more.
The romance was so ship-worthy. I love the friends-to-lovers trope, which made it a huge win. Levi is her teammate, of course, and so he understands Maggie's priorities and her time constraints. Plus, they just work so well together, they play off each other perfectly!
It was just an overall fun book to read. The book showed such a realistic glimpse into so many of the struggles that a young scholar-athlete goes through. There was romance, friendship, and I loved that the characters were so driven. They weren't perfect by any means, but I liked that they tried so hard and were invested in their futures.
Bottom Line: Definitely one of the best fluffier books, and one of the best swimming books I have ever read. I loved the story, the romance, and the characters, and now want to read the rest of the series!
---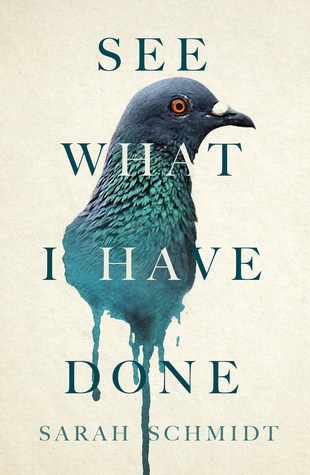 See What I Have Done by Sarah Schmidt
Published by Atlantic Monthly Press on August 1st 2017
Pages: 336
Format:eARC
Source:Copy provided by publisher for review, via Netgalley


In this riveting debut novel, See What I Have Done, Sarah Schmidt recasts one of the most fascinating murder cases of all time into an intimate story of a volatile household and a family devoid of love.

On the morning of August 4, 1892, Lizzie Borden calls out to her maid: Someone's killed Father. The brutal ax-murder of Andrew and Abby Borden in their home in Fall River, Massachusetts, leaves little evidence and many unanswered questions. While neighbors struggle to understand why anyone would want to harm the respected Bordens, those close to the family have a different tale to tell—of a father with an explosive temper; a spiteful stepmother; and two spinster sisters, with a bond even stronger than blood, desperate for their independence.

As the police search for clues, Emma comforts an increasingly distraught Lizzie whose memories of that morning flash in scattered fragments. Had she been in the barn or the pear arbor to escape the stifling heat of the house? When did she last speak to her stepmother? Were they really gone and would everything be better now? Shifting among the perspectives of the unreliable Lizzie, her older sister Emma, the housemaid Bridget, and the enigmatic stranger Benjamin, the events of that fateful day are slowly revealed through a high-wire feat of storytelling.

I won't lie, I am pretty fascinated by the Lizzie Borden case. I think the fact that it has been unsolved, and probably will forever remain as such that makes it so compelling. And fiction based on the case has always been of interest to me, because I love to read different authors' takes on what may have happened. To read different accounts of who Lizzie might have been, who her family might have been. The psychology surrounding the case is endlessly intriguing, and makes for a pretty great read.
In this particular Lizzie Borden book, we see the perspectives from several of the key players in the case. They're shown mainly in flashback form, both leading up to the murders and afterward. I enjoyed the varying perspectives, as they kept the mystery going. It was also interesting how the author portrayed Lizzie- which I won't get into because that would be spoilery.
The main problem I had with the book is that it often seemed quite slow. There were large chunks that I felt like nothing was really being revealed, nothing was happening.
Bottom Line: While I enjoyed getting into the minds of some of the players in the Borden case, I do wish the stakes had seemed higher, that there had been more revelations. (If you want to read about my favorite Lizzie Borden book, check out Sweet Madness!)
---
The Road to Winter by Mark Smith
Series: Winter #1
Published by Text Publishing on June 27th 2016
Pages: 233
Format:eARC
Source:Copy provided by publisher for review, via Netgalley


Twenty years ago, John Marsden's Tomorrow series captivated a generation of readers.

Now, Mark Smith's The Road to Winter tells a thrilling, primal, twenty-first century story of courage and survival in the Australian wilderness.

Since a deadly virus and the violence that followed wiped out his parents and most of his community, Finn has lived alone on the rugged coast with only his loyal dog Rowdy for company.

He has stayed alive for two winters—hunting and fishing and trading food, and keeping out of sight of the Wilders, an armed and dangerous gang that controls the north, led by a ruthless man named Ramage.

But Finn's isolation is shattered when a girl runs onto the beach. Rose is a Siley—an asylum seeker—and she has escaped from Ramage, who had enslaved her and her younger sister, Kas. Rose is desperate, sick, and needs Finn's help. Kas is still missing somewhere out in the bush.

And Ramage wants the girls back—at any cost.

The Road to Winter is an unforgettable novel about survival, honour, friendship and love. It announces an extraordinary new talent.

This was a quick book, and an entertaining read, though I don't think the plot was particularly groundbreaking. I loved the Australian setting and the sense of adventure. It was a super fast moving book and a quick read, and while I didn't completely feel connected to the characters, I liked them enough to be invested in the story and the outcome for the characters.
This book follows the path of quite a few survival/dystopians, so it isn't completely fresh, but the setting and some of the situations the characters face are unique so it feels a bit different. I'm definitely curious to find out what happens next, so I plan on reading the sequel.
Bottom Line: If you're a fan of dystopian, you'd probably enjoy this. It's quick and entertaining, if not completely novel.
Have you read any of these books? Planning on it? Let's talk about them!