Welcome to my stop on the blog tour for The Crown's Fate by Evelyn Skye! Today, I have a mini-review of the book for you, along with a fancast, which I won't lie, is hard for me, so I hope it's okay 😉 Also, an awesome giveaway, so keep on reading!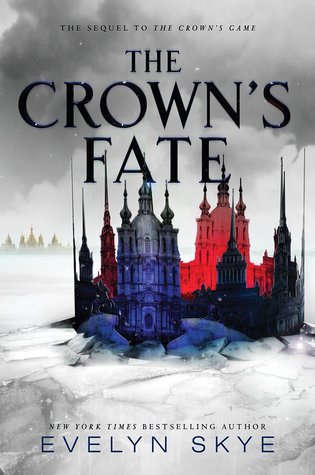 The Crown's Fate by Evelyn Skye
Series: The Crown's Game #2
Published by Balzer + Bray on May 16th 2017
Pages: 400
Format:ARC
Source:ALAMW


Perfect for fans of Shadow and Bone and Red Queen, The Crown's Fate is the thrilling sequel to the New York Times bestselling The Crown's Game, an atmospheric historical fantasy set in Imperial Russia.

Russia is on the brink of great change. Pasha's coronation approaches, and Vika is now the Imperial Enchanter, but the role she once coveted may be more difficult—and dangerous—than she ever expected.

Pasha is grappling with his own problems—his legitimacy is in doubt, the girl he loves loathes him, and he believes his best friend is dead. When a challenger to the throne emerges—and with the magic in Russia growing rapidly—Pasha must do whatever it takes to keep his position and protect his kingdom.

For Nikolai, the ending of the Crown's Game stung deeply. Although he just managed to escape death, Nikolai remains alone, a shadow hidden in a not-quite-real world of his own creation. But when he's given a second chance at life—tied to a dark price—Nikolai must decide just how far he's willing to go to return to the world.

With revolution on the rise, dangerous new magic rearing up, and a tsardom up for the taking, Vika, Nikolai, and Pasha must fight—or face the destruction of not only their world but also themselves.

So, I was super excited for this book, as The Crown's Game was one of my absolute favorites of 2016! The tone for this book was quite different than the first. Since so much had happened (I can't say obviously, because spoilers, hence a mini review!) the time for fun and whimsy and magical banter was over, and now the characters were left to deal with the aftermath of some pretty life changing stuff. So yeah, it's much darker, much more desperate, the stakes are somehow even higher than in the first book.
As such, the characters go through a ton of development. They have to grow up pretty quickly and make a lot of really hard, really terrible choices, but these things force them to figure out who they want to be. While I did miss some of the innocence of the first book, this was definitely a well-written and fitting sequel. Really, there was no way that these characters could have stayed the same, no way their world could have continued as it was. The journey they go on and how it concludes were definitely satisfying!
Buy Links:
---
The Fancast
---
Skype Session with Evelyn Skye + Evie Seo Tote
Follow the Tour!
So, have you guys read The Crown's Game yet? Are you excited for the sequel? And of course, would you watch my cast? 😀