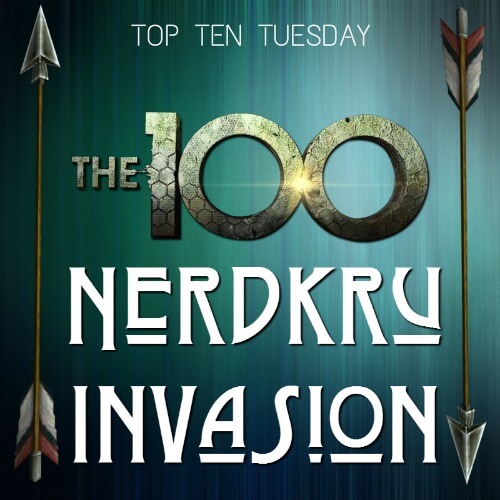 Top Ten Tuesday is a feature hosted by The Broke and the Bookish. This week's theme is: Fandom Freebie — top ten fandoms I'm in, 10 reasons X fandom is the best, must have merchandise for x fandom, etc. etc. 
If you didn't think this was going to be about The 100, you were sorely mistaken. And if you didn't think that Nerdkru would do this together… ALSO mistaken. Since we all did all of these posts, make sure to check out Holly @ The Fox's Hideaway and Erica @ Diving Under the Cover for more Fandom Fun!
**Also, SPOILERS in some cases, friends, if you aren't caught up!
In case you don't know what a crackship is, I shall help you out (actually Urban Dictionary will, but shhh):
So these are ours! And I told a backstory, if any exists, who chose it, and the chances of it actually happening. Onto the ships!
Chosen by: Shannon
Reason: Niylah is chill, and she's been a good friend to O. Plus, O needs to end up with a Grounder, let's be real. BUT I do not want this to happen until Octavia can fully move forward- not while she is still so freshly grieving.
Likelihood: Not great, but not totally unlikely. Let's give it a 3/10
Chosen by: Holly
Reason:  "I still LOVE the idea of Minty in the future. The guard and the engineer. The more rough and outgoing Miller with the quieter, give-all-he-has Monty. I think they make an ADORABLE couple, and I thank whoever brought this idea into the fandom because I want it to happen very much. Not that I don't like Bryan. Well, I don't really care for his character, no. But I WANT MINTY MORE!"
Likelihood: Slim. Although both of their partners seem short for this world (sorry, y'all) I don't know that Monty is bisexual. I'll give it a 2/10. Sorry Holly. I am a Minty fan too, so I feel you.
Chosen by: Erica
Reason: "I don't remember what episode it was but there was a moment that Jaha looked at Abby and I knew it meant something more. I can tell he cares a lot about her and if it happened I wouldn't be terribly mad."
Likelihood: Initially, I'd say high- it was written into the script of the Pilot that Jaha loved Abby. But since they've gone by way of Kabby, and I don't think Abby will make it through Season 4… low. 2/10.
Chosen by: Shannon
Reason: Because underneath all the hate and rage could be some really freaking amazing chemistry. Plus they have both changed SO much- Murphy even has the ability to love, guys!
Likelihood: Not at all while Emori is alive. If she bites it, I give angry sex a 5/10 chance, at least.
Chosen by: Holly, inspired by Shannon 😉
Reason:  "I blame Shannon's recap for this. While I was looking on it for a certain gif, I started rewatching the scene between the two of them, and I deeeefinitely would not mind this crackship. Two badass leaders, with the weight of the world on their shoulders. Roan, to save Azgeda. Luna, to save EVERYONE. I think they could be like this power couple who rules with fear AND grace. Okay, now I really want it. Ugh."
Likelihood: I actually don't not see this. 4/10. And I also approve.
Chosen by: Erica, obvs.
Reason: "Okay Octavia and Kane


I would so support it if Kane wasn't SO MUCH older." (Too bad, you said it.)
Likelihood: Literally none. Well, I won't say never, so 1/10.

Chosen by: Shannon
Reason: This has been my crackship since Bryan got a new show and Monty got a girlfriend. Plus, it would keep Ilian away from Octavia, and I think they would be good for each other- both attractive, strong, smart- and they could teach each other about Grounders and Skaikru and would understand the other more.
Likelihood: Not good, since Ilian sleeps only with Octavia and maybe sheep so far. 2/10.

Chosen by: Holly
Reason: "Raven/Octavia/Murphy/WHOEVER because at this point I'd be surprised if Raven gets any good romance – If the show seriously decides not to make sea mechanic (Raven and Luna) an actual Thing, then I will riot. And push for Raven to get her happy-for-now. I know she doesn't NEED someone to make her whole, but what character deserves unfailing love and a bit of a good hot sex more than Raven? She'd had a bit of that with Wick, but that's gone and over, and Raven could die, so GIVE HER SOME HAPPINESS, DAMN IT."
Likelihood: Solidly good. Raven and SOMEONE is probably 9/10.
Chosen by: Erica
Reason: "Two bad ass characters. I think they're so alike yet so different and I would have totally been behind it."
Likelihood: LITERALLY zero because Lexa is dead. 0/10, unless they do this in the afterlife.
Chosen by: All of us!
Reason: Luna is the calm to Raven's intensity, she is nurturing when Raven needs a soft place to land. Raven has the wits to entice Luna, and also, Luna seems to enjoy cuddles with Raven. They can sing sea lullabies together and Raven can enchant Luna with tales from space.
Likelihood: Not terrible!  A LOT of people seem to be clamoring for this one, so… I'd give it a maybe! 6/10
So, do you agree with any of our choices? Think it's weird because you feel like Kane might actually be O's dad? What topic did you choose this week? Let's talk!