Sure, there are probably lots of bookpeople out there who are super responsible about spending your money when it comes to books. You know all the best ways to save bank: You go to the library religiously, shop for used books, and have no time for "special" editions and other marketing ploys. I salute you, brave bookperson. Also, this post isn't for you. 
It's for those of us without self control, without the tools to "just say no" to some sparkly cover. We must faithfully obtain every edition, we must watch every adaptation, and we need all the merchandise. Frankly, we're going to end up living in one of the large boxes that our book orders come in. And here is why:
1.Multiple Editions of Every Book Ever. 
You know the drill. Book of Hype is releasing in two months, and it has already begun: The pre-order gifts, the fancy first editions, and my personal favorite (thanks, UK) the "collect all 6 Book of Hype covers!". Then of course, the publisher comes out with special covers afterward. You know- the anniversary edition, the paperback edition, the "Hey it's a Tuesday and I bet readers will spend money if we make a new cover" edition.
I am so beyond guilty of this, I don't even know where to begin. Well, let's begin with the worst of the offenders, of course. (For me, anyway!) The Hunger Games.
2. Books you don't need 
Yeah so, have you ever gone into a bookstore, or been online browsing, and thought "hmm, that book looks good", and added it to your cart? Of course. But what if, for example, this is the third book in a series that you haven't even started? Would a reasonable person do that? I don't know, but I do. More often than I'd like to admit. These are books that I bought even though I have not read the one before it yet:
These don't even include books I have won, traded, been sent for review, gotten at conferences… if I added them all in, well, there would not have been enough room on the shelf. What if I hate the first book? Then what? Now I have a whole damn series of books I won't like! This is a fabulous way to send yourself to some kind of debtor's prison.
3. Shelves and Such
Well, now you have spent all the money on books, but where are you going to put them all? Right, you, my friend, need some bookshelves, stat. Now, if you are rich and fancy, maybe you can buy some kind of nice, matching bookshelves. I bet they're mahogany or something classy.
But for my fellow non-rich folk out there, you may have something along the lines of my shelving situation. It goes like this: I had one crazy-big bookcase from when I was a kid that should be fine for a normal person's needs. But it wasn't. So then I bought a cheap little Walmart one that didn't match anything, but soon that overflowed. So then I bought another pretty sizable bookcase on Amazon, that didn't match either of the other two. And when space ran out, I bought a fourth shelf from Amazon- this one does actually match the third one, but let's be honest, at this point, the odds were in my favor.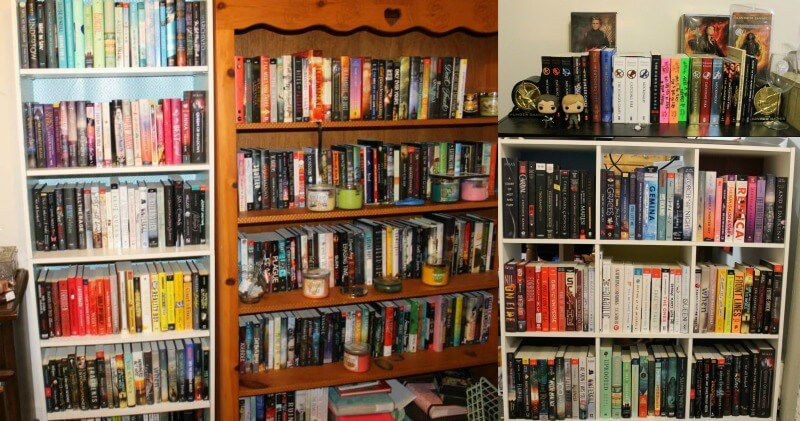 4. Merchandise 
I'd like to take a minute and give a nice shoutout to Harry Potter here, because I am pretty sure Harry takes the cake for merchandising. I mean, dude has his own park, right? You can spend literally thousands of Harry dollars in just a couple days, and you wouldn't even be trying that hard.
But really, book merch has been around for a long time. I had all the merchandise for The Baby-Sitters Club back in the day. The sleeping bag, the board game, the posters, the t-shirts, and probably some other stuff I am blocking out because it was embarrassing.
Now, of course, we have all sorts of new and exciting merchandise! Everyone and their talented mom has a Society6 store (insert shameless self-promo) where you can throw all the money at bookish quotes, fan art, and things of that nature. And hell, half your favorite series probably have Funkos at this point, too.
Point is, if you love a series, you're going to want whatever you can get your hands on when it comes to it. Which leads me to my next point….
5. Adaptations: Movies, Premium TV Subscription, etc
So, finally, your favorite book is being made into a movie! You don't know if you should be excited or terrified, but you do know for damn sure you're going to be seeing it. So I mean, $10 for a ticket, throw in some popcorn and a drink, and the fact that you're absolutely going to buy it later… well, you've probably spent $40. Easy.
But wait! That one book is being made into a show! This is exciting, right? Well, that depends. How much money can you spend on random ass television? Because if you want to watch Game of Thrones, Big Little Lies, and probably some other shit, you're going to need HBO. Want to watch The Handmaid's Tale? Hulu subscription required. 13 Reasons Why or A Series of Unfortunate Events on your radar? Better make sure your Netflix is up to date. Miss Ricky Whittle and/or need to see American Gods? Well, I hope you have Starz. And other faves require a cable subscription, if you want to watch Shadowhunters or Shannara. And even my beloved The 100 has been tough for people in certain places, even though The CW is free in a lot of areas, it isn't in all.
Unless you are rolling in all the money for entertainment, you're going to be missing some. I have a serious case of the sads that I will forever be spoiled about Game of Thrones before I ever get to watch it. I want so badly to watch The Handmaid's Tale, and I NEED Ricky Whittle back in my lifeeee. But alas. I am luckier than a lot of people, and I acknowledge this! But if I spent all that money? I would legit not be able to pay my mortgage, so see how quickly we can get to that box?
6. Kindles and Electronic Stuffs
If you're going to really commit to this whole "spending all your money" thing, you're going to have to grab an e-reader of some kind. If you want digital ARCs, this is nearly a necessity. And, if you don't have an e-reader, you'll need some device, certainly a phone, a computer. I mean, granted, you kind of need those things to function in 2017- at least a working phone, I suppose- but if you want a smartphone or… well, I don't actually know how audiobooks work, but I bet you need… something to listen to them on. Because I highly doubt that the narrator knocks on your door and just starts spewing forth words from Book of Hype.
7. Blogging Costs
Now, this does only apply to the bloggers among us. And let's be real: you don't need to spend money to blog. You just don't. You can teach yourself how to code and do design even if you have Blogger or free WP. You don't have to do giveaways, or pay for extra plugins, or whatever. It can all be done for free, well, as long as you have a way to connect to the internet.
But I am talking about ways to spend all the money, so screw free. How do we make sure we spend all the money? Well, you can get a nice, professional design. I did that once, then my blog crashed a few weeks later, and I had to recreate it all from scratch by myself. (Learning experience, though!) You can give away all the things. Books for everyone! You can become self hosted, and then buy every available plug-in- though to be honest, this will probably not make your blog very efficient, so maybe skip that one?
You can hire a blogging secretary! I have wanted to do this for ages, only I have no actual money and none of my friends are willing to do it. Believe me, I have asked.
8. Conferences/Events
Now, these can be mildly pricey to holy-crap pricey, depending on the situation. If you are lucky enough to live near a bookstore that has authors coming around, you can probably do this for not much money. But, if you want to go to a several-day long event in a city far from you… well, get ready to shell out the money! If you fly, don't forget that you have to haul books somehow. Or you can make Val  or Sabrina do it. Just pay them. In seriousness, it is a great way to see the bookish people you love from all around the country/world, but save your pennies!
Then there's hotels. Find some friends, or get a tent prepped and huddle outside the convention. I mean, I don't know if anyone would throw you out, but think about the stories you'd have to tell! Whatever you do, if you order gnocchi in Atlanta and it's $20, be sure they give you more than 8.
So yeah. My point is, bookish stuff can be pricey. Especially if you don't keep it in check. Which… well, I have been better, above Funkos aside. But it is a struggle, because there will always be pretty new editions, the next "Big Thing", and events all over the place. And I don't know about all of you, but money is not something that I am rolling in. So I did this post in jest, of course- I don't really want any of us to be bankrupt ha- but it is easy to see how much some of this stuff adds up, isn't it? 
Do you ever find yourself concerned with bookish spending? Or do you have a pretty good handle on it? Or are you just super rich and money is no object? If that's you, hit me up, we need to chat 😉