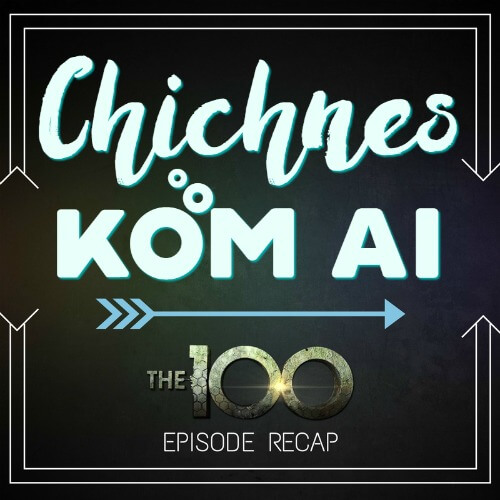 Just a reminder, spoilers galore!! 
This was… interesting. Parts of it I loved. A lot of it made me cry, but I generally consider that a win. And things happened that I never thought I would see on this show. Things like….
A car chase.
Jasper quoting Dr. Seuss.
Me being disappointed in Miller's Dad
Me shipping either Raven/Luna or Raven/Murphy and I feel like I really have no business shipping the latter.
Pretty sure Monty just became some kind of de facto leader?
The Ark Still Works for Sex and Liquor Consumption
So, looks like there are loads of activities that can still be carried on inside Alpha Station! You can definitely still have sexy times with your best friend-with-benefits while looking at pictures you drew of your dead ex-lover. You can absolutely still run a moonshine bar and drink all the liquor with your ex-Chancellor. You can totes gang up on that one kid who tried to burn down your house, and you can kick him. You can tase the current Chancellor for trying to stop said kicking. You can disown your brother while you turn to not even have to bear the sight of him. You can become besties with the King of Azgeda as you prepare to go on a little errand. You can have super cute step-dad moments, like this one:
"Fine, you can officially be my new Daddy…"
What you cannot do, however, is survive the radiation poisoning. Womp womp. Ilian was all "oopsie, no one told me?". Even though… who burns down an entire village like it's no biggie? He seemed to genuinely not understand why everyone wanted him dead. "Who, me? But I just don't like 'tech', that's all! Hey, remember that time I pulled those two girls from a burning Ark? Too soon?"
So people start talking. About killing Ilian, of course. As you do. Especially this guy, who we're going to refer to as Five Year Old Dad, or FYOD for short.
But wait, how old is he? I can't seem to recall… ?
Monty and Niylah tried to calm things down, to no avail. Then Monty had some kind of weird chat with Jaha about Wells which, honestly I didn't understand. Did they just want us to remember that Wells was a "thing" once? Does Kass Morgan beg them to mention him from time to time, so they throw her a bone? No idea.
"There, that ought to hold her for a few episodes, eh?"
If you can't land… Crash
If you didn't think the best part of the episode was Murphy playing with a remote control car… well maybe you should leave. Kidding, kind of. Gosh, Murphy looks so nice and clean. I don't know what kind of soap Niylah has been making at Niylah's General Store, but it is on point, the cast looks healthier than ever, probably to remind us that they're all about to melt.
Anyway, it is Abby, Jackson, and still (perplexingly), Emori and Miller's naptime in Becca's lab. So we have Raven working on the rocket while Murphy plays with the aforementioned toy. Raven is… not having an easy time of things. So of course, she yells at Murphy for about fifteen minutes.
There, that should solve the problem!
Then Luna hears the ruckus from her nappy room, and comes to save the day. First she calms Raven by singing some kind of sea lullaby and grabbing her boobs really tight. Sounds reasonable. Then they do a Trigedasleng chant and some kind of breathing, and everything is copacetic.
Then Luna has a little chat with Murphy. But first, she stumbles in on him trying to learn Trigedasleng, which he is doing awesome at. But I find it completely adorbs that he is trying Luna's sea chant to calm himself. Everyone loves them some Luna, I guess.
So she is explaining that he must forgive himself. She killed her own brother, for fuck's sake, and she has it more together than him. Only she says it nicer.
There's our Luna, putting out fires all over the place. Too bad she wasn't at Arkadia… ?
Anyway, they put their minds together and come up with a solution!  Murphy says some stuff about Raven not being perfect, Luna brings up the sea, of course, since she may actually be the Little Mermaid, and Raven figures out she can land the rocket in the water! Of course, it'll never work, because it is The 100, but hey, it was a nice bonding moment, right?
Forgiveness Forgone
Remember when I thought that O hugging Bellamy was a step to forgiveness? Hahah just kidding, she hates him exactly as much as she did before. He clearly also thought that a little Eliza/Alexander style forgiveness was underway, he looked like someone kicked a puppy when he realized she was still mad as fuck.
And sure she's mad at Bellamy, but she is also mad at literally every human being who ever lived. Except maybe Indra, but who knows, because Indra is still "warning Trikru". There are like, five errant Trikru members still alive, I think Indra should have been back about four weeks ago, but whatever. Anyway, as much as I want her to forgive Bellamy, I can live with it if it leads to more Bellarke scenes like this one where Clarke and Bellamy seem to want to confess their love but don't because it is only Season 4. But I am pissed that Bellarke will be separated again. Alas, it is The 100 after all.
MY FEELS are not okay right now.
Mob Scene
Okay, here's the thing: I do get why this group of random people wanted to kill Ilian. I do. But I also get why Kane tried to stop them. Because he knows what happens when you let that shit start. He tried to stop it with Pike, was unsuccessful, and look what that led to? So instead of being like "hmm, maybe this dude has a point, the same point he had last time that we neglected to listen to and almost got us all killed", they were like "nah, let's tase his ass, and grab the kid". Oh, and who was doing the tasing? That's right, good ol' Mr. Miller.
NOT cool, Miller's Dad. 
But who is leading this mob? Octavia, of course. Which… I will be honest, I don't totally understand. I mean, she doesn't even like Skaikru last I checked? I thought she and Indra ran off and formed their own clan at this point. And yet, she is here, with FYOD leading the charge. Can we also please talk about how half the camp is raging, half is concerned for Ilian, and Jasper is just… chillin' along, hands in his pockets as if he is just waiting in line to get one of those City of Light ice cream cones?
"Hope they still have sprinkles!"
So Kane and Monty start to panic, because holy shit, they're going to have another Pike-like scene here and no one wants that. So they are literally going to pull out all  the stops. Everyone's going to give it a go here.
Monty struck out, clearly.
Do they really think people are going to buy this?
Oh… guess so. 
But Octavia doesn't. So out there, in the cold rainy awfulness, in a puddle of mud… Kane has to be cruel to save her from herself. I get it. He did the right thing. But it hurt so fucking much. You can even see Kane's hesitation, how much he didn't want to have to do it. Looking back at the episode, there were a lot of Pike parallels, and I think that is why Kane was so desperate to stop her. This is fucking gut wrenching though.
It's awful. It is all awful. Octavia runs away as Kane tries to comfort her. Jaha lets Ilian go and tells him to run. Monty nods at them both like he approves, which was cute.
"We Will Rise"
Who wants to hear a story about how I did an actual dance on my bed when I realized that Jaha was still turning over that Cult Soup token in his hand? Because I DID. Guys. GUYS. I knew Cult Soup Bunker was going to be a thing. And every time Jaha references the batshit crazy Cultkru leader, or plays with that token… I know it even more. (I would also bet a lot of money on my being completely wrong and off base here because I suck at predictions, but let me have my moment, okay?)
I'll never let go, Cultkru. I'll never let go.
Roan is probably Skaikru now
There are, unsurprisingly, all kinds of obstacles on the way to ALIE Island. I mean, I would have thought that crossing the water would have been a biggie, but hey, who knows. They faced… an old, dead Trikru man, a young, nosy Trikru boy, and some traitorous Azgeda warriors dead folks. I guess they were going to use the… look, I forget what this stupid chemical is called, so I am just going to go ahead and call it BOOM until the end of time/this storyline. So the Azgeda guys figured they'd steal BOOM, Clarke, and a Rover while Bellamy and Roan were… I actually don't know what they were doing. Bonding, obvs. So Roan kills one, Bellamy kills one, and Clarke somehow doesn't plow down Bellamy in her Rover. This seems like the biggest deal of them all, honestly. Also, CAR CHASE.
THE SMILES. I can almost forgive post-apocalyptic car chase randomness. 
But alas, a stray Trikru arrow has pierced a barrel of BOOM. And Raven had just said (again, unsurprisingly) that she needed every last drop of BOOM to make her plan work. So then she has a seizure and I think it's mostly because she is pissed that she doesn't get to go for a space ride.
"I was going to be a space cowboy"–Raven, probably

Gimme Shelter
I just don't know. Maybe Jaha will roadtrip it back to Cult Soup Bunker. Maybe that guy with the FIVE YEAR OLD SON will volunteer for Abbycillin. (But tbh, he isn't as sympathetic as Hair Clip Dad and NEVER WILL BE.) Maybe Roan and Bellamy will go foraging for berries together, with a wicker basket. Maybe Murphy finds some more long lost toys.  Maybe Octavia adopts a Trikru orphan with Indra. I have no idea what is happening anymore. But I assume Raven is okay, since Abby would be way more hysterical if Raven was dead. Plus they aren't going to kill Raven. Especially in Episode 6/7. Come on now.
So, what did you all think of the episode!? Did you cry all the tears over Octavia/Lincoln/Bellamy like I did? Is Cult Soup Bunker going to be a thing or am I delusional? Let us chat!