Welcome to my stop on the Tsar's Guard tour for The Crown's Fate by Evelyn Skye! If you recall, I read the first book, The Crown's Game, last year and kind of loved it. And one of my favorite parts was All. The. Russia. 
Now, I was lucky enough to have seen a lot of the places that Vika and the gang were at in the book. And I loved being able to picture them working their magic in these incredible and beautiful historical Saint Petersburg locations. But why just visualize when we can share? So I figured I would take you on a little tour of some of these places today! And also, there's a giveaway to enter! But first, a bit about the book, yes?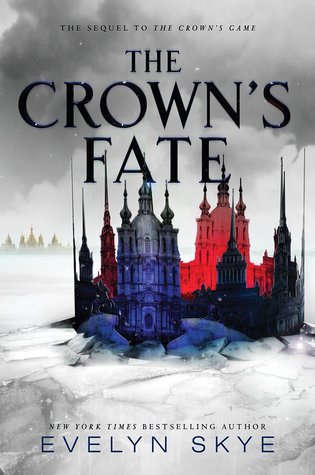 The Crown's Fate
by Evelyn Skye
Series: The Crown's Game #2
Published by Balzer + Bray
on May 16th 2017
Pages: 400

The gorgeous and darkly compelling sequel to The Crown's Game—perfect for fans of Red Queen and Shadow and Bone.

Magic is growing, shadows are rising, and the throne is at stake…

Russia is on the brink of great change. Pasha's coronation approaches, and Vika is now the Imperial Enchanter, but the role she once coveted may be more difficult—and dangerous—than she ever expected.

Pasha is grappling with his own problems—his legitimacy is in doubt, the girl he loves loathes him, and he believes his best friend is dead. When a challenger to the throne emerges—and with the magic in Russia growing rapidly—Pasha must do whatever it takes to keep his position and protect his kingdom.

For Nikolai, the ending of the Crown's Game stung deeply. Although he just managed to escape death, Nikolai remains alone, a shadow hidden in a not-quite-real world of his own creation. But when he's given a second chance at life—tied to a dark price—Nikolai must decide just how far he's willing to go to return to the world.

With revolution on the rise, dangerous new magic rearing up, and a tsardom up for the taking, Vika, Nikolai, and Pasha must fight—or face the destruction of not only their world but also themselves.
Additional Buy Links:
Now, let's see some Russia, shall we?
I am going to try to keep this super spoiler-free in case you have yet to read the first book. But trust that each of these does make an appearance- and probably in a very fun and special way 😉 The pictures are mine, except for the Ovchinin Island since that isn't an actual place, so those are just public domain photos I found!
Ovchinin Island
Admittedly, this is from my own head/how I imagine the island home of Vika that Evelyn created. Because… well, it is from her own head and imagination, not actual Russia. But still, fun, no?
Winter Palace
This is now the site of The Hermitage museum, but had a very different function for Vika and the gang.
Neva River
This is a big old river (the 4th largest in Europe, in case you had a burning desire to know that) that runs right through the heart of Saint Petersburg. So of course, it shall be familiar in the series!
Nevsky Prospekt/Palace Square
This is the "main" street in the city, if you will. And the Palace Square is the central area in the city, which includes the Winter Palace
---
One lucky winner will receive an ARC of The Crown's Fate! Open internationally!
Jan. 9th – Brittany's Book Rambles: The Crown's Fate Review
Jan. 10th- Sarcasm & Lemons: Fancast
Jan. 11th- The YA Book Traveler: History of Russian Crowns
Jan. 12th- Picnic Reads: Character-Based Book Tag
Jan. 13th- Book Nerd Addict: Inspired Tote Design
Jan.16th- Dazzled by Books: Top 5 Reasons I Love The Crown's Game
Jan. 17th- Rants and Raves of a Bibliophile: Characters Matched to Teas
Jan. 18th- The Book Buzz: New Enchanter
Jan. 19th- The Aus. Library: Famous Russian Fairytales
Jan. 20th-  My Thoughts Literally: Character Inspired Dessert
Jan. 23rd- Omg Books and More Books: Books that Characters of TCG Would Enjoy
Jan. 24th– It Starts at Midnight: Virtual Tour of Russia
Jan. 25th– Next Page Please!: Character Blog
Jan. 26th– The Book Nut: Playlist
Jan. 27th– Arctic Books: Make-up Looks
Jan. 30th– Two Chicks on Books: Pinterest Recipe Board
Jan. 31th– Lost in Ever After: Typical Date for Nikolai & Vika
Feb. 1st- Alexa Loves Books: Fashion Book Look
Feb. 2nd- Sophie Reads YA: Russian History In and Out of The Crown's Game
Feb. 3rd– 21st Century Once Upon A Times: Drink Your Way Through The Crown's Game
Feb. 6th- The Eater of Books: 10 Reason I'm Excited for TCF
Feb. 7th- A Thousand Words A Million Books: Top 5 Magical Moves in The Crown's Game
Feb. 8th- Seeing Double in Neverland: Fanmade Bookmarks & Swag
Feb. 9th- A Page With A View: YA Fantasy Books set in Russia
Feb. 10th- Dana Square: Recipe from The Crown's Game
Feb. 13th-YA Wednesdays: Favorite Quotes from The Crown's Game
Feb. 14th- Juniper Reads: Sorting Characters into Fandoms
Feb. 15th- Nicole's Novel Reads: Nail Polish Looks
Feb. 16th- The Queen Reads: What the Characters of TCG would take to a Deserted Island
Feb. 17th- A Perfection Called Books: The Crown's Fate Review
Have you read The Crown's Game? Are you excited for the sequel? And also, RUSSIA- has anyone been?