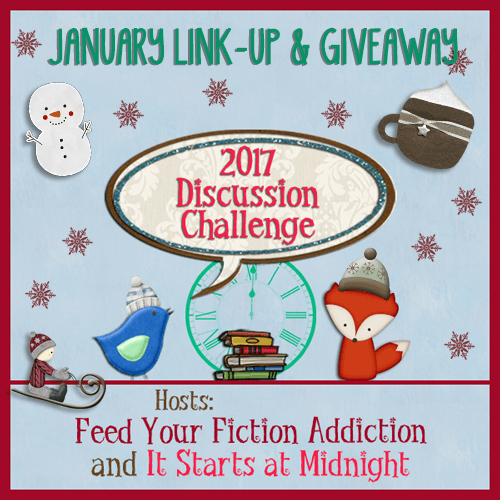 Welcome to the January monthly link-up for the 2017 Book Blog Discussion Challenge hosted by Nicole @ Feed Your Fiction Addiction and Shannon @ It Starts at Midnight!
It's a new year!!!
Welcome to all of you new challenge participants! We hope you'll find lots of new topics to discuss and make new friends here. You'll find that the Discussion Challenge participants are a friendly bunch!
The winner of our November discussion challenge link-up was Alice from Arctic Books. She chose a pre-order of A Court of Wings and Ruin. Nicole is one of the few people on the planet who hasn't read this series yet, but she plans to at some point. I plan to read ACOMAF before ACOWAR comes out. We'll see how it goes 😉 We hope you love it, Alice!
If you don't know what this challenge is all about or haven't signed up yet (but want to), head on over to the challenge sign-up page to learn more! Even if you'd rather not join, we hope you'll stop by occasionally to check out the MANY discussion posts that are being linked up here – there's lots of great discussions going on!
We're no longer giving discussion ideas each month (because not that many people seemed to need them), BUT you can check out our list of the topics we've suggested over the past two years if you need some inspiration. There are LOTS of ideas there, and I'm sure you'll find one you love!
Looking for even more inspiration, or want to see some discussion posts as an example? Check out the discussion posts on Feed Your Fiction Addiction or It Starts at Midnight!
Featured Blogger
This month's featured blogger (as chosen by Nicole & random.org) is Karen @ Kissin' Blue Karen! Nicole chose her two favorite discussion posts that she wrote in 2016. (Commenting on these will give you extra entries in the giveaway, by the way—if you already commented on them when they went up originally, that counts too!)
Since it's a new year, this month's giveaway will be a pre-order (or order, if it's already out) of any 2017 release (up to a $17 value). If you're anything like us, there are plenty of 2017 releases you're looking forward to! As always, the giveaway is open to anyone that The Book Depository ships to (or, if TBD doesn't ship to you, you could choose an ebook!).
Make sure to link up all of your January discussion posts here. This linky and the January giveaway will be open until February 7th (to give people a little extra time to link up – just in case you're disorganized like we are). If, by some chance, you forget to link up a post this month, you can add it to next month's linky (but no duplicates, please).
Go forth and discuss!
Credits for elements used in original button: Clever Monkey Graphics, B2N2 Scraps, Sweet Digi Scraps, Harper Finch
Winter elements: Marie Stone and Julie Bullock.