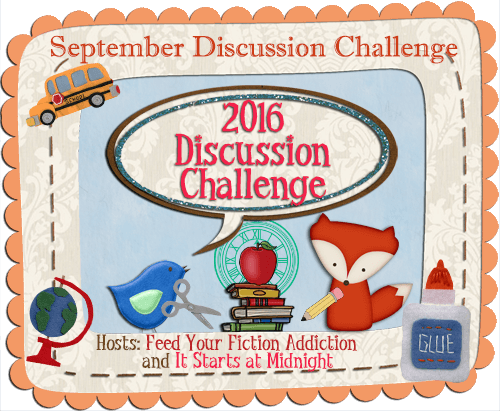 Welcome to the September  monthly link-up for the 2016 Book Blog Discussion Challenge hosted by Nicole @ Feed Your Fiction Addiction and Shannon @ It Starts at Midnight!
Where did the summer go??? That's all I will say about that. I refuse to acknowledge that fall is coming this month. <—— Actually, Nicole said that, but I agree so much that I kept it in ?
The winner of our July discussion challenge link-up is still up in the air. I know that seems crazy, but Nicole has actually tried contacting multiple people to let them know they've won and haven't heard back from them. That's never happened with this challenge before since we know most of the participants. Hopefully this last time was a charm? If not, who knows? Maybe you'll be the next winner to be drawn!
If you don't know what this challenge is all about or haven't signed up yet (but want to), head on over to the challenge sign-up page to learn more! Even if you'd rather not join, we hope you'll stop by occasionally to check out the MANY discussion posts that are being linked up here – there's lots of great discussions going on!
If you need some ideas for discussion ideas this month, try out one of these topics:
Let's go with a school theme (since school is starting for a lot of people here in the US and in other parts of the world):
What's your favorite book that takes place in a boarding school, and would you want to go there?
What's your take on books that feature teacher/student relationships?
Tell us about a book that you learned a lot from. Could be intellectual knowledge or some other type of learning!
Looking for more inspiration, or want to see some discussion posts as an example? Check out the discussion posts on Feed Your Fiction Addiction or It Starts at Midnight (click the links to be brought directly to our discussion posts).

Nicole is going with a back-to-school theme. Choose any book where the main character attends (or teaches!) high school or college. As always, the giveaway is open internationally as long as The Book Depository ships to you. You can choose any book up to a $17 value. Just follow the Rafflecopter instructions to enter!
Make sure to link up all of your September discussion posts here. This linky and the August giveaway will be open until October 7th (to give people a little extra time to link up – just in case you're disorganized like we are). If you forget to link up a post this month, you can add it to next month's linky (but no duplicates, please).

Go forth, and discuss!
Credits for elements used in original button: Tracey Monette, Clever Monkey Graphics, B2N2 Scraps, Sweet Digi Scraps, PicMonkey