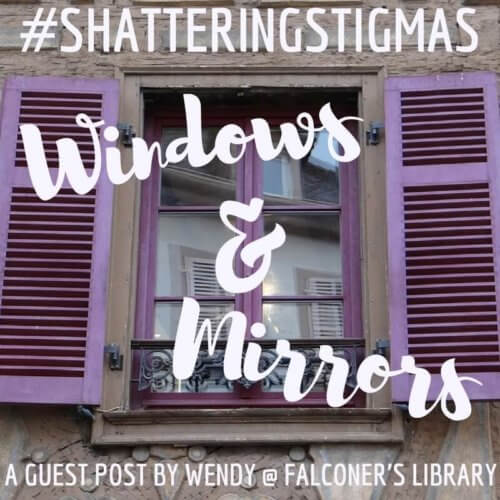 I am so excited to welcome Wendy @ Falconer's Library! Wendy has an awesome post today about some of her own experiences, and how mental health in books can be windows into other people's experiences, and mirrors of your own. I marked a few of her thoughts as spoilers, just in case you haven't read the books yet, so no worries! I think Wendy presents a very thought provoking topic here, so take it away, Wendy! 
Wendy's Post
Possibly the hardest thing I've ever done is ask someone I love if they were thinking of killing themselves.  When they responded, "I don't know," I took them to the hospital.  Things didn't get better right away, but they did get better.  Medication and counseling have improved their life so suicide no longer seems like the only way out of the pain.  Honest conversations have allowed us to explain that we can handle supporting them through their tough times, but we couldn't handle losing them forever.  Still, the possibility haunts me.
We talk a lot in this community about books as windows and mirrors.  When I was growing up in the 70s and 80s, I can't think of any children's or YA lit that addressed mental illness as anything other than weird.  (Boo Radley?  The madwoman in Rochester's attic?)  For people dealing with mental illness and for people who love them, that is a huge loss.  We need to know we are not alone, and we need to see multiple stories and alternatives.  
I am heartened by the increased number of YA novels that address mental illness and suicide with respect, dignity, and up to date information.  The Unlikely Hero of Room 13 B looks at family history as it relates to mental illness, and includes a romance that is neither ruined by mental illness nor a "cure" for it.  Stop Pretending: What Happened When My Sister Went Crazy is a backlist novel in verse that sensitively portrays the sadness, fear, and anger that are natural results of watching mental illness attack someone you love.  

There is one modern book about mental illness that I loathe.  13 Reasons Why angers me with its insinuation that suicide is "caused" by the actions of others.  Suicidal people are usually clinically depressed, not bummed out by other people.  Suicide seems like the only way to escape their pain, and they see themselves as burdens to others, so instead of it being a selfish act, it seems like the right thing to do.  Suicidal individuals need mental health support, not "better friends."

An even tougher reality is that some mental illnesses are harder to treat than others.  Just like some cancers are more likely than others to be fatal, some mental illnesses are more likely to cause death through suicide.  But because we still think of suicide as a "choice," there is this sense that someone should be blamed–either the victim, for making that choice, or their community, for not preventing it.

Schizophrenia has the highest correlation to successful suicide attempts, with 50% of all sufferers ending their own lives.  (Anorexia has an even higher death rate, though it can be argued whether or not starving oneself to death is always consciously suicide.)  Depression leads to suicide in a "mere" 15% of cases.  Taking into consideration that depression can be mild, moderate, or severe, it still doesn't bode well for those who have a more severe case.  All the Bright Places, then, is heart-breakingly realistic in that View Spoiler » Violet, who's depressed, recovers and survives, while Finch, who's schizophrenic, has a period of stability, but ultimately ends up taking his own life. « Hide Spoiler

It's Kind of a Funny Story gives an even more upsettingly realistic portrait of how deadly mental illnesses can be.  Craig Gilner goes through a lot, View Spoiler »but with the support of his family and appropriate medical care and therapy, he re-enters the world feeling this his illness, while incurable, will be manageable. « Hide Spoiler This cautiously hopeful ending is marred by the tragic postscript: author Ned Vizzini ultimately lost his own battle with mental illness.

Challenger Deep, Made You Up, and Every Last Word are all more optimistic looks at mental illness. They all feature characters who are not defined by their illness, but who are affected by it.  Each of them find help from without and courage from within to continue to live their lives.

This balance between addressing the illness without being defined or controlled by it is familiar to anyone with any type of chronic illness.  I think of my father, who had diabetes for seventy years.  Diagnosed around age 11, not that long after insulin treatments were discovered, he was told he'd be lucky to live to 40.  He went on to a career in photojournalism, traveling the world, raising four daughters, climbing mountains–doing everything he would have done without diabetes.

But if would be falsely cheery to say his condition had no effect on his life.  He relied on the support of his family.  We were scrupulous about three square meals a day, and we were all attuned to signs of high or low blood sugar that he, in a state of high or low blood sugar, might miss or deny.  He paid attention to his doctor's advice; monitoring and changing his insulin regimen over many, many years.  He sometimes chose to be selective about who he shared information with–mainly around institutions that would deny him the right to drive.  He lost two friends to diabetes, which must have scared him.  My dad had advantages of family support, the understanding of friends, a certain blind optimism and stubbornness, and just plain luck.  Without any or all of those, he could well have fulfilled the prognosis of an early death.  
There are a number of excellent videos and comics floating around about the ridiculousness of NOT responding to mental illnesses in the same we do to a physical illness like my dad's.  Most current literature avoids these obvious gaffes.  Books like Me Before You, I Was Here, I Will Save You and Girl Against the Universe all have perspectives I don't 100% agree with, but that's okay. The diversity of experiences and attitudes is a positive step forward.  A work that resonates for me might leave someone else cold.  As with all categories of diversity, the more perspectives shared, the more people will be able to see themselves in the mirror, to understand others through the window.  


See welcome post for all the details; terms and conditions are in the Rafflecopter!
a Rafflecopter giveaway

Have you guys read any of these books? What are your thoughts on the representation of mental health in YA? 
And a huge thanks to Wendy for sharing her thoughts and her story with us! Leave her some love!