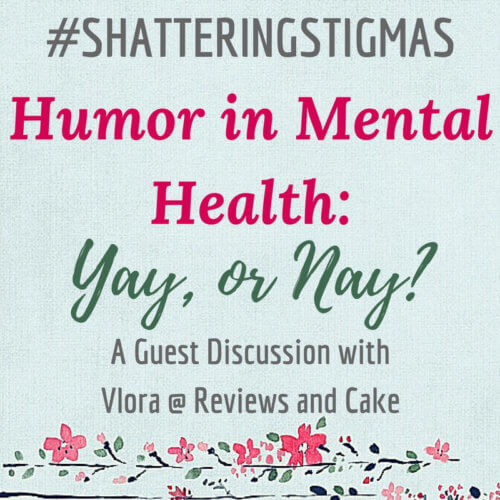 I am quite excited to welcome the lovely Vlora from Reviews and Cake to #ShatteringStigmas today! Vlora is kind of the best, so if you didn't already know…. now you do 😀 She's got a great discussion for us, so let's do this! 
Vlora's Post
First of all, thanks to the hosts for making Shattering Stigmas possible! It impacted my life for the better last year, so I decided I had to participate again this time. When I thought about the books discussing mental health that I've read, there was one thing that made some of them stand out for me: humor. Taking something as serious as mental health and mixing it with humor can have either disastrous or wonderful results, but one thing is for sure: it's often controversial, which is why I'm interested in your opinion!
Personally, I love humor in books, and that extends to books in which the characters struggle with mental health issues. I do however understand how this can be considered insensitive if it isn't done right, or readers feel like it was done in a disrespectful way. The books that immediately came to my mind for this topic were The Rosie Project and Finding Audrey. I've seen both books discussed controversially. For example, I felt that the humor in The Rosie Project wasn't really disrespectful to the protagonist, even when it was a result of him not understanding social cues, but a lot of people felt the exact opposite was true, and I understood their points as well. I don't want to discuss these particular books, but they're one example for how different readers perceive this issue differently.
I often make stupid jokes about serious things, because that is how I deal with the world, but, like everyone, I have a line and can get offended at others' attempts to do the same. For me, the question isn't whether humor and serious issues, like mental health, mix well, but where to draw the line between dealing with something difficult in a humorous way and making fun of something. Naturally, this line is different for everyone, which begs the question of how to include humor in books dealing with mental health without being disrespectful. Authors can never please everyone, and I don't think they should try, but I also want to see mental health issues treated seriously, even when books contain humor.
What do you think? Do you think there's a time and a place for humor and books dealing with mental health aren't it, or do you welcome it as long as it's respectful? Where do you draw the line between respectful and disrespectful humor? I can't wait to read what you think!

See welcome post for all the details; terms and conditions are in the Rafflecopter!
a Rafflecopter giveaway

What do you think of humor in mental health books? I personally like it. It seems honest to me, realistic. 
And a huge, huge thank you to Vlora for this awesome discussion! Now… discuss, friends!