Welcome to…. Monthly Minutes at Midnight!! I finally gave it a name. Yay for it?
Here's the deal: I'll share the books I've obtained, posts of interest from others, giveaways I have happening, and just general random shenanigans. You know I love a shenanigan.  
The Books
For Review: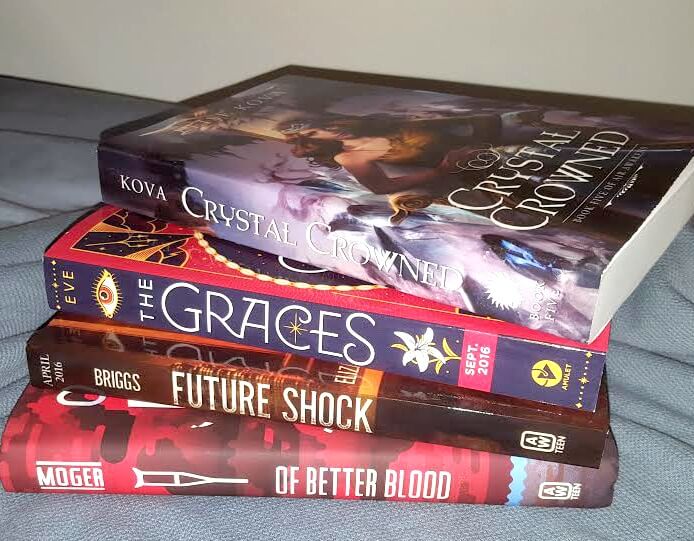 Of Better Blood by Susan Moger
Future Shock by Elizabeth Briggs
Thanks to Abrams Kids, Media Masters Publicity, and author Elise Kova!! 
e-ARCs (Pictures link to Goodreads)
Via author Elise Kova, Edelweiss, Brittany @ Brittany's Book Rambles Blog Tours, and Netgalley. Thanks to Elise,  HarperCollins, Simon & Schuster, Brittany, Harlequin Teen, Random House, St. Martin's, and Bloomsbury.
Purchased: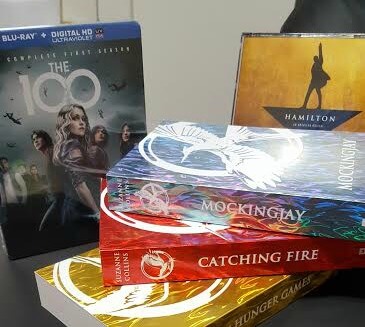 It's like a fandom explosion. No, you have too many obsessions. 😜
Won: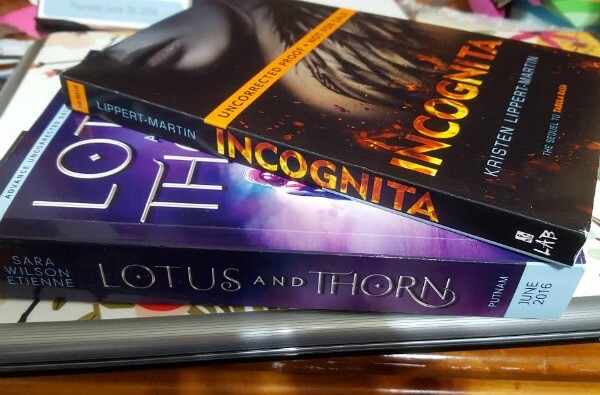 Lotus and Thorn by Sara Wilson Etienne
Incognita by Kristen Lippert-Martin
Thanks to YABC and Adventures in YA Publishing 
Traded: 
Thanks so much!! ♥♥♥
---
Shenanigans Since Last Time:
Thirteen books this month. It isn't 

bad

, per se, but I was on track for like, 16 at least at the start of the month. Idk what happened. I was kind of in a slumpette, so maybe that. (Also, just added 

slumpette

to my personal 

dictionary

, because, tbh, it should have been there all along.) 
Also not linking, because time. Google and Goodreads, Google and Goodreads.
The Memory Book and Crystal Crowned.
Giveaways: Click Here, or on Sidebar
---
Blogosphere Bulletin
---
Random Musings:
So, I did a lot of posts this year for Rachel's Meet the Newbies event, which was SO much fun! Now, if you have read the posts, I promised that since I asked all the authors the questions, I'd answer the ones (well, the ones I could!) after the event, which is right now! So if you missed any #MeetTheNewbies posts, find the master list on Rachel's blog, and the list of lovely authors I hosted here!
My Q&A With… ME!

As a  Teen

What was your high school experience like?
I loved every. Last. Minute. Look, I know that's probably weird. I was really freaking terrified at the start because I was going to a Catholic high school where I didn't know anyone and also I wasn't Catholic. But no worries, I ended up loving it. And then being the saddest little human on earth when it ended. Spoiler: I hate when stuff ends. Here, have a picture!
If you had the chance to go back and do it again, what would you change?
I would not be as completely awkward and uncomfortable in my own skin. Figured out sooner that everyone else felt that way too? Actually, if we're wishing for stuff, maybe I could have had like, a boyfriend and won states or something. Let's dream big!

As an Author

Alas, not being one of these prohibits me from answering the questions. I can tell you how to procrastinate/have a marginally respectable half of a draft? No, you're good? Fine, be that way. 

As an Everyday Woman

What are a few things you simply cannot get through the day without?
Iced coffee. The internet. You people (no, really). Hummus. Thinking about The 100. Getting Hamilton songs stuck in my head- actually, mash-ups of several songs. "My name is Alexander…. helplesssssss". I could probably do without the last one.
Describe the absolute perfect day for you- sky's the limit!  

Kidding, kidding. Ish.

Well, this day would immediately proceed AND precede days of sleep. I hope that's allowed, but since I made up this post… it is. Then what would I do? Go somewhere cool. I mean, okay, first I would go pick up my friends, and neglect the whole "24 hours in a day" conundrum. Actually- we could get on a plane, meet in the Caribbean, and go on a cruise. You didn't say that I had to be home at the end of the day, right? Anyway, there'd be swimming and drinks involved.
Add in some friends, and it sounds perfect. I'll check in with the small humans too, of course. 🙂

As a  Reader

What book has made the most impact on your life (in any way, really) and how?
Shit, I should have remembered that I was going to ask myself these… Remember that time I was obsessed with The Hunger Games? I know I joke, but honestly, that series did change my life. We wouldn't be speaking if Suzanne Collins hadn't played matchmaker. No joke.

Is there a book that you could read over and over again and never get tired of?
Yes. We know this. But guess what, now there is a show I can watch over and over again and not get tired of. Bonus points because it's based on a book! (And yes, I am telling you that my obsession with The 100 is entering THG levels of seriousness. Be scared, friends. Be scared.)

Thanks to Rachel for letting me take part in this awesome event, and special thanks to the awesome eight women who took time out to come play with me!
Fancy & New Since Last I Saw You!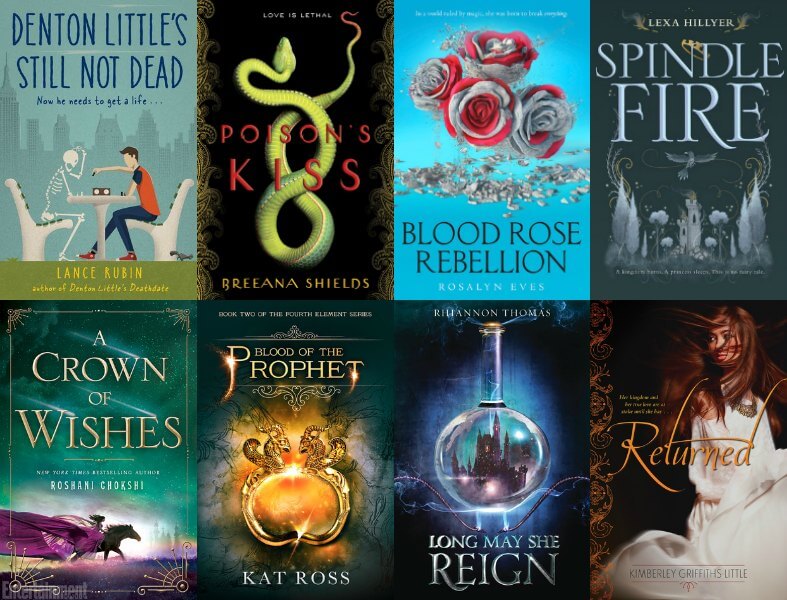 I love looking at pretty covers! So here are some new ones that I have fallen in love with since our last update! 
::Grabby hands::
Things we need to talk about at this juncture:
The results from my The Indecision Games post are final! You can find the books I will be reading here! 
I've been rewatching The 100 seasons. I finished Season 2 too soon; Season 3 won't be out until mid-July. I started watching True Blood Season 6, but it isn't the same. If you missed it, Holly and I recapped the season! 

Shattering Stigmas Part TWO

is in planning mode! I emailed everyone who filled out the form… so if you didn't get an email and did fill out the form, let me know- and if you didn't but still want to participate, please do let me know! It's only a month or so away! 

Have a lovely July, my dears!!