Remember that last time when I did May Netgalley releases? Well, these are from Edelweiss. In May. Smush them together and… MAYDELWEISS! 
Suffer Love by Ashley Herring Blake
Ask Me How I Got Here by Christine Heppermann
The May Queen Murders by Sarah Jude
Wanderlost by Jen Malone
---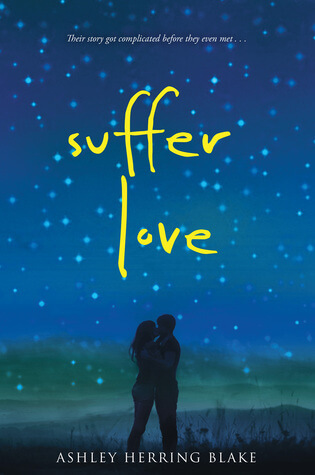 Suffer Love by Ashley Herring Blake
Published by HMH Books for Young Readers on May 3rd 2016
Pages: 352
Format:eARC
Source:Copy provided by publisher for review


"Just let it go."

That's what everyone keeps telling Hadley St. Clair after she learns that her father cheated on her mother. But Hadley doesn't want to let it go. She wants to be angry and she wants everyone in her life—her dad most of all—to leave her alone.

Sam Bennett and his family have had their share of drama too. Still reeling from a move to a new town and his parents' recent divorce, Sam is hoping that he can coast through senior year and then move on to hassle-free, parent-free life in college. He isn't looking for a relationship…that is, until he sees Hadley for the first time.

Hadley and Sam's connection is undeniable, but Sam has a secret that could ruin everything. Should he follow his heart or tell the truth?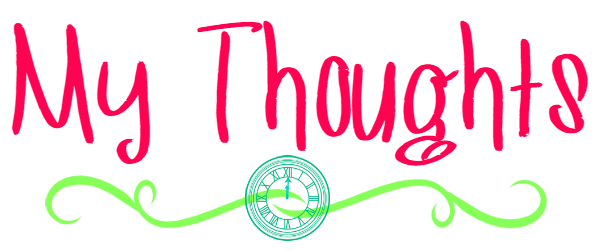 While I was writing this review, I felt like I'd read this book ages ago, but that wasn't really accurate. I'd only read it a couple weeks ago, but I needed to skim through it to remind myself of a few things. And then I remembered that yes, I did enjoy this book. But apparently, it didn't leave a lasting impression, which is okay, because not all books have to.
The fact that family was a huge theme in this book was great. Even though the families were not in the best places ever, you knew that there was love there, in some form, and that everyone was trying to heal from the aftermath of this affair. Of course, Hadley and Sam finding each other in the midst of this is not great timing (or very plausible, but whatever, stranger things have happened I guess). But the ups and downs of the family lives are really quite realistic, so I found that to be quite well done.
I also loved that there was a big focus on friendship- both on Hadley and Sam's ends. A lot of times either the guy will have friends or the girl will, or they'll not get along, but in this case they just each had pleasant, loyal friends who were positive influences in their lives. More of that, please and thank you!
The negative? Aside from being not very memorable after the fact, I kind of was a little weirded out by how much Hadley and Sam dwelled on the affair- and I don't mean because it was their parents (that is weird and should probably be talked about) but just the fact that their parents cheated in general. I don't know because I haven't lived through this situation, so I am certain I could be wrong here, but I don't know that I would have, as a teen, been so… "involved" in this particular infidelity. And to be honest, it kind of bothered me that the parents did involve the kids so much. Like Dr. Phil says, "you shouldn't involve kids in adult problems". Just saying.
Bottom Line: It was a sweet book, definitely had some emotional moments, and I definitely enjoyed it while reading it.
---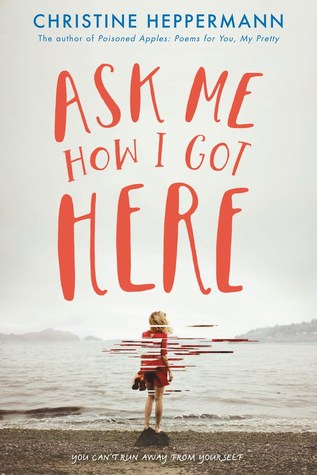 Ask Me How I Got Here by Christine Heppermann
Published by Greenwillow Books on May 3rd 2016
Pages: 225
Format:eARC
Source:Copy provided by publisher for review, via Edelweiss


From the author of the acclaimed Poisoned Apples comes a novel in verse about a young woman and the aftermath of a life-altering decision. This thought-provoking and sophisticated read further confirms Christine Heppermann as an important voice in the tradition of Ellen Hopkins, Laurie Halse Anderson, and A. S. King.

Addie has always known what she was running toward. In cross-country, in life, in love. Until she and her boyfriend—her sensitive, good-guy boyfriend—are careless one night and she ends up pregnant. Addie makes the difficult choice to have an abortion. And after that—even though she knows it was the right decision for her—nothing is the same anymore. She doesn't want anyone besides her parents and her boyfriend to know what happened; she doesn't want to run cross-country; she can't bring herself to be excited about anything. Until she reconnects with Juliana, a former teammate who's going through her own dark places.

Once again, Christine Heppermann writes with an unflinching honesty and a deep sensitivity about the complexities of being a teenager, being a woman. Her free-verse poems are moving, provocative, and often full of wry humor and a sharp wit. Like Laurie Halse Anderson and Ellen Hopkins, Christine Heppermann is a voice to turn to for the truth of difficult subjects. Ask Me How I Got Here is a literary exploration of sexuality, religion, and self-discovery.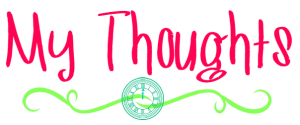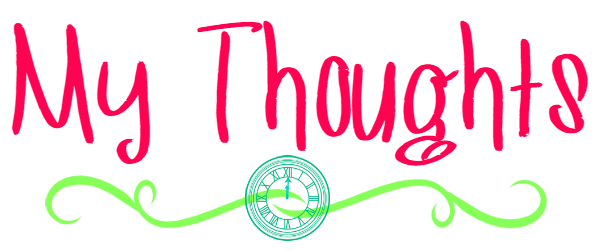 I feel bad saying I hated this book but… I hated this book. Now, I was able to find a few things I did like, so that's good? 
Thing 1: It did deal with tough issues, and that is always important.
Thing 2: It took me about 45 minutes to read, and who doesn't love that?
Thing 3: Some of the poems were pretty clever.
So what made this not work for me?
First, while it deals with tough topics, it deals with wayyy too many of them. It's almost like someone was playing Tough Topics Bingo™ and really wanted to win cover-all. Which is great, except this book is incredibly short and in verse (which makes it even shorter) and you simply cannot cover that many topics in any amount of depth. So I felt like I was watching an After School Special on fast-forward. I didn't have time to care about most of what was happening before we were moving on to a new thing. And some of it didn't even make sense or feel authentic to the start of the story, especially the end.
I also could not have cared less about the main character. Actually, maybe that isn't true. I can't quite decide if I didn't like her, or was apathetic toward her, but regardless, I couldn't connect to her in any way.
Bottom Line: I know a lot of people did like this, so maybe it is a "me" thing? So if it sounds like your kind of thing, it could still be worth a shot- plus, it's short if you don't like it 😉

---
The May Queen Murders by Sarah Jude
Published by HMH Books for Young Readers on May 3rd 2016
Pages: 304
Format:eARC
Source:Copy provided by publisher for review, via Edelweiss


Stay on the roads. Don't enter the woods. Never go out at night.

Those are the rules in Rowan's Glen, a remote farming community in the Missouri Ozarks where Ivy Templeton's family has lived for centuries. It's an old-fashioned way of life, full of superstition and traditions, and sixteen-year-old Ivy loves it. The other kids at school may think the Glen kids are weird, but Ivy doesn't care—she has her cousin Heather as her best friend. The two girls share everything with each other—or so Ivy thinks. When Heather goes missing after a May Day celebration, Ivy discovers that both her best friend and her beloved hometown are as full of secrets as the woods that surround them.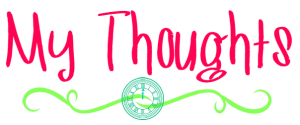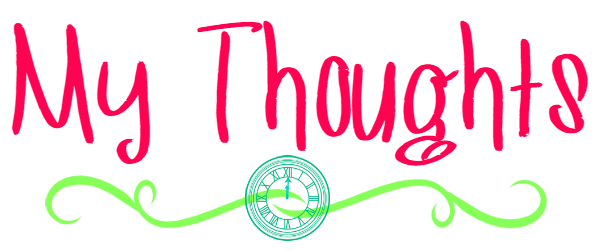 I have some mixed feelings on this book, and it ended up working out pretty evenly. In the end, I did like it more than I didn't, so that's good.
The Things I Liked:
The creepy, backward town. This place is strange. And I think it is present-day, which makes it even stranger. It's almost cultish in nature, and the atmosphere is very well done. I definitely felt like this was not a place I wanted to be! The author definitely nailed the creep-factor, and that drew me into the book.
The mystery definitely pulled me in. I wanted to know what was happening in this town- and why! That's really all I can even say without spoiling things, but I definitely was intrigued by this town and its shadiness!
Ivy worked for me as a character. I liked that she was naive and unworldly, it made sense. Even though she went to a public school, she mainly spent her time with other kids from her town, so it made sense that while she wasn't completely devoid of social appropriateness, she also wasn't really in the know either. In contrast, her cousin and best friend Heather definitely wanted to know more about the outside world, which I liked. It seemed reasonable to me that some kids would want to stay in the comfort of their own niche, while others would be stir crazy to leave it. Their relationship definitely propelled the story, and I enjoyed the contrast of their personalities. I also liked that Ivy started a bit of a romance of her own, though I do wish her romantic interest had been a bit more fleshed out, I felt like his personality was lacking a bit.
The Things I Didn't:
The whole ending was kind of a mess for me. It was too… much. There was just too much going on, yet at the same time, I felt like I was not getting answers to some of my questions, which was kind of maddening. And then when it all came out, I was just underwhelmed in general, and kind of confused.
Like I mentioned with the love interest, most of the characters rendered me a bit apathetic. Even in regards to Heather, while I liked that she and Ivy had been so close, most of what we actually see is their drifting apart, so I didn't get a real sense of who Heather is, other than "not Ivy". I felt the same for most of the other secondary characters, most of whom kind of blended together for me.
Bottom Line: Had the ending been more satisfying, I think I could have really enjoyed this one. Still, the author's writing was incredibly atmospheric and I look forward to her future works.
---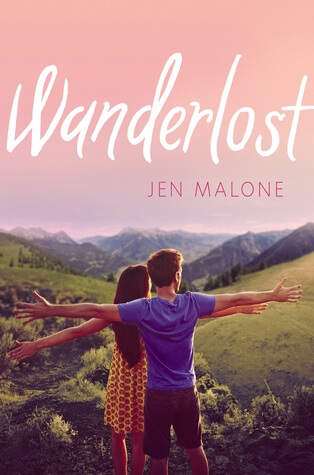 Wanderlost by Jen Malone
Published by HarperTeen on May 31st 2016
Pages: 352
Format:ARC, eARC
Source:Copy provided by publisher for review, via Edelweiss


Not all those who wander are lost, but Aubree Sadler most definitely is on this novel's whirlwind trip through Europe.

Aubree can't think of a better place to be than in perfectly boring Ohio, and she's ready for a relaxing summer. But when her older sister, Elizabeth, gets into real trouble, Aubree is talked into taking over Elizabeth's summer job, leading a group of senior citizens on a bus tour through Europe.

Aubree doesn't even make it to the first stop in Amsterdam before their perfect plan unravels, leaving her with no phone, no carefully prepared binder full of helpful facts, and an unexpected guest: the tour company owner's son, Sam. Considering she's pretending to be Elizabeth, she absolutely shouldn't fall for him, but she can't help it, especially with the most romantic European cities as the backdrop for their love story.
But her relationship with Sam is threatening to ruin her relationship with her sister, and she feels like she's letting both of them down. Aubree knows this trip may show her who she really is—she just hopes she likes where she ends up.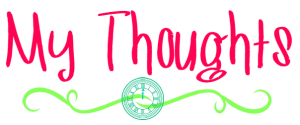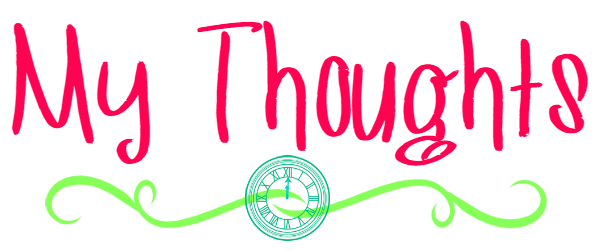 This is the cutest freaking book of ever. I don't "do" fluffy often, and when I do, I am critical. So for this one to pass my ridiculously high standards has to say something! I loved this book. Let's talk about why (and the one reason I deducted a bit) shall we?
I loved it because….
Aubree develops so, so much by stepping outside her comfort zone. She's kind of spent her whole life in big sister Elizabeth's shadow- even though she's pretty great in her own right. She doesn't think she'd ever be interested in traveling, of seeing other cultures. And she sure never wanted to spend a summer with a 65+ tour group traipsing around Europe. (Though can I just say, I really do?) The thing is, she doesn't just jump in confidently like some brash heroine. No, she fumbles and muddles her way through, trying to get by, and even taking help when she needs it and others are willing to give it (which frankly, I don't think there's enough of in novels- where's the message that it's smart to ask for help!? Well, it's in this book for sure, and I love it)! Watching Aubree find herself- or at least know that she wants to find herself- is magic.
The tour group is everything. Jen Malone didn't just write some generic old people. She wrote awesome characters who all have complete personalities. They aren't all just likeable old grandmas either- some of them have bigger flaws than others- but in the end, I cared about every single one of them so, so much. They totally made the story. And I loved that Aubree had respect for them- and they for her. She formed relationships with these people that were quite beautiful. It was really classy all around, and again, something we absolutely don't see enough of in novels of any genre. And the great thing is, we even see how, at an old age, you can still continue to grow and develop, and change your life. Quite inspiring stuff.
The romance is so freaking swoon-worthy! Okay, when a relationship starts as phone flirtation from across the globe, you know it's going to be a fun one. Because it wasn't some kind of insta-love at first sight nonsense- they liked each others' personalities before anything else. And then yes, there is an attraction in person, because of course there is. But it isn't all perfect either- and there are tense and serious moment too. I just adored Sam, he was so charismatic, and charming, and knew how to just let go and have fun, no matter the circumstance.
EUROPE. Need I say more? This is a dream vacation, basically, and the only time I got mad at Aubree was when she didn't love Monaco 😉 But in seriousness, I loved that she started falling in love with these places, and I could really picture her there, leading the group!
So, that one thing that I didn't love? The premise is kind of ridiculous, frankly. The whole "sister getting arrested, minor taking over a tour group in Europe" thing was just not believable to me in any way. There are just so many security checkpoints and reasons that this could never have happened, but if you can kind of put that aside, which I was able to, I think the rest of the book is absolutely enjoyable enough to negate this flaw.
Bottom Line: Clearly, I recommend. I enjoyed this book, and love the themes that it contained- all while still being completely adorable.

Have you read any of these books? Planning on it? Let's talk about them!