Of course it was a thing. We know this. Also, I might hate this graphic. Actually, I definitely do, but I spent too long on it to start over. But let's get down to business! Because….
Oh look, it's ME! Granted, I did a post the other day, but that was because sometimes you need to be responsible and review a book that you requested/begged for because you loved the first book so much. I digress.
Things were different this year, for a lot of reasons. Let's talk about those, shall we?
I had a handy dandy Press Pass, which made me feel special, if we're being honest.
It was in Chicago, which is (obviously) not New York. This also means that it was not a quick bus ride from home for me. We'll get into that later. Word of caution? The Chicago airport sucks hard. Not that the Philly one is any better, I assure you it is not.
We had a hotel nightmare situation that seemed cursed from Day One, but did work out in the end for the most part (whew!)
I met a lot more fabulous people this year, so that is a huge win.
Clearly, I will be comparing the two cities, because why not? But let's start at the beginning!
First, a tip: If BEA is within any reasonable driving distance, drive. Flying, especially with heavy items, such as books, kind of sucks. If I were going to the beach for a week, fine, plane sounds great! But when part of your trip requires middle school level math skills to figure out if they'll let you and your books on board? Just say no.
I was going to drive, but then I realized that my car is ancient and probably wouldn't have made the 719 miles there (and then another 719 back..) so I booked a flight. In hindsight, my parents were in Greece, I should have taken their car.
Another tip: When looking for your nice Sri Lankan friend, who happens to be a minor (and you are kind of in charge of retrieving her from the airport), don't get on the shuttle to the International terminal at the same exact time as she is coming to look for you. Because O'Hare sucks and her wi-fi wouldn't work. And if you do make these mistakes, please make sure you have a Britt in tow, because you'll need her.
Tip #3: Don't get so lost that you end up having to eat Dominos. In Chicago. It seems like a crime, no? On the plus side, I did have some chocolate lava cake at 4am, so that was nice?
---
Day One
The best part about Day One of BEA is that you don't have to wake up early. The worst part is that your legs aren't used to this madness, and also, since it was in Chicago, it seemed like very few authors felt like traipsing out to the midwest in the middle of the week. So there were drops of books, and I like those, so yay! I didn't do much in the way of picture taking, but I did stare at a guy and his dog for an inordinate amount of time, and I also welled up when I had to leave the dog, because the dog was everything.
Seriously, don't tell me you aren't in love.
Anyway, after the afternoon at BEA, we went to dinner at a sushi place! I love sushi, so this made me happy. Some of my cohorts were less pleased, but they tried, and good for them! Then, because Val and Rashika hate feet, we walked around a lot. But I will admit that it was quite fun, and I got to see some parts of Chicago that I hadn't seen before, namely, the bean!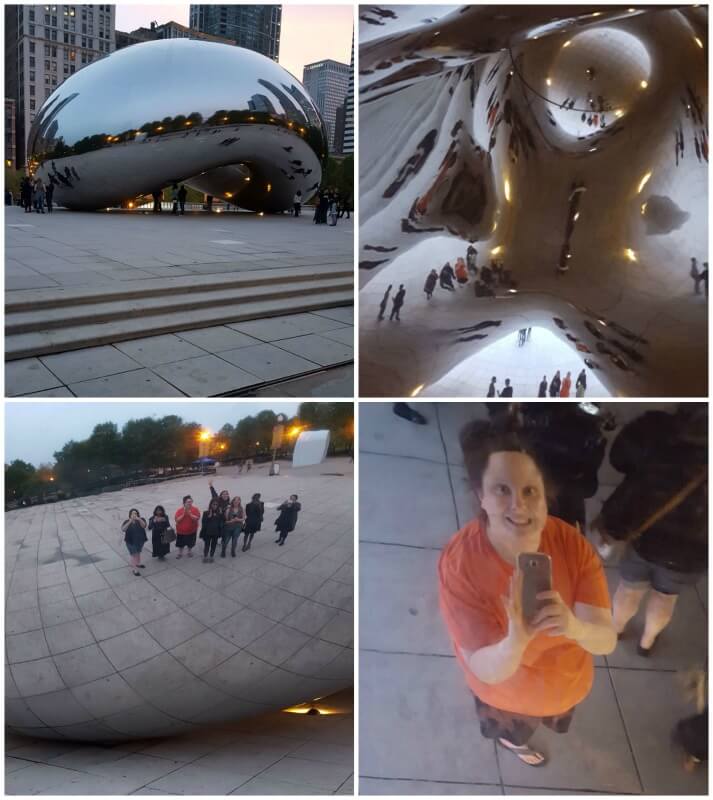 TBH, I still think this thing is weird and borderline pointless, but meh, it was fun anyway.
Then we got back to the hotel and took a picture with our favorite honorary BEA attendee, Larissa!
WE LOVE YOU!!! ♥♥♥
---
Day 2 (or "The Day I Slept Through My Alarm" or "The Day With all the Pictures")
Le sigh, yes, I am "that guy". I slept through my stupid alarm because I am dumb. Actually, I slept through it because I took Tylenol PM way too late. Either way, I missed Metaltown and Kristen Simmons (but at least Val got it signed for me because she is the actual best), and Ann M. Martin, which was only a childhood dream, no biggie ? Anyway, here's what happened on this day: I met lots of authors, and went to a very fun party. So… pictures are worth a thousand words or whatever…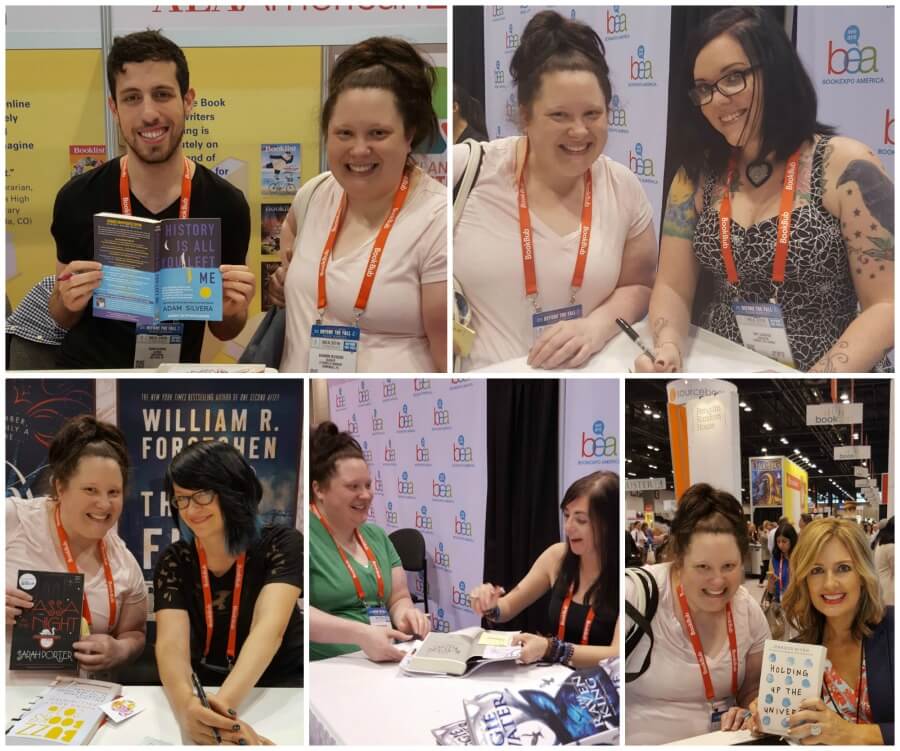 I met four of these authors today. Clearly, the one where I am wearing a different shirt is a different day.
Anyway- Adam Silvera and History Is All You Left Me; Amy Lukavics and The Women in the Walls; Sarah Porter and Vassa in the Night; Maggie Stiefvater and The Raven King(!!); and Jennifer Niven and Holding Up the Universe. These were definitely must see authors for me, so it was so, so exciting! And they were so incredibly nice!
What else happened on Thursday? I don't know, I probably drank seven coffees. A guy definitely refused to give me a glass of wine because I didn't have my ID with me. And then Holly and I took an Uber to the Fierce Reads party! (The Uber is significant because if you recall, Val and Rashika hate feet.)
So this was my first ever publishing party, and I was nervous, as you are, but there were so many amazing people there, and you know, wine helps! I loved getting to chat with everyone, and meet people who I hadn't seen yet, and basically just have an awesome time. I cannot thank Macmillan enough for this amazing opportunity- I kind of want to gush a lot. But instead, I will show you pictures of fun!
I feel like the hat early on was a poor life choice, because my hair is a hot mess after! ANYWAY, me and Holly, and then me, Holly, and the LOVELY Mary @ Mary Had a Little Book Blog & Danielle @ Love at First Page! I had so much fun with everyone, but these ladies made things extra fun! Also, I got to meet Marissa Meyer, got Heartless signed, and I didn't make an ass of myself this time, woo hoo! Holly got a picture with Leigh Bardugo, but just as I was about to ask her (she was SO NICE), some girl jumped in front of me and wouldn't leave. It's fine though, I will find a time to meet Leigh again when I didn't wear a tomato hat on my head.
---
Day 3
I was kind of exhausted at this point, and I was just kind of like… winging it by Day 3. I had wanted to get a ticket to see Maggie Stiefvater, but I knew the chances were slim unless I woke up at like, 5am. So when Holly went to check to see if they had any Alexandra Bracken tickets left, and it was about 10 minutes before the floor opened, I wasn't counting on getting one, but why not ask, right? And by some magic, they had one ticket left. That's right, my happy ass got the last ticket to see Maggie!
Maggie told me that I made a good life choice by waiting to binge books 2-4. So my life is now complete, right? I think so. I was giddy-happy, anyway. Other than this epic moment, I think I spent most of Day 3 waiting for things at Penguin. It was A Torch Against the Night day, as well as Kids of Appetite day, and (GAH excitement of all excitement) Gemina day! So since Torch and KOA were at the same time, and I knew Holly really wanted Torch, I gave her my place in line. It was right in the front too, kind of epic. Anyway, I went to the Gemina line after KOA, and hung out with CJ, Val, and Rashika. And then we heard that lo and behold, they somehow weren't out of Torch yet, and Sabaa still had time! I was so excited!! So I jumped in line, and was talking to a very nice girl, and they made us smoosh together into single file, because they were counting. I told her she could go ahead, because politeness. She thanked me, and then… they cut off the line right behind her. She wanted me to go, since I'd been there first and let her go, but I didn't want her to do that, but it was so sweet that she offered and then… I burst into tears. Yep, I started crying, right in the middle of BEA, in front of, you know, all the people. So um, this is the new most embarrassing moment of my life. (On the plus side, I did get to meet Sabaa, and so did the nice girl. But I still feel like an ass.)
Then I cried when I realized that no one was going to ship my books for less than like, $200. Basically by this point, I was done with life? But before dinner, we took a lovely group picture of our particular BEA Squad:
#SquadGoals
So Val and Holly and I went to dinner, because they wanted to try Chicago Deep Dish. I don't think they liked it, but I did. I took a picture of them, and the "carafe" of  pink lemonade and liquor that Holly and I were going to split until Holly remembered that she didn't like lemons….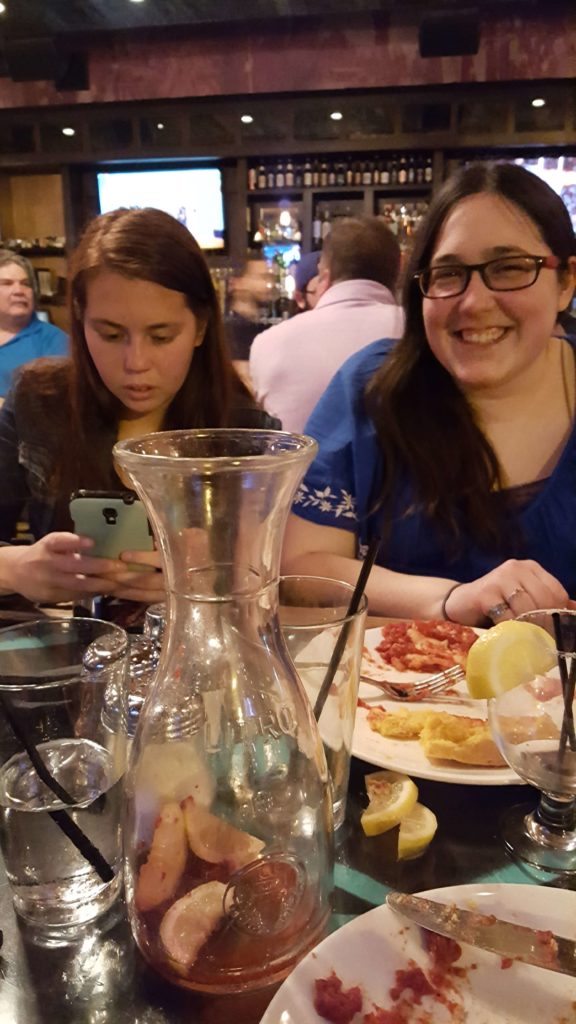 I, on the other hand, have no problems with lemons.
When we got back to the hotel, we found Sabrina @ The Forest of Words and Pages. Her roomies were at "Da Club" (some of them, anyway) and she wanted the wine without the putting on clothes (which I am all about) so we went to Walgreens in a taxi in the rain because the hotel thought we were paying $36 for a small bottle of generic crappy wine. (We got four bottles for $28 at Walgreens. I love Illinois!) So Holly finally found a wine that she liked, and I remembered how much I liked said wine, and it was good times all around!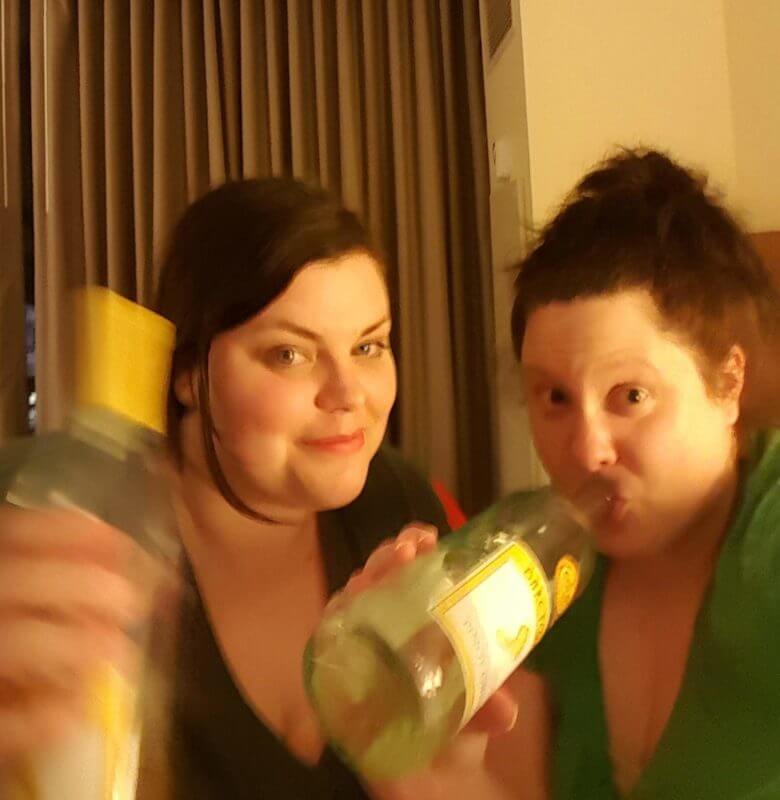 Classy. 😉
---
Day 4: BookCon and Home!
I spent most of BookCon trying to get my books to fit in my suitcase and/or crying and/or looking for coffee. Because when Sabrina and I went to the lobby at 3am, people were already lining up. No no no. Shannon doesn't do 3am. I mean, fine, I do, but that's because I am going to bed, not waking up. Anyway, I heard it was chaos. So I woke up around 11:30, because check-out was at noon. I feel like I missed nothing, because if you didn't have a wristband or whatever, you were out of luck.
After Sabrina saved my life by shipping my books for me from her home (I want to thank her a million times more!) I meandered over to BookCon. I was… not enthused? It's like this: You hoped for a Barbie, but instead you got her Dollar Store knockoff, Barbara, and Barbara's legs fall off within ten minutes and her hair is sticky. You're disappointed in Barbara, because damn it, you loved Barbie.
Need another example? It's like you wandered into The Magic Kingdom after it closed for the night. The rides are closed, there's no pretty lights, and Mickey is sitting shirtless with his head dragging along the ground smoking a pack of menthols and drinking a 40 of Natty Light from a brown paper bag, while Cinderella calls her boyfriend, using colorful language and chucking her tiara at Goofy for making raunchy gestures. It shatters the illusion, the magic.
Plus, I had enough of a certain person shoveling books into their cart, and I was at my breaking point. Mishma was a celebrity by that point though, and Pierce Brown high fived her as we walked along the floor. I felt like I was her maidservant, a lowly peon not worthy of such a gesture. Ironically, I did not cry (at this time).
Also a bonus: as I was helping Mishma load her stuff into the van to the airport, I saw a Property Brother on his phone! That's a fun thing. I have no idea which Property Brother, but does it matter?
I got home at 5am, and immediately ate popcorn (Nori and I got the best popcorn at the airport! High point of Saturday, tbh) and watched The 100. As you do.
So. Since my books are not all here yet, and I want to do some kind of giveaway, and I need to talk about all the things that didn't "fit" into a recap, and fine, because Crystal @ Bookiemoji made my decision to have a two-part recap since I can't make decisions in general… 
Stay tuned for Part Two! Where I talk about more stuff, compare New York to Chicago, talk about bloggers I met- and who I wish I met/saw more of!- and of course, give you guys something. Idk what yet, so… we'll all be surprised!