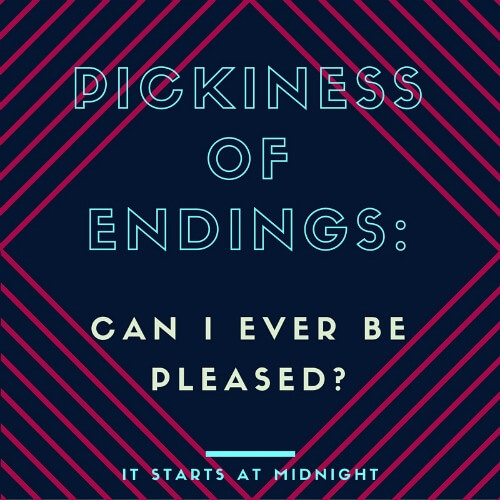 Sometimes, series end. Well, they always end, unless you're talking about some series that rhymes with Name of Drones, in which case, good luck, fans. (Incidentally, Name of Drones doesn't sound half bad…) But do they end well? That is the question- and the scariest part of the final book for most fans. I have talked about this before, because clearly, I have an obsession with it.
I finished a series recently. I won't tell you which one it is, but it is not the one I am probably going to finish tonight- we don't know how that one ends yet because, well, I haven't finished it. So don't panic when you see this post and see on Twitter or Goodreads which series I just finished tonight- it isn't the same thing, for I am not a time traveler, though how cool would that be? Sorry, tangent. Anyway. The ending of this book wasn't my favorite. At all. In fact, I rather despised it. It was pretty, shall we say, dramatic. And certainly not something I expected. And it made me stabby and now I kind of hate the whole series because of it (which I also have talked about before, because I must be actually obsessed with this topic?), so I am just angry at it.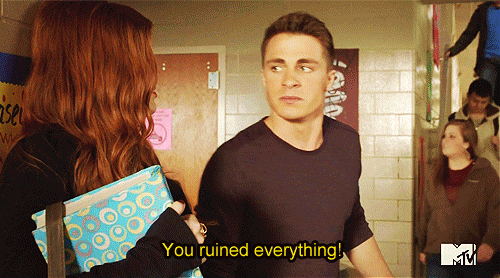 But then I thought back to another series I had finished. And it was… meh. I didn't hate it like the other one, but it just didn't "wow" me. It was not totally predictable or anything, like I hadnt guessed the whole plot, but I pretty much knew how it would end. It wasn't bad. But I wasn't like, having some kind of amazing bookish experience either.
So what is the deal? I went back and looked at series enders that I loved. There were not many. Mockingjay (unpopular opinion, I know), Monsters of Men, Ignite Me, and Haven were the only final books that I can say either outdid or equaled the rest of the series for me.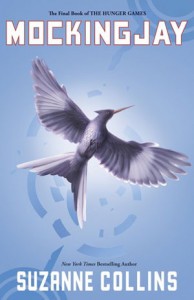 That is a short freaking list. So uhhh, it has to be me, right? 
Errr…. 
So, what do these books have in common?
Not all rainbows and unicorns. It didn't go from hellish dystopia to 1950s Suburbia. Everyone didn't prance off into the sunset to their Happily Ever After. It felt far more real.
It wasn't all doom and gloom either. There was some kind of hope in these books, somewhere. It didn't feel like I invested all my time only to feel like my soul was now an empty and barren wasteland. They left me with at least some modicum of hope/soul.
Not predictable. I didn't really know how any of these would turn out. I was guessing and excited the whole way through.
So, what about the ones I really did not love, you ask?
Somehow everything ties up in a happy perfect little bow– and it doesn't make sense to the story. Sure, there are contemporaries, and even some fantasies that it kind of makes sense for characters to get a HEA. I get it, I love that sometimes! But when your main characters have just been fighting Warlocks to the death for eighteen books or something, you probably aren't just like "The warlocks vanished, and Joe and Sally went home to make babies. The end." Just… no.
Everything sucks and then you die. No really, this happens. Everyone in the whole damn book can just up and die- including the main characters! And if it makes sense to the story, I am shattered, but I get it. But if it seems like "wait, WHY!?", then I am mad. Because now you have made me sad and there wasn't any reason for it.
Loose ends galore! Sure, maybe we know that Sally and Joe have that house in the country and the baby on the way, but what the hell happened to every other thing in the book?!?! When side characters just don't get discussed anymore, plot points are randomly abandoned… my mind cannot handle this.
Completely open endings. Look, maybe some people want to imagine their own ending. But if I wanted to come up with my own ending, I would stop procrastinating on my WIPs and end a book myself. I don't, I want the author to tell me what happens! I don't need to know every last detail. But please, none of this: "In the midst of the battle, Sally and Joe shared a look that  meant they both knew this would be it- either death or peace." And then… NO MORE WORDS! Where is the end of the story, friend!? Did they die?! Is there peace!? DAMN IT, ARE JOE AND SALLY OKAY? The world will never know.
Me, after those books. Imagine that poodle is Nori. Because I said so. 
So, how do you guys feel about this? What kind of endings do you like? Anything you positively cannot tolerate? Let me know! And do you think I am just too freaking picky?