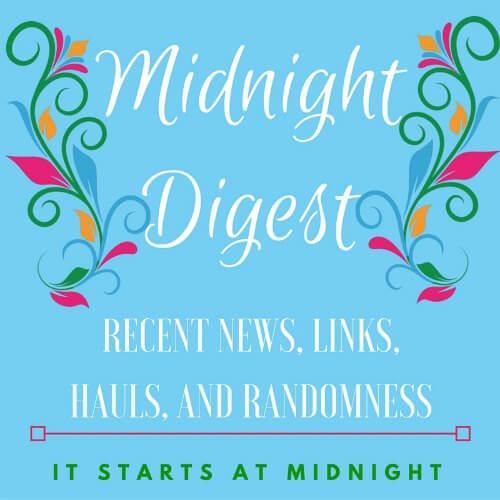 Welcome to the second Midnight Digest!! Monthly has been good! Except.. I have all the books to share. So sorry in advance?
I'll share the books I've obtained, posts of interest from others, giveaways I have happening, and just general random shenanigans. You know I love a shenanigan.  
The Books- only linking the review books because otherwise this would take ALL DAY
For Review: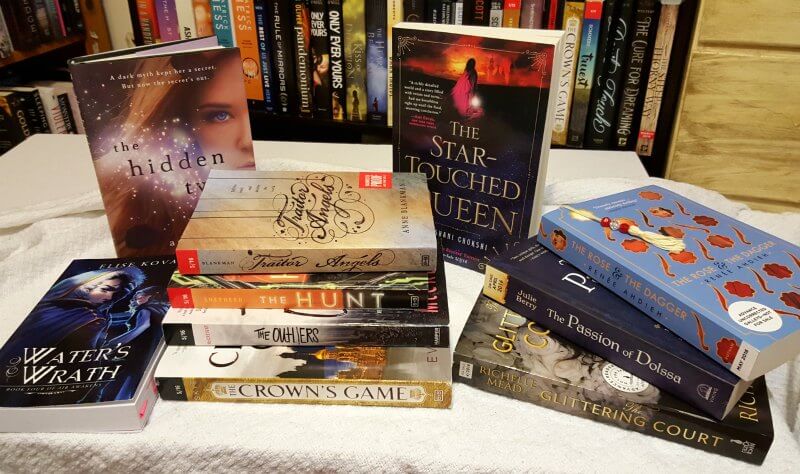 Water's Wrath by Elise Kova thanks to author Elise Kova!
The Hidden Twin by Adi Rule and The Star Touched Queen by Roshani Chokshi thanks to St. Martin's
The Crown's Game by Evelyn Skye, The Outliers by Kimberly McCreight, The Hunt by Megan Shepherd, Traitor Angels by Anne Blankman thanks to HarperTeen
The Glittering Court by Richelle Mead, The Passion of Dolssa by Julie Berry, and The Rose and the Dagger by Renee Ahdieh thanks to Penguin Teen!
e-ARCs (Pictures link to Goodreads)
Via Netgalley/Edelweiss, thanks to HarperTeen, Del Rey, Simon & Schuster, and Bloomsbury!!
Bought: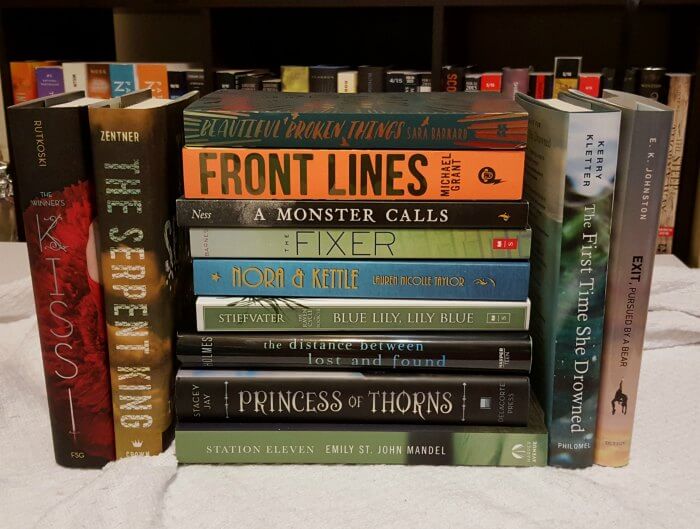 Won/Traded/Gifted
Thanks to Meredith, Brittany, Jana and author Amy Allgeyer, and AW Teen!
Ebooks
---
Shenanigans Since Last Time:
What have I read? Lots, since it's been a whole month!
Also not linking, because time.
I have already reviewed a few of these, and lots more are coming up! I feel pretty comfortable with awards this time! 
Water's Wrath, which honestly comes as no shock at this point
The Glittering Court earns a solid and much deserved ribbon- review coming up on Monday!!
Giveaways: Click Here, or on Sidebar
---
Blogosphere Bulletin
---
Random Musings:
Oy, March flew by! I don't know if it was as hectic for you all, but my goodness did the time fly for me! Between Bookish Games, BEA planning, sobbing over The 100, getting super sick with a sinus infection (I'm good now), and just general life craziness, I blinked and the month was over!
Things we need to talk about at this juncture:
I miss you guys! Tell me what's new! 

Have you heard any bookish news? I need something new and fun! 
ARC APRIL! Yes, this is a thing, yayy! The lovely ladies at Read.Sleep.Repeat have decided that we need more help than just one month can provide, so I am ready to do this! Help! Here're my goals:
Obviously I need ALL the luck….
Who else is participating in ARC April? DO share! And as always, have a fabulous everything- month, week, day, all of it 😀