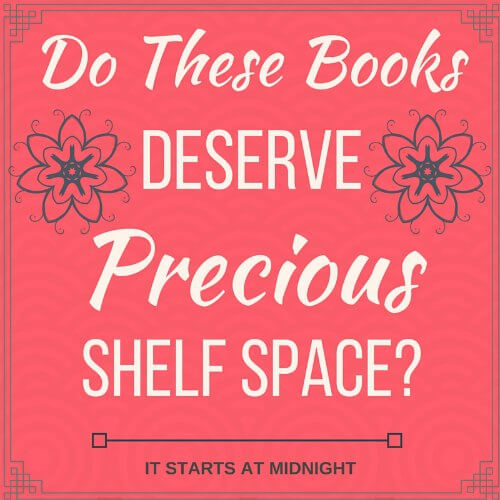 Remember that time I asked about books I didn't DNF but maaaybe was going to? Well, I told you there'd be a second part! It's time for books sitting on my shelf for a long, long time; books that I don't know if I will ever really read. And if you are anything like me, you understand the struggle of too many books, not enough shelves. 
We're going to chat about these books. And you can vote on whether I should give them a shot, or give them a new home.
How Long it's been Shelfside: About 8 months
Why I Have all the Doubts: So at first, everyone loved Anna. And the rest of the gang. But then as I delved deeper into the blogosphere some of you really hated it. And apparently there is some cheating, which made some of you hate it, and I'll be honest, I don't care about that. What I do care about is that I have read that it is wayyy too fluffy. And that the characters can be assholes. That's a bad combination. 
Loading ...
How Long it's been Shelfside: I pre-ordered this bad boy back in 2014 or some nonsense.
Why I have all the doubts: Did anyone like this? No, I am being serious! I loved everything about the sound of it, and the cover is beyond gorge, but umm I have not heard a single positive review? So if you can give me one, super! Or even if you just say "read it because pretty cover", I can live with that too.
Loading ...
Book #3: Afterworlds by Scott Westerfeld
How Long it's been Shelfside: No real idea. I won it soon after it came out. So like, 2014?
Why I Have all the Doubts: I've had this one sitting on my shelf for ages. Here's the thing: It takes up a shit ton of shelf space. Not only is it numerous in pages (599 of them, to be exact), but it's just heavy in general. It weighs the most of any book I own, and it isn't longest (by a long shot). Oh, and a lot of people said it was kind of boring, so there's that.
Loading ...
Book #4: Lailah by Nikki Kelly
How Long it's Been Shelfside: Also Fall of 2014. I think there was a book curse around that time? I also won it. Weird.
Why I Have All the Doubts: My Goodreads friends' ratings look like this: 5, 1, 5, 2, 4, DNF… you get the idea. Some people loved it. And some people hope it dies a thousand fiery deaths. So I need to know if it's worth my time, because it is a series and all… 
Loading ...
Book #5: The Queen of the Tearling by Erika Johansen 
How Long it's been Shelfside: Probably 2014.  Just kidding, apparently it was May of 2015.
Why I Have all the doubts: I have heard a lot of mixed things about this one. Some say fabulous, some say slow and draggy. Normally, that wouldn't deter me. But the 632 Kindle pages of "maybe"? That is scary business. Also, did you see the cover change? The beautiful black and gold cover became… whatever the hell this is:
My eyes weep. I need to buy the pretty one if I do read it. Because I also have pretty Invasion of the Tearling, sooo…
Loading ...
Book #6: The Selection by Kiera Cass
How Long it's been Shelfside: I bought the first three books in May 2014. Why would I buy them all? Oh, Kindle sale.
Why I Have all the doubts: Because The Heir's actual existence kind of spoils the whole series, right? Literally, first sentence of the synopsis, people. Plus, everyone hated that. So is it worth five books and 352 novellas? I don't know, this is where you come in. 
Loading ...
Do you hang on to all the books? Even ones you are not sure you even still want to read? I just did the biggest purge/giveaway I have ever done, and now that I have, I want MORE space. 
Don't worry, it's just so I can obtain newer, shinier books 😉