Well my lovely ladies and gentlemen, two weeks has somehow flown by, and this is the conclusion of #ShatteringStigmas. I will be thanking you all again later in the post, but up front, thank you, a million times thank you, for making this such a huge success! And the talking isn't even over- just the event 🙂  I am always available if you need someone to vent to, chat with, ask questions, whatever. There are like, 400 ways to find me, over there on the sidebar —————————->
I kid, I kid 🙂 
So, how is this going down? I want to give you some of my favorite YA Mental Health recommendations, give my thanks, and a giveaway! I also have some of the things you've left in the survey, which I have turned into graphics, and they'll be in this little slideshow, so you can see what your anonymous friends have said too!
And now, the books that I have found to be most helpful, accurately portrayed, well written, and emotive in YA:
And now, onto the thank yous!
This event would never, ever have happened without the support of a lot of people. First, every single one of you reading this! Thank you isn't even enough, I wish I had some more eloquent way to show my thanks, but just thank you, from the bottom of my heart. And a gif, that's a nice gift: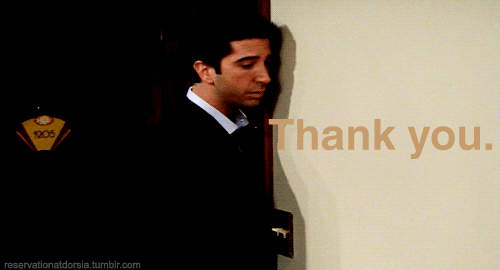 And the individual thanks:
To my co-hosts, Kayla and Inge, without whom I would never have had the courage to go forth with this idea. They've listened to my freakouts, offered amazing suggestions, ideas, and guidance, posted the most epically amazing posts (seriously, if you haven't checked them out yet, do it!) and shared amazing guest posts. These ladies kept me as sane as I could hope to be 😉
My guest posters and interviewees, without whom this event would have been impossible:
–Author Michelle Smith, who not only shared her story, but words of encouragement that have comforted me when I have needed them most. Michelle, words will never be enough to express how much your support has meant.
-Authors Francesca Zappia, Rachel Wilson, and Huntley Fitzpatrick, who not only shared their time and stories, but used their incredible talents to bring the us books that made this event possible.
–Author Jessica Gollub, for sharing her story and keeping me laughing, always. I am so glad to have met you randomly, somehow, and I am glad that your deliciously inventive stories give me an awesome real life distraction!
–Terri @ Second Run Reviews and Erica @ Novel Ink, who shared the most beautiful and heart wrenching personal stories, who had the courage to tell them to the world in hopes of helping others. You definitely have helped others, and I could not be more grateful to you both!
To my buddies and the keepers of my sanity every day: Holly, Val, and Amber, without whom this event literally would never have left the deep recesses of my mind. You encouraged me to go forward, you're there when I need someone to laugh with, cry with, fangirl with, and be a booknerd with. I have no words, other than I love you guys. And I hate geography.
a Rafflecopter giveaway

You can find the links to  all my participants above! And mosey on over to Kayla & Inge's sites for their participants! Good luck 🙂
Just a reminder that you can link up your own stories here, and I will leave it open until the end of September! Also, Erica & Christy @ Novel Ink have an event in the works that I am quite excited about joining! It's called "Sharing a Story Within a Story", and it is what it sounds like: sharing a story about a book that touched your life! Look out for the sign ups on September 1st over at Novel Ink!
And so I don't get weepy and more ridiculous, one last HUGE thank you for the support and then we shall celebrate!!