A long time ago (fine, not that long, maybe a couple months ago), Holly, Val, Amber, and I were discussing our first impressions of each other. And someone had the fabulous idea to do a whole post about it! And then someone (maybe that same person, who even knows?) said it would make a good tag, and we all agreed. And then we got lazy and didn't do anything about it.
But then we did! I think we can thank Val for the motivation, and we can also thank her for making the graphic, which I like a lot. Val also made a list of rules, but she didn't show me them in text form, so lucky you, these will be in my own words 😉
The Rules:
1. Find some bloggers that you remember your first impressions of. Write about it. But maybe try to keep it funny and nice? I mean, "wow, I hated Bertha for years", isn't what we're going for.
2. Tell us about how things have changed since then! Did someone you didn't think you had anything in common with turn out to be your blogging bestie? Did someone you thought was super shy turn out to be a huge extrovert? Were you kind of intimated by someone at first, only to find out how freaking lovely they are? Share away!
2. Tag some people! It doesn't even have to be the people you write about, because maybe they've already been tagged, or whatever. Just find some randos, is what I am saying.
The Tag
Then: When I first "met" Holly, I remember she'd been debating a theme change. She'd commented on one of my posts so I went to comment on hers, and basically left her a novel. The thing is, I also did the exact same thing with another blogger, whose name I have long since forgotten, and I knew that one of them had thanked me and we'd ended up having a conversation about it, but I could not remember who was who! So when I would visit blogs, I could never remember which one was the one I'd been talking to, and which was the one I hadn't. For a good four-six weeks, I had no idea if Holly was Holly, or someone else.
Now: Obviously, I know who Holly is. I mean, we shared a room for four days in New York, I think if I didn't know who she was by now, I'd have some serious problems. Although technically, we never really introduced ourselves so…. But in seriousness, I'd have had a meltdown long ago if not for Holly. Sure, I may have left her the initial novella of advice, but she is kind of my go-to guru now.
Then: She was called "Nobody". I refered to her in my head as Nobody, even after I knew her name from emails and such. I'd think to myself "OH I want to remember to visit Nobody's blog later!".  I was also so impressed with how goal oriented she was as a writer at such a young age!!
Now: She has a name (well fine, she always had one) but I still call her "Nobody" in my head a lot.  Still impressed, by the way.
Then: I had no idea who she was, only that Holly was friends with her, and damn it, I should be too. Also, I was pretty sure she was the cover model for Free to Fall by Lauren Miller.
Now: I know her quite well! I was right, being friends was a good call. I also still think she may be the cover model for Free to Fall, but now I just call her "Romber" which is a combination of her supposed name of Amber, and then main character Rory in that book. She could totally fix this situation with a picture so I don't have to call Nev and Max for a Catfish investigation.
Then: Mime was there too, and they were "Notebook Sisters". But was Mime really there? Only sporadically. BUT even so,  I envied their sisterly bond so much. SO MUCH. I thought they were kind of the coolest sisters ever, and I wanted to ask them to adopt me, even though I don't think it works that way. I also knew from the first time I'd visited Notebook Sisters that it was something special.
Now: Mime is off doing her own amazingness, and Cait has morphed into Paper Fury. She turned out to be even more awesome than I'd expected, but I think that probably has to do with all her clones. I am also excited for Cait's amazing writing to get published so I can go throw all my money at her books.
Then: I had heard a lot of people talking about these lovely ladies and their blog. Only… I didn't know it was a blog, okay? I had visited, once, and their most recent post was a podcast, and I (completely erroneously!) assumed that the whole site was a podcast. And I usually am unable to concentrate long enough to listen to those so… I didn't.  I guess I could have looked? Nay, I should have looked. Do you understand how much awesome I missed out on? DO YOU?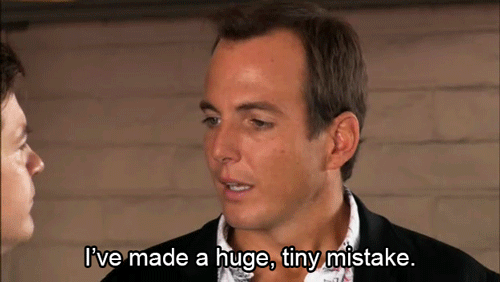 Now: After realizing we shared similar blogger friends in common, I went back to visit, of course. And found one of my favorite blogs. Oops? This is a big oops. Because I love their blog and I totally would have been following for ages longer than I did! I didn't even know that Faye had done The 100 recaps! Do you want to know the post in which I knew these lovelies were "my people"? Faye did the most hilarious reading of 50 Shades, and she basically nailed every emotion I had while reading it- mostly eye rolling and disgust- and I was hooked!
I Tag…
Anyone listed above who hasn't done this and wants to!
Rachel @ A Perfection Called Books
Nicole @ Feed Your Fiction Addiction
Let's talk! Have you had any first opinions of a blog that just turned out to be totally false? OR, have you known some blogs/bloggers that you knew you'd connect with immediately?