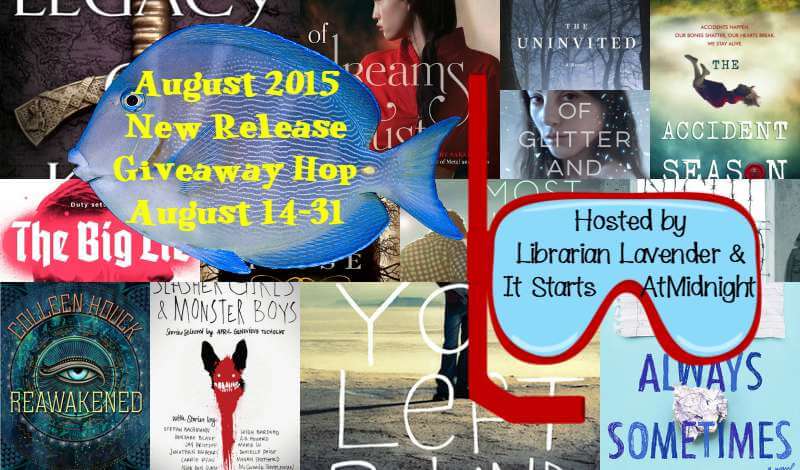 Welcome to  the August 2015 New Release Giveaway Hop hosted by Librarian Lavender and you know,

yours truly

!
I will be giving away any August 2015 new release of your choice, up to $17. The giveaway is international, as long as The Book Depository ships there free of charge (find that out 
here!
) Oh, and if you are a US winner, I will most likely ship from Amazon- because it will be there for you sooner!) If you prefer, I will send a Kindle edition via Amazon gift. (Please note: You may only chose ONE of these options!)
And now, the books! I have read 6 of these (and enjoyed them!) and want to read the rest! 
Enter here to win whichever of these or any other August release your heart desires! Please be sure to check the terms and conditions
Now hop along to all the other blogs, and thanks for entering! Good luck
---
80 responses to "
August New Release Giveaway Hop!

"
Just more being outside in general and going on nice walks without having to worry about bundling up.

I haven't been to the seaside yet this year, so we're going the last week of August – I can't wait to swim in the sea, lie in the shade and read some more!
And I don't think we had enough picnics, I'd love to have more of those…
Thanks for this giveaway! 🙂

God, I'm so happy summer is almost over! (I dislike summer, as you can see) I think the last summer thing I would like to do are evening strolls on the beach and read more fluffy and summer-y contemporaries (the better things about summer tbh).

I want to go to the beach one more time at least 😀 I'm also pregnant… so just generally enjoying my last bit of my childfree life!

A camping and white water rafting trip with my family would be awesome! Thank you

I really want to just go see one last movie in theaters or go to Barnes and Noble to buy a book and drink a coffee. Thanks so much for the fantastic giveaway!!!

i would like to have my first day of summer just for me ( going shopping with my mother at ease, eating at teh restaurant etc just taking our time without any trouble on minds)

I would like to go out on the boat!

Hmm, I think I would really like to go swimming a couple more times this year. We've only gone twice. Because it has been such a weird summer so far! Thanks for the giveaway!

I'm really looking forward to The Boy Most Likely to! I've also nominated you for the 90's movie book tag, see the details here:
http://lessrealitymorebooks.blogspot.ie/2015/08/hey-everyone-i-was-nominated-by-erika.html

SInead @ Less Reality More Books

I'd like to finish the season with a great book!

We are going to visit our son & his family next week, a little later than usual, but want to be with the grandkids this summer.

I'm sort of ashamed to admit it, but I haven't been swimming yet this year. I've had the opportunity once or twice, but the thought of a bathing suit, sunscreen, and actually having to get wet has stopped me. What is wrong with me? It's summer! So that's one thing I still need to do. 😀

Thanks for the giveaway!

A nice lunch at a restaurant with a deck overlooking the water (river or shore). A lobster roll or seafood platter served with a chilled glass of white wine.

Hmmm….I haven't had froyo for a while so perhaps get a few more of them in.

I would like to go swimming more. I sure am excited for fall and winter though. It gets so hot here in the south where I live. Thank you so much.

I would like to go to theme park.

I've actually got a week left of my summer; I will be starting college next week. I'd like to spend time with my friends before we go our separate ways and try to read as much books as I can before college starts to keep me busy 🙂

To go swimming! Haven't yet

Hmm, not sure there's too much I want to do. I'm back to school, and ready for fall weather.

read more of my ebooks, i have so many :C and read heir of fire that book is huge 😛 and paint more on my animal kingdom 😛 thank you for the opportunity 🙂 if i win im going to chose after the red rain *.*

There's so many good books this month! What You Left Behind and Legacy of Kings sounds really good. Looking forward to read them 😀

I still want to go to the beach this year! But I'm still working, so only in September…

I haven't been to the beach yet, even though it's not that far from where I live so I really hope to do that before I go back to school on Sept. 9th. 🙂

I'd love to get to the beach because I sadly haven't been able to yet!

Go to the beach as I haven't had a Chance to this year so far!

I'd just like to spend more time out in the sunshine, the last few weekends have been kind of dreary here, so I'm hoping for a few more that are bright and warm enough to get out there with some iced tea and a good book. Thanks for the giveaway!

I'm actually totally over summer. Can't wait for fall to begin!

I'd like to sneak in some more reading–and of course another trip to the beach! 🙂

I'd like to go to the movie theatres at least one more time and read some more…thanks for the giveaway!

More swimming in my pool! Anything to stay cool. 🙂

I'd like to read more books! And possibly add to my bookshelf

There isn't a whole lot, I've been working mostly but it's been a pretty relaxing summer and I've got a lot of reading in. I'm ready for the fall and the colder weather!

I'd love to go to a concert or festival!

I want to go to Bat Fest! It's an annual festival in Austin, Texas on the last of August! It's when 10s of thousands of bats migrate south for winter- they all live under a main bridge (the fest is on the bridge) and at sunset they wake up and all fly away. It's like a giant black cloud! I have been there every year for years so it's that festival that has always been my last hurrah before school starts. 😀

I really want to make it back to the beach one more time before summer ends.

It should be rainy now where I live but it's still so hot so I'd like to go to the beach because I haven't been to in years!

go to the beach

HOMEMADE ICE CREAM! Only gone once this season and its a travesty. I blame Haagen dazs.

I still haven't gone to the beach! I actually hate the sand, but I figure I have to go once before summer ends! 😉

Thanks so much for the great giveaway! I think if I had to choose one it would be What You Left Behind! It's one I am so curious about 😀

I am hoping to go to the beach. There have been a lot of shark sightings so I have been nervous. I hope you're having a great summer!

Well.. read more books as I'll be busy this Autumn and I won't have time to read. Thank you for the giveaway 🙂

I'll be going to visit my niece and her two children, my great niece and great nephew, later this week. This will be the last time I'll see them this summer 🙁 but 🙂

Want to take the dogs (we have 3) on a couple hiking trips! We have yet to take our new puppy on her first hike!

SLEEP!!! I want to sleep before school starts!!! ;]

A bbq! I havnt managed to have one yet.

I want to go out scalloping at least one more time before the season closes.

I'd like to go to the beach one more time before the summer ends and school starts. Thanks for the giveaway!

I would love to try to make a dent on my TBR pile of ebooks, but that probably will not happen because I keep adding ebooks faster than I can read them.

Another pool and reading day!

Spending time with friends at the beach, going to an amusement park, or just being out of the house in general.

Last summer thing I want to do before it ends? Probably just catch more sun. The winter is so gloomy and this is the first summer I've had a tan in forever!

The last summer thing we make sure we get in is a visit or two to our state fair.

I would love to go to a winery before the summer ends!

I would love to go to the beach one last time. I'm so excited for winter!

Looking forward to spending time in my garden and harvesting my organic tomatoes in a few weeks!

I didn't go hiking this summer yet and I would enjoy doing that.

I'd like to get away to the mountains for a few days.

It's been a cold and dreary summer, so I'm not even close to thinking about the summer being over yet, since I don't feel we've had one. UGH. I guess I would like to have several nice days to spend in the pool just relaxing. I wanted to get my closet cleaned out this summer, but I can clean it out in the winter just as easily, I suppose…

I'm currently just about to start Spring, and I don't think there's any wintery activities I need to completely before the end of the month. I doesn't snow or anything so I cannot make a snowman or snow angel or have a snowball competition… well, that's just making me sad thinking about that now. *wails*

This may sound really soppy, but I am holding out for a Summer romance! Wonderful giveaway, Rosie xx

I'd like to have a bonfire with my family.

It's almost the end of winter here, and I'm actually looking forward to it (I HATE being cold and find it very hard to warm up!), although I must admit, I will miss the last few weeks of snuggling up in doonas and electric blankets!

Maybe to swim more while it's warm, but I've done so many cool bucket list things this summer, such as snorkeling, rappelling, and making chocolate!

I'd like to go swimming a few more times before summer is over.

Since I haven't gone to any vacation yet this summer, I'd really love to have one. It can be anywhere, locally or better internationally. I'm not into beaches, I want something different. But, since school already started, I don't think it'll happen.
Thanks by the way for this giveaway! So generous of you. 🙂

I need to attend an outdoor music festival ASAP before this dear summer is over.

I haven't been to the water park this year… it's usually a family tradition every summer but I guess everyone's been pretty busy. :\

Hoping to finish Harry Potter 7! Weird I know but oh well, I'm almost there!

I got to do the one thing I really wanted to do this summer. My husband and I got to go to the big carnival.

Dinner on the outdoor patio with my girlfriends

Go to the seaside once again or at least swim in the lake before it gets too cold to do so 🙂

Family and I went on a last hurrah trip to Boston, MA! It was really nice because once we came back, Fall semester began and so I went to class the next day. Thank you for this amazing chance! 🙂

I think I should go swimming one of these days.

I would like to get in one more camping trip.

I would love to go camping with my husband our dogs! That would be the best thing to end the summer this year!

Enjoy a day at the beach one more time 🙂

I'm actually going on my vacation in 10 days, so that's the one thing I'm super excited about.
Thanks for the giveaway! 🙂

I'd like to visit the zoo before summer is up.