Stacking the Shelves is a weekly meme hosted by Tynga's Reviews. It gives us a chance to share with readers what we bought, borrowed, swapped, won or got for review each week. I also decided that since I do a weekly recap, it really is just good sense to link up with The Sunday Post, hosted by Caffeinated Book Reviewer!
I was beginning to think that my mailman was hoarding all the books on me but then a few came! I also have a conspiracy theory about a dude that actually does hoard stuff in a creepy van that he parks outside my house but…. it's probably not that either.
The Books: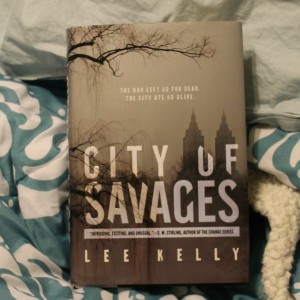 All Fall Down by Ally Carter (books from the UK are extra fun- this came with free mascara!)
City of Savages by Lee Kelly  HUGE thanks to author Lee Kelly and Jana @ That Artsy Reader Girl!
For Review
Delicate Monsters by Stephanie Kuehn via Netgalley, thanks to St. Martin's Griffin
Kindle on the Cheap
---
Weekly Shenanigans
I did read stuff, albeit not as much as I'd hoped. BUT, I enjoyed the books I read, and guys, you will be so proud of one of them!
I approve of both books. And you approve of my reading Throne of Glass, right? Don't worry, I have already summoned Crown of Midnight to find its way to my doorstep. Via money and the mailman.
On the Blog:
Still plenty of time to enter the March New Release Giveaway Hop!! 
And, last call to enter my 1,000 Follower Twitter Giveaway of The Winner's Crime! It ends Sunday, March 22 at 11:59 EDT
Fun in the Blogosphere:
Up Next:
More stuff and things! I have a discussion post (not written of course, that'd be silly) in my head. And I have reviews that are also in my head. And get this- even one that is already scheduled. I don't know what to do with this sudden and random preparation. I also want to do the Cake Tag (thanks Cait!) because it looks fun and delicious. AND, I plan to do a season wrap-up for The 100, but it may end up being the week after, because math and time limit me.
How was your week? Anything exciting happen? Did it snow six inches on the first day of spring, as it did here? Share away!