So, part three of the results post continues, this time talking about interactions with other bloggers! I was nervous for last week's post, and it went really well. I have read the results of this week's post and… I am more scared. I suppose when I asked the questions, I really wanted to know how people felt about some of these issues, mainly so I could be sure that I was behaving politely, and to answer the same questions for anyone else who had been wondering! Well, the results are in! So…. let's do this.

This pretty much was what I had expected. Especially because if you do not ever read other blogs… how would you have found this thing to begin with!?
I am impressed by the number of you who creep outside each other's windows. All along, we thought it was only Val 😉 People love Bloglovin. This is good news for the people who run that site, no? As for other… GFC! How did I forget that was a thing!? I guess my move to WordPress has given me amnesia! Sorry!
I love that this is so varied! I knew discussions would be a big one (and that does bode well for this post, I suppose!), but it's pretty awesome to see that reviews get so much love too!
Again, not exactly shocking. Although there were a few people who LOVE EVERYTHING. And I kind of love YOU for that! I tend to agree with the "love everything" crowd, just because… I do!
What is one thing you see other bloggers do that makes you REALLY happy?
Basically, this is what you had to say:
Commenting was definitely the number one answer. You loved when comments kept going, like a conversation!
Support was also a huge one, when the blogging community all gets together for good causes, or just to cheer each other on!
Personal Touches were important to you! I love getting to know the person behind the blog, and it seems that a lot of you do too!
What is one thing other bloggers do that you'd like to see a bit less of?
Yeah, this is one of those scary topics. But, for the most part, you really only didn't want to see bloggers being mean to each other (good call, I agree), too much drama, or too much promotion (most of you specified that this only applied when it was constant). Some of you were basically fine with whatever, as long as you're happy (which is exactly what I was hoping to hear, for the purpose of this experiment, so thanks to you, whoever you are!). Um, one of you was angered at gifs, and wasn't pleased with my gif in the actual post. Weeeellll…..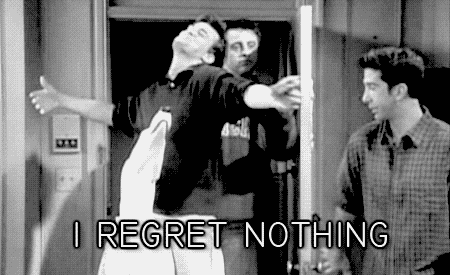 Yay, you enjoy being active in the community! This makes me happy! I love talking to you all 🙂
I found this fascinating! Such a diverse group of answers! The "others" mainly said that they don't like, keep a tally, but if they find they are commenting on your stuff a ton and you absolutely never respond or reciprocate, they probably won't be as likely to comment. That's a good middle ground, I think. It just kind of makes sense, especially if you're looking for a conversation and to connect.
HA I guess I had better try to guess who will call me a wench if I don't reply 😉  I am on the fence about this one. I guess I feel that if it is a conversational comment, a reply is kind of important. If it's more of a "oh, I loved that book too!" comment, then maybe I don't care as much if they replied. Context is key for me really. Because if I have written something conversational, and there is never any reply (and I don't mean once or twice, I mean consistently) then I am probably going to not initiate conversations. Not because I am like, mad, even, just because I'd feel awkward!
---
And that is quite literally all she wrote! To wrap it up, to my great happiness, you all basically just want to talk to each other. Which is fantastic, because ME TOO. Though those people creeping outside my window… it's cold out there, you might want to call that quits, at least until summer?
What say you, my lovelies? Stay tuned for the (sad face) last post next week on the book community at large!