Forbidden
by Kimberley Griffiths Little
Series: Forbidden #1
Published by Harper Collins
on November 4th 2014
Pages: 400
Format:eBook
Source:Copy provided by author for review, For Blog Tour

In the unforgiving Mesopotamian desert where Jayden's tribe lives, betrothal celebrations abound, and tonight it is Jayden's turn to be honored. But while this union with Horeb, the son of her tribe's leader, will bring a life of riches and restore her family's position within the tribe, it will come at the price of Jayden's heart.

Then a shadowy boy from the Southern Lands appears. Handsome and mysterious, Kadesh fills Jayden's heart with a passion she never knew possible. But with Horeb's increasingly violent threats haunting Jayden's every move, she knows she must find a way to escape—or die trying.

With a forbidden romance blossoming in her heart and her family's survival on the line, Jayden must embark on a deadly journey to save the ones she loves—and find a true love for herself.

Set against the brilliant backdrop of the sprawling desert, the story of Jayden and Kadesh will leave readers absolutely breathless as they defy the odds and risk it all to be together.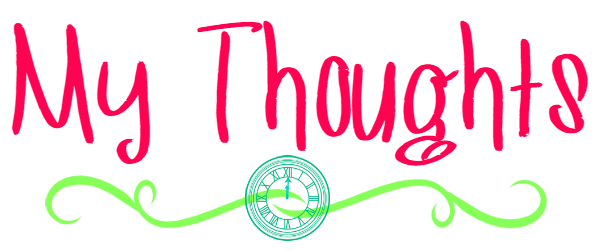 This book was my first foray into historical fiction from biblical times, and I will be quite honest, I was nervous. I didn't know if it would be "for me", if the setting would feel realistic, if I could relate to the characters. The answer to all three was a resounding YES. Forbidden was a perfect blend of history, romance, feminism, and intensity. I even tried to think of something to put in the negative column, but I honestly can't. So instead, I will just tell you what I liked:
The Characters. Jayden is an amazing protagonist. She is likable but realistic, strong but imperfect. I rooted for her from the start and not once did I waver. Horeb is the perfect villain, and Kadesh will steal your heart. Jayden's sister Leila was such a mess, but it made so much sense that I couldn't help but feel for her (and you know, simultaneously want to smack her. It happens.). Jayden grows so much during this book, but it makes complete sense and feels right.
The Family Dynamic. This was so family centric, which is refreshing and wonderful. Jayden did not do anything without thinking of her family, and tried her best to lead them through some very trying times. Some of her family is amazing, some of them are jerks, and I won't tell you who is who, but I am Team Grandma.
The Feels. This book had tears streaming down my face within the first 20%. I don't know if that has ever happened to me before. Usually I have to connect to the characters, the setting, etc., before I can really feel invested. But this book had my emotions all over the place from the very start. The range of emotions that I felt during the course of reading this book was pretty impressive.
The Historical World Building. I was thoroughly impressed with world building. It could not have been an easy task, since there isn't exactly an abundance of information on this time period. It never once felt fake, or surreal, or even unrelatable. Yes, these people lived in harsh times in an incredibly harsh climate, but their core values and desires remain similar to ours. I was incredibly immersed in this desert world, trying to imagine what it would be like to deal with the things Jayden and her tribe had to endure on a daily basis. These struggles flowed so well in the story, as it was just part of everyday life. I wasn't sure about the dancing at first, but it was so symbolic and meant so much to the people that I couldn't help but enjoy the focus on it.
The Plot. I couldn't put the book down. I wanted to know what was going to happen from the first page, and the desert adventure certainly kept me flipping the pages. There were some shocking moments, and some lovely moments. Overall, the plot moved at a great pace, with a lot of action, but enough calmer moments for me to stop and catch my breath. There's really quite a bit going on throughout the book: Love, loss, deception, politics, survival, war, and the list goes on. The ending was a cliffhanger, but since there will be more books, it is okay with me.
The Writing. It was lovely, and to the point, and very well done. I am eager to read more of Kimberley's books for sure.
The Romance. There is no insta love here. There is no love triangle here. There is just a lovely, respectful, slow burning romance that I absolutely adored.
Bottom Line: My only complaint? That I have to wait until 2016 for Banished. Um, guys, that is too long. I need more, please! This was just a beautiful book with amazing characters set in such a unique world. I highly recommend this book, as it has a little something for everyone. 

Blog Tour Info & Giveaway!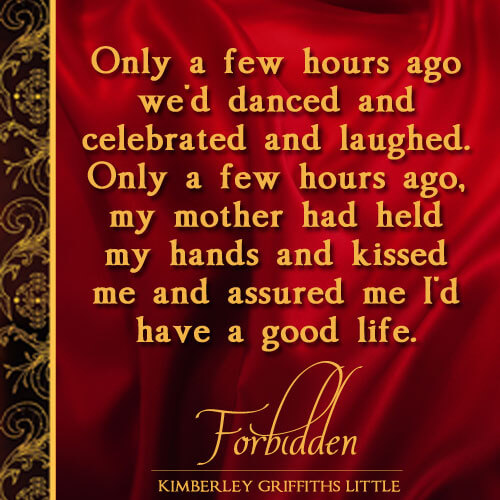 Author Kimberley Griffiths Little
Award-winning author Kimberley Griffiths Little was born in San Francisco, but now lives in New Mexico on the banks of the Rio Grande with her husband and their three sons. Her middle-grade novels, When the Butterflies Came, The Last Snake Runner, The Healing Spell, and Circle of Secrets, have been praised as "fast-paced and dramatic," with "beautifully realized settings." Kimberley adores anything old and musty with a secret story to tell. She's stayed in the haunted tower room at Borthwick Castle in Scotland; sailed the Seine in Paris; ridden a camel in Petra, Jordan; shopped the Grand Bazaar in Istanbul; and spent the night in an old Communist hotel in Bulgaria.
Giveaway
$25 Amazon Gift Card or Paypal Cash
Ends 1/4/15
Open only to those who can legally enter, receive and use an Amazon.com Gift Code or Paypal Cash. Winning Entry will be verified prior to prize being awarded. No purchase necessary. You must be 18 or older to enter or have your parent enter for you. The winner will be chosen by rafflecopter and announced here as well as emailed and will have 48 hours to respond or a new winner will be chosen. This giveaway is in no way associated with Facebook, Twitter, Rafflecopter or any other entity unless otherwise specified. The number of eligible entries received determines the odds of winning. Giveaway was organized by Kathy from I Am A Reader and sponsored by the author. VOID WHERE PROHIBITED BY LAW.
 Follow the Tour!