Ah, who doesn't love a party game? And the lovely new Paper Fury site being up and Cait hosting this lovely party (and giveaway!) is a grand reason for having some bloggish fun. Extra special, this gets to be all about ME! Fun topic, of course.
'BOUT THIS BLOGGER
1. Why did you start blogging?
I had blogged, for some time, on a personal blog that was mostly about my kids, and my awkward attempts at parenting. But then I discovered book blogs, and well, I love me some books. I had been on Goodreads for awhile, but I needed to say ALL the things. So, here I am! (Incidentally, after a few months, the personal blog kind of died. It's here if you want to see it though, for funsies.)
2. What's the story behind your blog's name?
This was seriously the only name I didn't abhor, basically. My blog started off as (no joke) "Shannon Hearts Books". What now? That is just awful.  Anyway, then I decided I needed a name change if I was going to venture out into the Blogosphere so… I asked friends and family for suggestions, but it didn't go well. So I don't know, one night I was up ridiculously late reading and such, and it hit me: Combine my love (obsession) of The Hunger Games, and the nonsensical time that I read and/or blog, and boom: It Starts At Midnight. Because basically, it does.
3. How many designs have you been through since you started blogging? (Pictures! We demand pictures!)
A lot, but they haven't all made the cut. I changed the design like, daily when I first started out. The only picture I have is of this abysmal gray number.  Then I settled on the black starry one for a long time, basically because it looked like midnight. And my last Blogger style was an Etsy purchase. Now I still use the same color scheme, but I like to pretend it is somehow better. I think it may be time for a bit of an update though. Maybe a darker blue? Silver-ish? I don't know, we'll see!
4. Have you ever switched blog platforms? What made you move? If you haven't ever changed…why?
I have. Basically, Blogger errors made me switch, combined with "WP is sooooo much better" peer pressure. It was the BEST choice. Things are easier over here in the land of WordPress.
5. How long does it take you to write a post? What's your postly process like?
I wrote a discussion post about this very thing once. Here it is. Not much has changed, though I have been trying to do reviews a bit quicker. The actual writing part is quick, but getting myself to actually start said writing is a different story.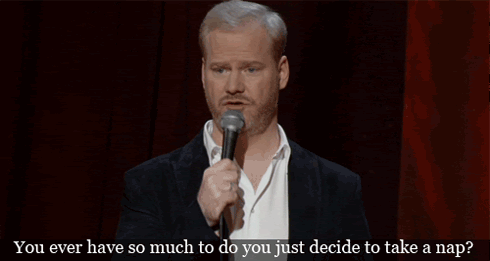 6. Have you ever been super nervous about a post? Why?! What was it?
Yes! I mean, I am a bit nervous about pretty much all of them (Will people comment? Will they think I am the dumbest blogger who ever blogged?) But discussion posts are the hardest for me because I usually have put something out there that was kind of scary for me.
7. Do you have a blogging schedule?
Bwahahaha. Cait, you funny. Right now, it is 10:41 pm, Eastern Standard Time. This post will be scheduled for exactly one hour and nineteen minutes from now. I only read Cait's post with this little game in it about an hour ago. When I tell people my schedule is flexible, I am not kidding. You want me to post a different day? Not a problem. If I had to scrap this right now and throw something together, well, I do that often. Two insane small people who are very needy force me to kind of figure it all out last minute, sadly.
8. Do you tell people In-Real-Life about your blog? Their reactions?
Yeah, people know. I mean, I don't walk up to strangers and say "Hi, I blog about YA books!" or anything, but people know. Some of my friends enjoy reading it, as they are readers themselves, some could not possibly care less, and my dad tells me it's stupid.
9. Top ten blogs you read/comment on the most! Go! Go!
This is like Sophie's Choice! How?! Ugh, fine, I will do my best, but if I leave you out, refer to #7, okay? And this is in absolutely no order (other than I copied it from my Blogoversary post, and it was in no order then either). Also, I cheated. Sue me. Nothing wrong with having an extra few blogs to love, right?
10. If you could change/improve things about your blog, what would they be?
Is this like a genie with three wishes? In that case:
Organization (my personal organization, not the look of the blog) and scheduling things ahead of time. This has always, always eluded me. On the off chance I do end up with some posts scheduled, catastrophe strikes and I end up behind again.
Fanciness. I want more fancy, but I don't know how to do that, so hopefully the genie does. Realistically, I do want to step it up, design-wise.
Access to the ARC Fairy. If there is a genie, there can be an ARC Fairy, okay? She works with all major publishers, and gives me access to books that may not even be written yet. It's a win-win, as you would all learn about really great books. Right?
This was fun, thanks Cait! And HUGE congrats on your lovely new site, we're all glad you're back! Everyone, go forth and check out the prettiness at Paper Fury! 
Have you done any blog name or style changes? Or are you (like me) itching to do some changes?