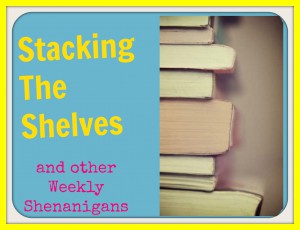 Stacking the Shelves is a weekly meme hosted by Tynga's Reviews. It gives us a chance to share with readers what we bought, borrowed, swapped, won or got for review each week.
Um, I went a bit… overboard this week. For someone who is terrified of requesting books, well, I guess I got over that in a hurry?
 Physical Books
The Darkest Minds, Never Fade, In the Afterlight by Alexandra Bracken With huge thanks to Big Honcho Media and Disney-Hyperion!
 A Thousand Pieces of You by Claudia Gray  
---
For Review via Edelweiss
 Challenger Deep by Neal Shusterman,  thanks to HarperCollins 
Infandous by Elana K. Arnold thanks to Lerner Publishing
Invincible by Amy Reed thanks to HarperCollins
---
For Review via Netgalley, thanks to Bloomsbury Children's 
When Reason Breaks by Cindy L. Rodriguez
Inherit Midnight by Kate Kae Myers
---
For review for blog tour
Forbidden by Kimberley Griffiths Little  thanks to author Kimberley Griffiths Little
---
Weekly Shenanigans
This was an absolutely dreadful week of reading for me. I finished one lonely book, 
, and that was really only because I was almost done anyway. I was kind of sick, and kind of overwhelmed, and I am almost done with two other books but still. Not a great week for reading, but hopefully next week will be better (it needs to be, because as you can see, I have a lot of books for review coming up). Oh, and I have been failing miserably at NaNo. Holding steady at zero words, so that can't be good.
On The Blog:
Up Next: 
I promise promise PROMISE (especially for Daryl!) to get my thoughts together for Only Ever Yours. Fair warning, it isn't going to be a review as much as a "you need to read this and experience for yourself" situation.
Also next week, the November New Release giveaway will be starting, so that is fun 🙂  Congrats to last month's winner, Moria, who chose The Young Elites! I must confess, I really love finding out what book the winner chooses! In this case, I had just started reading it myself, so I thought it was fun that we "matched"!
How was your week? Any great (or terrible, we won't discriminate) books read? Any great new additions? Let me know!