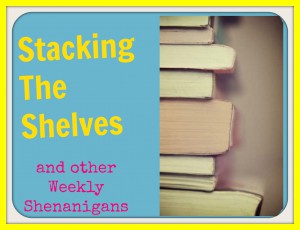 Stacking the Shelves is a weekly meme hosted by Tynga's Reviews. It gives us a chance to share with readers what we bought, borrowed, swapped, won or got for review each week.
  Glory O'Brien's History of the Future by A.S. King
Black Ice by Becca Fitzpatrick won via Shelf Awareness
Atlantia by Allie Condie Incidentally, this book in person is stunning. Pictures do not do it justice. It is textured, and shimmers, and the font is incredible. (Of course, I have been reading some not-so-good reviews, but at least I can look at the pretty, right?)
Afterworlds by Scott Westerfeld won via Shelf Awareness
Book Outlet Haul (Hint: One of these will be given away in the Dangerous Girls giveaway!!)
Prized and Promised by Caragh M. O'Brien
The Lost Girl by Sangu Mandanna
E-Books
This Night So Dark by Amy Kaufman and Meagan Spooner
Aristotle and Dante Discover the Secrets of the Universe by Benjamin Alire Saenz
For Review:
The Last Leaves Falling by Sarah Benwell via Edelweiss, thanks to Simon & Schuster
---
Weekly Shenanigans
This week, I read 
, 
 , and 
. Defect 2 was good and I plan to put a review up on Goodreads soon.  Only Ever Yours was amazing and disturbing, and I have so many thoughts. I think everyone should read this book, and I will explain why next week. Frozen… well, that will be a different sort of review. Things did not go well.
On the Blog:
Up Next: 
November starts today, and I am giving myself until I get home from a baby shower to decide if I am doing NaNo. I want to, I should, but… time! I have so many books I'd like to read this month, and it is my birthday on the 19th (hint: this means I will give you something, of course!) and the biggest, most exciting part: Mockingjay Part 1 on the 21st! (Or in my case, the 20th at 8:30pm!). And for the American readers, November brings Thanksgiving, so it is quite the busy month!
There are a few days left to enter the Blogoversary Giveaways, and a few more will be coming up soon! Next week I am planning to review The Unhappening of Genesis Lee, Only Ever Yours, and Frozen (or whichever of those I end up getting to!) and perhaps a discussion!
Are you excited for Mockingjay? Have you pre-ordered tickets? Also: What book are you most looking forward to reading in November? Best book from October? I asked lots of questions this week! Hope you all have a lovely weekend!