Top Ten Tuesday is a feature hosted by The Broke and the Bookish. This week's theme is: Top Ten Books/Movies To Read Or Watch To Get In The Halloween Spirit OR Top Ten Characters Who I Would Totally Want To Be For Halloween. I am choosing the latter, only because I will do something on actual Halloween about scary books. Or movies, or something, I have no idea yet, I am not a good planner, guys.
---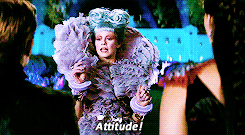 1. Effie Trinket, The Hunger Games by Suzanne Collins Or Catching Fire. But let's skip Mockingjay Effie, 'kay? I do actually have plans to be Effie. I thought about it for this Halloween even, but then realized I didn't really have anywhere worthwhile to go, so I'll just wait it out. (OH- but you have to burst out randomly, at some point during the night, "THAT is Mahogany!"
---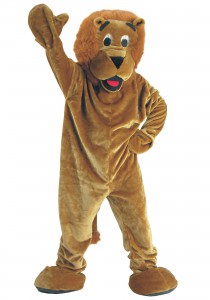 2. A Pandora, Fire & Flood by Victoria Scott It'd be cuddly, and I would be both warm and comfortable. Granted, it'd kind of just be an animal costume and me telling people I had Pandora powers, but still. I could carry a large, broken egg?
---
3. Some random Dauntless, Divergent by Veronica Roth I would get to be all bad-ass, fake tatted-up, magnetic piercings, crazy hair, black clothes.. and Dauntless cake is included, right?
---
 4. Kestrel, The Winner's Curse by Marie Rutkoski Oh, you've seen the cover! Who wouldn't want to float around in that dress?
---
5. Sam McKenna, Rites of Passage by Joy N. Hensley This one is kind of easy, because I could just put on some fatigues
or something and call it a day. This is one of my lazy options. (True, sad sidenote: The only pictures of a military woman I could find on Pinterest were trashy looking and scantily-clad, so I used this bear from a friend in the Army instead.
---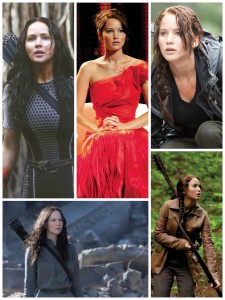 6. Katniss Everdeen, The Hunger Games by Suzanne Collins Really, the choices here are endless. "Girl on fire" Katniss, hunting in the woods Katniss, Mockingjay Katniss, Katniss in an arena. This could last for all my remaining Halloweens, really.
---
7. Sookie Stackhouse, The Southern Vampire Mysteries by Charlaine Harris This is another
kind of easy one. Fake bite mark, Merlotte's t-shirt, black shorts or skirt, and an apron. Boom, you're Sookie. In fact, I'm pretty sure one of my friends was Sookie a few years ago.
---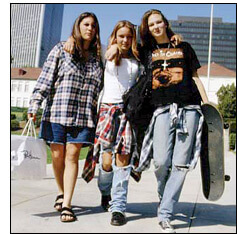 8. Lainey Bloom, Grunge Gods and Graveyards by Kimberly G. Giarratano Because even though I call myself old, I am not really that old and I missed out on the 90's grunge scene. I am glad, because it is not me, but it'd be fun to wear some flannel, Doc Martens,not wash my hair for awhile, and pretend to like Pearl Jam. By the time I was old enough to care, my high school had decided that we all needed to wear Birkenstocks and Abercrombie pants (I don't know why) and listen to Phish, and of course, Dave Matthews Band. I think they were confused. But the Birkenstocks were comfortable, so I went with it.
---
9. Alina Starkov, The Grisha trilogy by Leigh Bardugo Alina is pretty bad ass, and she had the lovely keftas, and basically, it could work.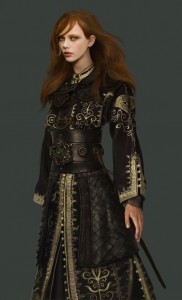 ---
 10. A Zombie, Perhaps Named "S", Warm Bodies by Isaac Marion  Fine, this one is pushing it, since it could just be a Zombie, but this is hard and I am out of ideas. Go with it.
---
What would be your ultimate bookish Halloween costume?